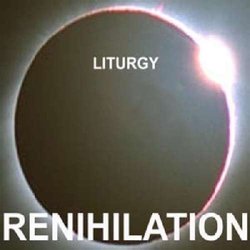 This Friday night, Oct. 16, my son's black metal band Liturgy plays at the New Yorker festival, at the Bell House in Brooklyn, 149 7th Street, 8 PM. The event is listed as already sold out, but I'm supposed to be on a guest list. I just heard the band play live on WFMU. Their new CD Renihilation is out on the 20 Buck Spin label. It's ecstatic, in a loud and rhythmically propulsive sort of way. Even my former newspaper seems to think they're a strange but inspired choice for the festival. Not sure what that means, except that maybe it took my son 16 months out of college to get more famous than I am.
But I soldier ahead regardless. Bard College is having a John Cage symposium over Halloween, Oct. 30 – Nov. 1, for some reason, and the schedule is up 
here
. I'm giving a talk from my new book, "The Silences of John Cage," on Sunday morning at 11. The abstract (you can read the abstracts by clicking on the lecture titles) runs as follows: 
Over the course of his long life, silence meant many different things to John Cage: an act of cultural humility, a respite from corporate Muzak, a structural space to be filled by sounds, a religious observance, a release from the ego, an equivalent to Zen meditation, a communion with nature. This paper traces the evolution of the concept of silence through Cage's biography, with special reference to the complicated evolution of ideas that led to his famous noteless (but hardly silent) sonata 4'33". 
It ain't black metal, but it may be enough for a Sunday morning on All Saint's Day.