Recognize the style?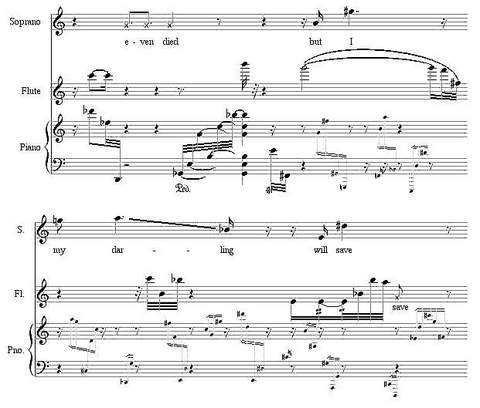 I was looking for some old papers and stumbled across this piece that I wrote as a first-semester freshman at Oberlin, in 1973. It's a setting of a poem by Jean Valentine,
The Knife
, which 
I've written about here before
. This isn't the final score, which is lost, but a first draft – and since we did actually perform it, I hope to god I was forced to put in bar lines and rhythmicize all those damn grace notes in the piano. I was somewhere between Berio's
Circles
, Stockhausen's
Klavierstücke
, and George Crumb, with lots of piano pizzicato and the flutist and pianist whispering certain words in echo of the soprano. Geez. I think somewhere I may even have a recording of it. I promise to destroy it before I pass on to a better world.
Anyway, you can see that I was a nice, enthusiastic, obedient modernist at one point. I so impressed people with the complexity of this piece that I was admitted to private lessons my second semester, instead of spending a whole year in the composition class, which was the intended norm. But in summer of '74 I discovered Glass and Reich, and though I wrote one more cerebral, dissonant, unfinished piece after this, I wrote a piece called
Satie
in spring of '75, entirely in the C major scale – I had acquired a new girlfriend, always the impetus behind a major creative breakthrough for male composers between 17 and 23, and I leaped into minimalism like a man leaping from a sinking ship to a fragile raft. It may have been the most sensible move of my life.
Of course, what made my atonal music so awful in that period was my monochromatic criterion for choosing each next note: as dissonant with the preceding as possible. The moratorium I truculently upheld on fifths, sixths, and thirds is absurd. Today if a student brought me crap like this I'd try to show him or her some second-level way of working with pitch sets or interval sequences that would allow for more harmonic nuance and variety. By the time I wrote
Satie
I had had, however briefly some of them, six composition teachers: Howard Dunn, Alvin Epstein, Joseph Wood, Randy Coleman, Karl Korte, Greg Proctor. I don't remember any of them dealing with this issue, though it's entirely possible that they did and I was just too immature to grasp the problem or take the bait. I have never felt comfortable with the mechanical or algorithmic generation of pitches, though ironically it seemed more acceptable in a diatonic or pitch-restricted context, where the results had a simpler profile. I do wonder how things might have been different had I found a simpatico teacher as an undergrad, which I never did. I am far closer to some of my composition students than I ever was to an undergrad composition teacher, and I give them a hell of a lot more encouragement than I ever received.