There are two high-profile Gann performances this week, and only one of them is mine. 
This Friday, Leon Botstein will conduct the American Symphony Orchestra in Symphony No. 1 by Bernard Gann. Now, let me contextualize that statement a little. Every year just before graduation, Leon (our president) conducts his orchestra in a program of student compositions and concerto movements with student performers. This year there are four student compositions, by Craig Judelman, Kevin Gordon, Ben Richter (my student), and my son. Secondly, Bernard's piece is about 11 minutes long and in one movement. I remonstrated with him that it was customary to simply call a piece "Symphony" until you've written a second one, upon which the first becomes "No. 1" retroactively. This advice took root in the manner my advice to students usually does, and the title will be Symphony No. 1. 
I'm proud of all of our students' compositions, but given the topic of this blog I feel compelled to publish the list of influences from Bern's program notes:
I thank David First, my guitar/composition teacher; Erica Lindsay, my project advisor; and Kyle Gann, my father, all for providing the inspiration for my efforts here.  I'd also like to thank those who have studied with in the past, including Bill Duckworth, Joan Tower, and George Tsontakis.
Some other inspirations include Julius Eastman, whose notion of  "organic music" I find very useful in my method. I also think it lends itself well to reinterpretation both methodically and aesthetically. Morton Feldman, in this case as someone who on occasion composed with an attention to the visual appearance of the score as a deciding factor in how the music would sound or pace itself. Jon Gibson for composing beautifully simple sounding music. Peter Garland, whose music inspired me on a particular path about a year ago (and if I've left that path, I'd like to find it again). And Terry Riley, for huge shifts between "blocks" of sound, the juxtapositions between which I have for a long time greatly enjoyed, and always have had the impetus to try to employ as my imaginary ear sees it.
Eastman, Feldman, Gibson, Garland, Riley – it's a pretty postminimalist list. The score was evaluated by Bernard's board: our expert saxophonist/jazz composer Erica Lindsay, George Tsontakis, and John Halle from the Bard Conservatory (an entity completely separate from the Bard Music Department, don't ask), who was the only other local composer besides myself familiar with all the composers the program notes mention. The performance is at Bard's Fisher Center (where Bernard's mother is general manager) Friday night at 9.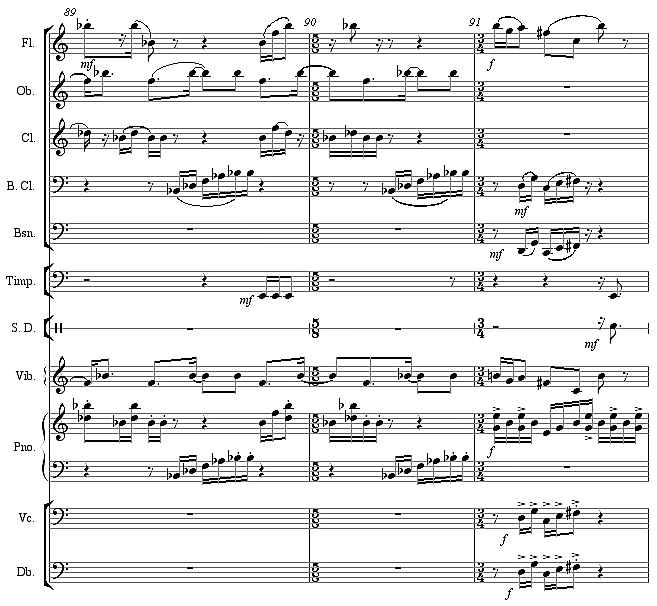 Also, this thursday, May 22, at 7:30, my Disklavier piece Unquiet Night will be played "live" on a program of Disklavier music at the Yamaha Piano Salon, 689 5th Ave., 3rd Floor, Manhattan. Organized by composer Gordon Green, the program includes works by Chris Dobrian, Steve Horowitz, David Jason Snow, and Green himself. Unquiet Night is more totalist than postminimal.