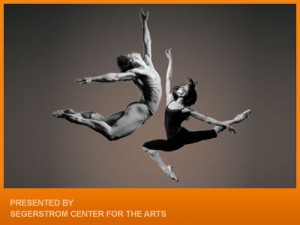 In the promotional image for "Solo for Two," the first independent concert tour from dance superstars Ivan Vasiliev and Natalia Osipova,  the formidable Russian dancers appeared side by side in dramatic grand-allegro jumps that would have certainly resulted in a mid-air crash were it not a collaged image.
Culled, it seems, from promo shots for the Mikhailovsky Ballet, the breathless off-kilter moment inadvertently spoke to the evening's overpowering sense of collision – between dance artists and choreographers, audience expectations and stage realities, musical genres and dance steps. Some of the juxtapositions made for interesting analysis; others seemed beyond this one's critic's comprehension.
That the engaged duo also recently announced their breakup added color to a triple bill at Costa Mesa's Segerstrom Center that seemed weirdly weighted against Vasiliev, casting him as an abuser, a goof and a runaway groom, while Osipova reigned with balance and power. Though there were redemptive moments, all in all it was hard for one of the world's most magnificent male dancers to retain a full measure of dignity here.
"Solo for Two," originally scheduled for January, arrived six months past due. During the interim, however, the artists raised the stakes by swapping out a program of ballet classics for a bill featuring new works by some of the world's most sophisticated, gutsy choreographic voices.
Commissioned by Ardani Artists and the Segerstrom Center, "Solo for Two" offered choreography by the esteemed Ohad Naharin of Batsheva Dance Company in Tel Aviv, the elegant Belgian Sidi Larbi Cherkaoui and the lesser-known South African-born Arthur Pita, a former dancer with Matthew Bourne.
Though all works are billed as premieres, in the program notes both Cherkaoui and Pita cited the use of previous content, re-shaped, to make these creations. Cherkaoui's "Mercy," a duet featuring a violent man who learns from his forgiving partner, featured 17th-century chorale music by Heinrich Schütz and Johann Hermann Schein. The French L'Ensemble Akadêmia, conducted by Françoise Lasserre, played live for the first and third sections, along with four string players from the Los Angeles Concert of Viols and an overlay by Arun David, an Indian singer.
Known for melding pedestrian steps with hip-hop and jazz vocabularies, Cherkaoui set this work en pointe, and he kept a strong ballet focus. Costumed by Tim Van Steenbergen, Osipova began the piece in a long sheer blue skirt, while Vasiliev wore just shorts and knee pads. In a staccato, stepping pattern she retained her posture as he slapped at her head and midsection. Though it escalated further – he carried her upstage in a chokehold, then head-butted her – she concluded the first section with a firm outstretched arm that prevented a final blow. When she walked off, he was the one left wrecked on the ground.
Vasiliev's virtuosic solo that followed was skewed in every way. He was leaping and turning, but his vertical axis was gone: Everything leaned off center. And the viewer's expectations were warped: We saw him making "heroic" dance moves, but we couldn't root for this bully. When Osipova returned, sans skirt, he partnered her at length from the floor only. It was quite a tour de force of the imagination. And in the third section, as they moved back and forth from the ground to standing, he extended his arms to shield her, not to strike her. Her crowning pose here – a kind of floor arabesque, her shoulders and back rising up sphinx-like, her legs reaching as intently as if airborne – was striking in its strength and loveliness.
How badly I wished that Osipova's incredibly supple back might be the most lasting image from the concert. Alas, I'm afraid it was trumped by a searing moment of disharmony from Ohad Naharin's inscrutable "Passo." Osipova was again the leader, guiding a lost, fumbling Vasiliev around a seemingly new-born territory of ever-shifting tensions (careful balances, whipping arms, enigmatic gesturing, etc). While the electronic music of the English duo Autechre played, the work was cryptically beautiful. But when different traditional recordings of "Greensleeves" started up, why did Naharin have Vasiliev, god of the air, walking in ugly, awkward squatting ambulation during the song's most haunting refrain? Why did Osipova reprise this? Why did the duo dance a mocking flat-footed jig? While the movements basically "fit" Osipova, Vasiliev's bulky upper body couldn't express the slappy, shlumpy villager moves that Naharin often uses, and though the piece earned strong applause, it felt like quite a misfire.
A dance-theater work of great wit and confidence, Pita's "Facada" featured Osipova as a jilted bride whose passions ran deep: She had her way with her beau Vasiliev, with the help of her pragmatic old-world mother (Gay Storm), come hell or high water. Featuring original Portuguese-style fado music played live by Frank Moon on a 10-string cittern, the work was adapted from "God's Garden," a larger ensemble piece with an effecting streamlined production design by Jean-Mark Puissant and confident, humorous telenova-esque timing.
But sadly, it's the same recipe: Osipova's character was radiant, passionate and triumphant. Vasiliev was mocked, used and disposed of. And he never even gets to be virtuosically bad, in the manner of the rabid male soloist in the original "God's Garden" (available on YouTube). Why did Pita substitute a lame striptease instead?
Osipova's final dance, her steps slamming and skimming atop Vasiliev's tomb, developed beautifully, a summoning and dispersal of the full depth of her all-consuming passion. Forgiveness, perhaps, could be next. But this dead soul — unlike so many female ballet figures — would not rise again. The conversation was done.
[A version of this piece ran in The Orange County Register.]