Last weekend the World Saxophone Quartet and percussion ensemble M'Boom blasted 21st century conventions at Birdland — this weekend Pierre Boulez conducts the Chicago Symphony Orchestra through Bartok's two piano & percussion concerto and Stravinsky's "The Firebird" at Carnegie Hall. Listening opportunities in New York City cover a vast range. Duh, right?

The rapacious James Carter has joined the WSQ, a group formed in 1977 by the late alto saxist Julius Hemphill, altoist Oliver Lake, baritone Hamiet Bluiett (they were all storming New York via St. Louis's B.A.G./Black Artists Group) and tenorist David Murray (then newly roaring out of California). The idea was avant-garde: A sax section standing alone, free to harmonize on tradition-steeped themes or bust forth in collective improvisation. Hemphill left the band in '89, pursuing his own projects including a sax opera Long Tongues, in which precocious James Carter starred) but before he did the WSQ collaborated once or twice with other special ensembles, including M'Boom, the unique percussion troupe founded by Max Roach, in 1981.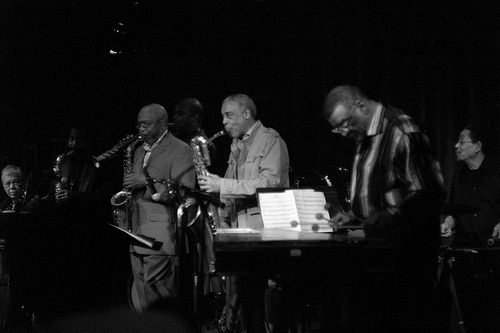 Flash forward to now: Carter on tenor and soprano saxes out-squeals and 'squalls Murray (not that they're competitive; David stood by James, and during his own solos opted for heroic lyricism, a la Ben Webster). Lake launches his own far-flung elegance and Bluiett has the roughest, toughest golden-hearted bari sound in the business. M'Boom today is led by Joe Chambers, from behind vibes; Eli Fountain, Warren Smith, Steve Barrios and Ray Mantilla produce layers of beats and grooves switching among traps, tympani, congas, chimes, marimba and hand-percussion. The saxes went wild, the percussionists framed, underlined, grooved, gonged — good time had by all.
howardmandel.com
Subscribe by Email |
Subscribe by RSS |
Follow on Twitter
All JBJ posts |