For the Financial Times, I took my annual train trip up to remote Jacob's Pillow last month, in which, middle-aged bones creaking in the rain, I was struck by what a spring chicken I am:
Jacob's Pillow has long been an outpost of forward thinking. Before the idea of "cultural diversity" existed, founder Ted Shawn was inviting Indian classical dancer Ram Gopal and pioneering black ballerina Janet Collins to join his mixed repertory concerts at this remote idyll in the Berkshires, an hour from Albany and two from Boston. In an onsite exhibition to celebrate the Festival's 80th anniversary, a 1954 photograph shows Gopal sailing into a Technicolor-blue sky, no stage in sight. On another wall, Collins in 1949 – after the Ballets Russes de Monte Carlo had rejected her for her skin colour but before the Metropolitan Opera took her on – stretches out sideways in modernist angst.
From the preserved barn theatres to the invaluable archives, the Pillow testifies to dance's rich and varied history. The vision it provides of the future is less bright, however. Not even the storm last weekend, which turned the gravel walkways into shallow ponds and emptied the lawns of the customary picnickers, scared people off the shows. But the full houses were mainly made up of the retirement set.




No matter. The two shows were worth intimations of mortality–for dance, I mean.
I caught the debut of Jessica Lang's eponymous troupe:
Lang, a rare woman in big league ballet-making, is prolific but as she is a freelancer (for American Ballet Theatre, Birmingham Royal Ballet and so on) you may not have heard of her….
In the generous programme of dances from the past seven years, the steps and their spatial arrangement were strong and bright, like the Mondrian that inspired the premiere Lines Cubed.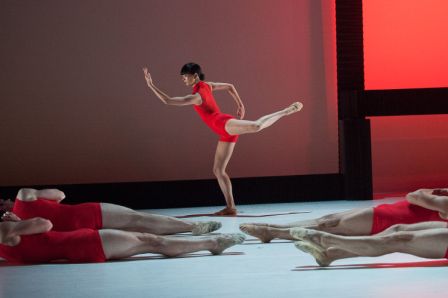 Kana Kimura (standing) and male members of Jessica Lang Dance in Lines Cubed; photo by Christopher Duggan courtesy of Jacob's Pillow
In The Calling, Lang demonstrated her



recurrent fascination with how feeling and spirit radiate out from a person. But she has not pushed the idea far enough to unite lush humanism with geometric clarity. A troupe of her own, with these eloquent dancers, may free her for that pursuit.
For more on Lang–the good, the bad but never the ugly–click here. (If you hit a registration wall, this will only happen once. The registration and the articles are free.)
If Lang is neat and tidy to a fault, Bill T. Jones can be a maximalist mess–and
is
at the start of
Story/Time
, his tribute to the uses of chance and the centrality of time in Cage (and implicitly his hero Cunningham). The 70-minute work begins exasperatingly but achieves sublimity by its end. To read how,
please head to the Financial Times–here
. To whet your appetite–and/or confuse you–this excerpt:
Eventually a theme emerges from the scatter of tales. Jones's mother grieving over her husband by rolling across the floor like "a child on a grassy hillside"; the beauty of snow piling on winter branches; the trip Jones took to the Theresienstadt concentration camp with his mother, who, confusing it with a cemetery, said she had heard the best place to learn guitar was a graveyard at night, evoke time passing relentlessly, poignantly.
As tool more than theme, time also distinguishes the choreography–the most intricate and mesmerising I've seen from Jones.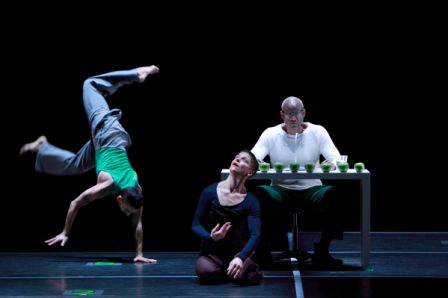 Erick Montes and Jennifer Nugent dancing and Bill T. Jones reading in Story/Time; photo by Paul B. Goode.

For the whole Financial Times review, of both Lang and Jones, click here.
Oh, yeah, I said summer far and near. So by end of week, I'll post my sum-up of outdoor dance in the five boroughs this summer.