Here is the start of my Financial Times report of the irreplaceable Angel Corella's final dance for American Ballet Theatre:
From the start – in 1995 at age 19, when he debuted at American Ballet Theatre – Angel Corella has radiated a sweetness so genuine it seemed to power his feats of wizardry: pirouettes so fast, for example, that you half expected him to spin out into the auditorium and blast through the back wall like a superhero.




His warmth also inspired the ballerinas. During Balanchine's gruelling Theme and Variations, longtime partner Paloma Herrera, with her reserves of inwardness, would light up at his affectionate gaze. Diana Vishneva threw herself so completely into the role of Juliet opposite his Romeo that she once crashed into the wings on exiting.




In recent years, the Spaniard has become a nuanced actor. At this Swan Lake with Herrera – Corella's last dance for ABT and final full-length ballet anywhere – I realised for the first time that the prince's happiness is wedged between burdens: the responsibilities of carrying on the royal line and of freeing Odette from her servitude, and the misery of having betrayed her. The shades of worry and melancholy that now colour his performance bring to mind Corella's own struggle lately to establish a troupe in a homeland in economic crisis and without deep roots in classical ballet.




Of course we got the crazy turns. The pyrotechnics in the second act drove the audience into a frenzy. But at the entertainments in the prince's honour, this Siegfried visibly receded into rumination. And the suicide into the lake was not the usual spectacular swan dive but a simple fall – a man giving himself up to the waters and fate.




During the 20-minute ovation when confetti bombs plastered the stage….
For a description of that touching convocation of dancers onstage, click
here
.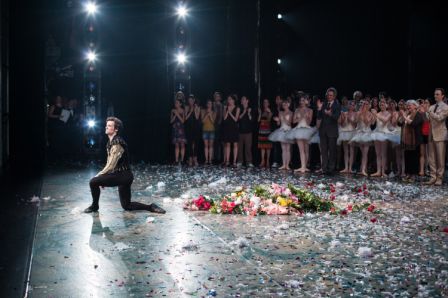 Photo by Rosalie O'Connor courtesy of ABT.
Corella now turns his full attention to the company he founded and directs, ne the Corella Ballet, now, with its new locale, the Barcelona Ballet.
It's not been easy to introduce a dance idiom during "The Crisis." But I hope he can hold tight. His dancers are musical and lovely, and believe in this enterprise. Even Balanchine, even with Lincoln Kirstein as his advocate, had to tread water for 13 years before he could have the ballet company he came here for. In fact, Corella probably is thinking of Balanchine: with the move to Barcelona, he is establishing a school, putting down roots.