The Joyce has had some terrific shows this summer, with the choreographers stretching their idioms.
According to the great hoofer Honi Coles, bebop would not have happened without tap: "John Bubbles, of Buck and Bubbles, started dropping his heels. Baapy-do-do, baapy-do-do, bahp-di-do baam baam. And the drummer started listening." This splendid group show in the spirit and to the music of Charlie Parker does not argue for tap's precedence over bop; it simply makes a vibrant and eloquent case for their affinity.
The hour started at full throttle with Jason Samuels Smith, its choreographer, soloing to Parker's mad "Bebop", laid out beside the dancer by an excellent five-piece band. Samuels Smith tapped around and inside the riffs as well as on
top. His tone was warm and full, and rang from more parts of the foot than seemed possible. He moved in quick jags like a temperamental gab session.
This sharp alternation between jabber and calm added drama but broke the musical line. In the female threesome that followed Samuels Smith, the wondrous Dormeshia Sumbry-Edwards showed that you did not have to sacrifice
one for the other. Rich-toned and nimble, she sustained the rhythms through the rests, as Parker does. Her elegant arms and head harmonised with her taps.
Samuels Smith and company may belong to the school of Savion in the speed and power of their beats, but unlike the defiantly gawky Glover – the feet behind Happy Feet – these dancers let their rhythms play out in space and across their bodies. Like the original bebop tappers, they dance when they make music.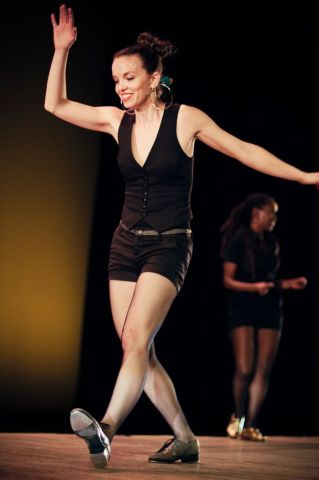 Charming, hard-hitting Michelle Dorrance. Photo by AK47 Division.
For the whole
Financial Times review
–more on the return of dancerly movement, plus what Samuels Smith makes for women such as Michelle Dorrance and his attempts at tap musical theatre– please
click here
. You only have to free-register once for 30 articles a month.
Then this week, that rare religiously inclined modern-dance choreographer, Ronald K. Brown. The start of
my Financial Times review
:
Choreography and religious conviction do not often serve each other, but when they do – as with Russian émigré George Balanchine or, more recently, Brooklyn native Ronald K. Brown – unorthodox wonders abound. These choreographers let spirit loose from dogma; Brown does so by endowing his humane, hopeful conception of struggle and salvation with a textured, evocative specificity.
In the first of two programmes this week for Brown's 10-member ensemble, Evidence, the "gatekeepers" in the dance of the same name do not guard Heaven so much as ready the ground (or is it the clouds?) for us. To Wunmi's plaintive voice above aqueous dance music, the dancers encircled the stage – caressing the floor with every step – to clear it of danger. They pointed arrow-straight arms like compass needles. More strange and wonderful, they seemed to trace with their fingertips the pattern of raindrops on a windowpane and volley a falling cloud back into the sky. The movement was deliberate yet soft. The sparks of association were constant without being insistent. Poetic logic, not compulsion, drove the flow of images.


Dancers Annique Roberts and Arcell Cabuag. Photo by Ayodele Casel courtesy of Evidence.
Brown shares with West African indigenous dance the rolling hips, pumping knees, relaxed feet, wide, grounded stance and residues of story, but his textures are more varied and his meanings richer in ambiguity. Evidence's gloriously eclectic bodies stretch the interpretative range even further and, in the troupe's very inclusiveness, make the dances' spiritual seeking feel genuine and worth cherishing.

For the whole Financial Times review–including what Brown makes of obscure and popular Stevie Wonder tunes–click here.