From my Financial Times review of Tchaikovsky Suite no. 3, playing only until Sunday at New York City Ballet:






Balanchine discovered in Tchaikovsky, his fellow Petersburger, romance and imperial elegance entwined – or at least following fast on one another. But in this odd, late ballet, the choreographer kept them apart.


Tchaikovsky Suite No. 3 begins in a swoony state. Behind a foggy scrim, Ask la Cour kneeled in despair. The cause soon materialised: barefoot Venuses in long skirts of lilac tulle who did not do steps so much as drape themselves and their loose tresses around this forlorn dreamer.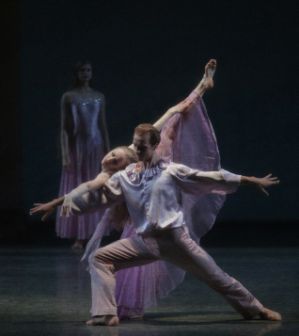 Teresa Reichlen splayed out as Ask la Cour meets the span of her legs. Photo by Paul Kolnik courtesy of the
New York City Ballet
.
To find out what happens next,
click here
! Every
click
is a
click for dance
. And if you hit a registration wall, you only have to register once, ever after enjoying 30 articles a month free!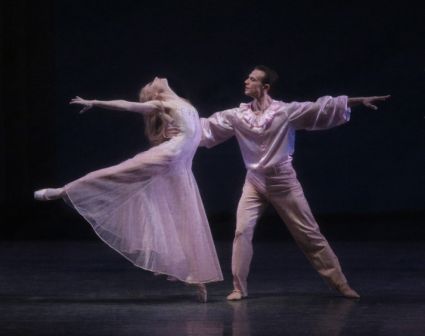 More swooning Romanticism (notice the man's collar!): Janie Taylor and Sebastian Marcovici in the backward-driving waltz. Photo by Paul Kolnik courtesy of the NYCB.
At the end of this
short review (click! click!)
, I mention how often Tchaikovsky travels between earth and air, small and large, soul and spirit. Because
Tchaikovsky Suite No. 3
is all about
such passages, transitions matter especially. And they extra especially matter in the final section, the theme and variations, which reiterates in dancing what the ballet as a whole lays out as drama.
A "Theme and Variations" aficionado might well respond, "But how can you tell the transition from the step in choreography where everything is exhibited and exposed, nothing hidden?"
Ahhhh, good question. I think the moments that need emphasis and are easily slid through are those just before a peak and just after. It can be the plie of takeoff, the switch from one leg supporting to the other, the moment the dancer changes direction but before she takes off. Paradoxically, accentuating these modest moments makes us feel the flow.
Here for your delectation is Gelsey Kirkland (who premiered the theme and variations section when it first appeared in
Suite No. 3)
with Baryshnikov in American Ballet Theatre's
Theme and Variations
in 1978. So this is what became the last section of
Suite No. 3. T
ape quality wretched, performance sublime. S
ometimes they seem to stop altogether, as in stop-motion photography, but there is always something moving–the arms, the head.
This performance reminds me of something Kirkland said, I think
in this 2010 interview
with Joel Lobenthal and Laura Jacobs for
Ballet Review
, about how in order to seem light you have to use the floor, feel your weight. When dancers do not, the movement does not seem light, it seems flinty and false. In fact, it
is
false. Humans do not have wings; the only way we can seem to fly and evanesce is to use what we have: gravity and breath.
Fairchild and De Luz did not seem either flinty or false, just too careful (in this terrifying role) and not shaping it rhythmically.
The casting of roles that require speedy footwork for the women and bravado turning and jumping for the men has gotten rather predictable–limited to a few players– over at New York City Ballet. Fairchild and De Luz (and Ashley Bouder) get the speedy roles every time out–and I like them, but this typecasting serves no one, least of all audiences, who want to see the breadth of a dancer, not just what we know they do well.
I'd love to see Sterling Hyltin, Abi Stafford, Tiler Peck, or Ashley Laracey in the "Theme" role, for example. As for men, maybe Andrew Veyette, Adam Hendrickson, or Robert Fairchild.
It's hard for me to come up with people the company might try out because New York City Ballet rarely does try its dancers out–it puts dancers in roles and keeps them there, or doesn't put them in roles and lets them rot, or picks three people to feature in so many roles at once that they inevitably get injured (witness: Sara Mearns). It promotes company members in advance of them proving themselves–publicly, at least. It's as if the powers that be cannot be bothered with trying out corps members or soloists in principal parts–and this in a company that Balanchine insisted not adhere to the usual ranking system. I should add: this is less true of the casting for Robbins–and may be why dancers featured early in Robbins (Rebecca Krohn, Mearns, Veyette, Hendrickson, Robert Fairchild, Wendy Whelan) are more likely to rise out of the corps (though what happens to them after they've risen is a crapshoot).
In casting, American Ballet Theatre does much much better, which is ironic, isn't it, given it has always had a reputation as the company of the stars. And you can feel the difference. The company feels like a company–especially in the fall, when guest dancers aren't plunked down in roles they've learned elsewhere. When I go to see shows at ABT, I imagine all the balletmasters thinking about the year-round dancers up and down the ranks–where they might be featured. It's really heartening: how a company ought to be, especially in America, land of the free.