This season we've had contemporary European dance not only at BAM, the usual suspect, but also at the Joyce, with Belgium's Ballets C de la B earlier this month and more recently Cedar Lake, its reputation as purveyor of B-list–or at least green–European choreographers (with a few A-list Israelis in the mix) now solid.

I sound typically New Yorker, don't I? Jaded to the point of provinciality. In fact, two of the five choreographers for Cedar Lake's two programmes really excited me. And they were the youngest two–so they just may get even better.

Here's the section of my Financial Times review on 26-year-old Alexander Ekman's ebullient Hubbub:
His New York debut, for the full troupe of 15, applies pompous social critique and dancers' running commentary to itself — a jumble of angular posturing on high pedestals and fiercely staccato gestures executed in tight formation. The parodies of art talk are not exact enough, but the reckless invention is a giddy pleasure.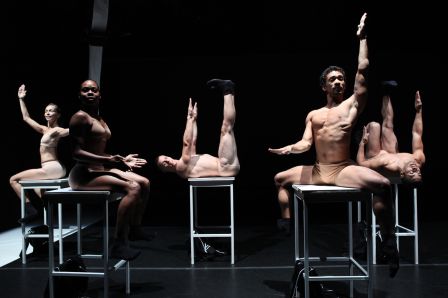 Semaphoring Hubbub. Photo by Julieta Cervantes.
For the whole Cedar Lake review, click here:
Cedar Lake also presented the first complete work by Londoner Hofesh Shechter to be seen in New York. The start of my Financial Times review:
I know there is an upside to the European trend of liberating "ballet" companies from ballet, but Cedar Lake Contemporary Ballet's second programme at the Joyce mainly testifies to the downside. With Dutch freelancer Didy Veldman's Frame of View and Norwegian stalwart Jo Stromgren's Sunday, Again (reviewed last week), the story ballet gives way to lax, latter-day dance theatre, ebullient in its unfolding and only half-committed to its organising conceits. Stromgren's is badminton and Veldman's is doors, but the dances cannot seem to remember – wearing us out with distractedness long before they manage to conclude.





Happily, Hofesh Shechter's The Fools – substantially reworked for Cedar Lake after a 2008 premiere for the Bern Ballet – would be welcome even in better company. Sure, the first full work to appear in New York by this British-based 35-year-old Israeli sensation has its flaws. The black and white title credits that appear at intervals on a small screen upstage, for example, would more effectively evoke old movies and the retreat they offer into hope and memory if the screen were fit for a movie palace too. Likewise, the quick cut from winsome Scarlatti sonata to the sound of hollow wind seems like an accident. Musing about sound engineering, I almost failed to notice that aspiration and desolation had just collided.

Yet even these unrealised elements do not ruin the mood, which is as dense as nightmare…..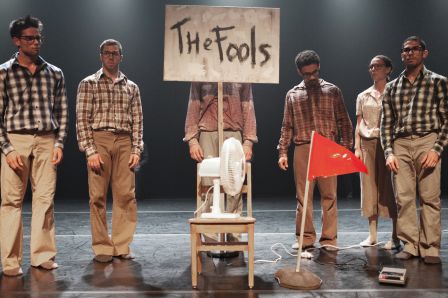 Shechter's fools. Photo by Julieta Cervantes.

For the rest on Shechter, click here.

As a reviewer, you are addressing your readers, not the choreographer. So I will take this non-review opportunity to urge Msr. Shechter to end the dance earlier, just after the scene pictured above, when the wind is blowing on tape and via fan and the fools have left their flag and message behind. As it is, the ending is pure, unnecessary coda.

I caught the first section of Frenchman Angelin Preljocaj's Empty Moves when it first appeared at the Joyce in 2006, but really only took in its measure in its full, hour-long form at BAM earlier this month.

The rowdy Milanese students we hear on tape objecting to Cage dismantling Thoreau's journals word by word–as a form of homage–complete Cage's score, and Preljocaj's choreography completes it even more (something only possible, perhaps, with Cage). Without the composer and dancers' serene refusal to be deterred, we wouldn't feel so immediately their connection to civil disobedience–that thoroughly Thoreauvian notion.

Here is the whole short review for the Financial Times:
The riot at the first Rite of Spring has nothing on a 1977 performance in Milan of John Cage's Empty Words (Part III). The impish composer reads a mashup of words and spaces between words (aka silence) extracted from Thoreau's 14-volume Journals. An hour into the two-and-a-half hour recital, the audience of art students begins a rhythmical clapping and jeering. Cage never flags.





I used to think his choice of Thoreau was merely a tease: a massive stack of takeout menus would have done. But French choreographer Angelin Preljocaj's stealthily uplifting Empty Moves (parts I & II) has convinced me otherwise. The hour-long dance for four embodies the composer's resistance to the battalion of ideas about art and meaning, thinking and being, that have defined western thought for centuries–and thus brings to mind Thoreau's own refusals, his civil disobedience. Empty Moves proceeds with benign equanimity in the face of the students' long-ago but still alarming obstruction.

This is a dance graced by an abundance of unpredictable invention. Empty Moves expresses a tender interest in the body's most eccentric or banal parts, from nostril to fingertip to hip socket. Movement travels by chain reaction along these unlikely paths. Time moves as if something deeper than will drove it, as when a flock of birds rises from a wire.

Left to right: Fabrizio Clemente, Yurie Tsugawa, Julien Thibault, and Gaelle Chappaz (on floor). Photo by Julieta Cervantes.


The art students have grown so loud that my pulse quickens. Even 33 years later, their violent contempt is frightening. But the persistence of Cage and, by proxy, the dancers rises above the noise and the dance comes flooding back.