From mid-June until late August, dance springs up in the most unexpected places in and around New York. From mid-August to the second week in September, practically all that is left of dance–and it isn't much–happens outdoors.

Starting in mid-July I spent a month wandering hither and yon, which is not as fun as it sounds. It is draining to negotiate subway, boat, and the dawdling summer streets for the sake of a half-hour dance. Site specific pieces are best stumbled upon.

Here's a Financial Times article that discusses five of the nine shows I saw:

Many New Yorkers wouldn't have a job if it weren't for the tourists, but that doesn't keep us from resenting them when every summer they take over sidewalks, clog subway entrances, and treat the trains like Special Operation convoys. New Yorkers depend for their sanity on being oblivious in public, and these invaders won't let us. But occasionally they make us wonder if we haven't grown too inured – which is where site-specific performance comes in. Sprouting up across the five boroughs in summer, this species of free outdoor event makes it safe to look around again.

At, for example, the dark windows spanning the 50 floors of One New York at Manhattan's southern tip. The more you look, the more confusing they become – are they convex, concave or contiguous with the building? More subtly disorienting are the tiles on the plaza below: the squares are set at a diagonal to the skyscraper and bordering streets. Each noon from July 16 to August 14 as part of the downtown River to River Festival, Canadian Paul-André Fortier offered a 30-minute ode to these Escheresque geometries.

On day 13, a blissfully overcast Wednesday, the buoyant, precise dancer oriented and disoriented himself within a 30 foot square marked out in duct tape. He swung his body into Ys and Xs, and flattened himself to the pavement in front of office workers on cigarette breaks and tourists en route to the ferries. The sound of traffic washed up from Water Street. Except for some teenage hecklers, the onlookers regarded the dance with a dispassionate interest that mirrored its own objectivity. In September 30X30 begins again, at the Théâtre de la Place in Liège, Belgium.

30X30 re-awoke its audience to Manhattan's grid and its extreme ups and downs: undeniable facts. At the Irish Hunger Memorial in Battery Park City, an excerpt from Christopher Williams' Voyage of Garbhglas – presented by the River to River Festival and Sitelines 2010 in the first week of August – transported us to the mythical and imaginary.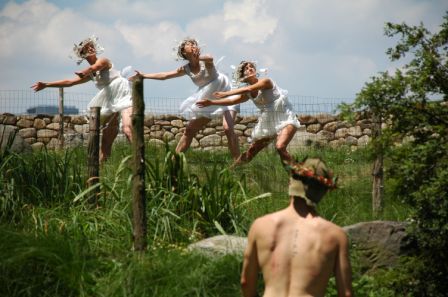 Michael Ingle encounters fairies Caitlin Scranton, Ursula Eagly, and Kira Blazek in Christopher Williams' Voyage. Photo by Douglas Back.

The review continues with more on Williams, a hip hop convocation around and about Lincoln Center, a romp on Governors Island, and a stirring Summerstage show on the Queens side of the East River in which Ailey dancers took on the role of choreographer.
The Joyce Theater in Chelsea is a mid-sized house, which means it doesn't take many risks artistically or economically (and in dance, the two go hand in hand). But earlier this month while committed dance-goers were still hoping to put off withdrawal pains, the theater took a chance on four women choreographers who have mainly been limited to small downtown theaters (with a seating max of 200) or to developing pieces on students at Juilliard, Tisch, etc.
As a friend of mine pointed out when I was getting all pleased about the double double bills, this wasn't even as much of a chance as the house took a couple of years ago on Larry Keigwin and Nicholas Leichter, who, I'd argue, are less interesting than any one of these women. The boys got to split a bill for a week; the pairs Monica Bill Barnes/Kate Weare and Camille Brown/Andrea Miller each had three days. The work struck me as
consistently daring without ever being sloppy–and dancey enough to
appeal to a midsized audience at the least. So maybe next year….

The Financial Times review of the first two in this female quartet:
Modern dance is too removed from popular dance and too slippery in its meanings to enjoy mass appeal. But in the past couple of decades, even mid-sized appeal has eluded most women choreographers here – despite work that shares the drama and poetry of its more successful male counterpart. So it is a welcome development that the 470-seat Joyce Theater is devoting the week to four young women dancemakers – two per night.

Since establishing her company in 2006 after three years in Israeli Ohad Naharin's junior troupe, Andrea Miller, at a wee 28, has caused a clamour of anticipation. Though flawed, Wonderland makes clear why. The 50-minute premiere for 12 takes The Rite of Spring through the looking-glass, where the Chosen One becomes several – and none of them dies. Instead they vamp. Smiling widely, these exhibitionists take turns hogging the spotlight of a tawdry circus or a vaudeville revue while the rest of the tribe serves as spectators, props or victims….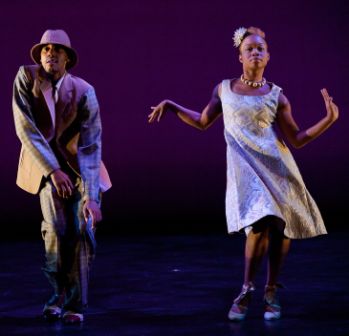 Choreographer and dancer Camille Brown in fussily beribboned mode, with Juel Lane. Photo by Christopher Duggan.

For the rest of the review–Camille Brown's contribution and more on Wonderland– click here.

And here is the review of the other two, somewhat older choreographers:
The halves of Tuesday's double header at the Joyce (repeating tomorrow) are perfect opposites. Kate Weare's Bright Land offers a world of erotic entanglement that tilts towards treachery and violence. Monica Bill Barnes's Another Parade is comic about even trying to be sexy. What the dances share is bravery, each pushing its eccentric scheme until we squirm.

A subliminal buzz of unresolved tension marks Bright Land despite rounds of polymorphous play. The dance begins conventionally enough, with Adrian Clark and Douglas Gillespie pairing up with Leslie Kraus and Marlena Penney Oden for a sort of square dance. What is unusual is the way the pairs freeze mid-air to reveal how elaborately each couple is conjoined. By the dance's end, Kraus is butting her head into Gillespie's chest – flattening him to the ground like a lid on a coffin. In between these book-ends, the women enjoy a fraught tête-à-tête, as do the men.




All the while, the San Francisco band the Crooked Jades sing odes to what they're witnessing. In their harmonies and scenarios, the Jades' old-time tunes are like the shadow of prison bars cast at noon – light and dark in equal measure – or like the knife-straight arms by which the dancers mark the space between themselves and someone else.
For the rest of the review–Barnes and more on Weare–click here.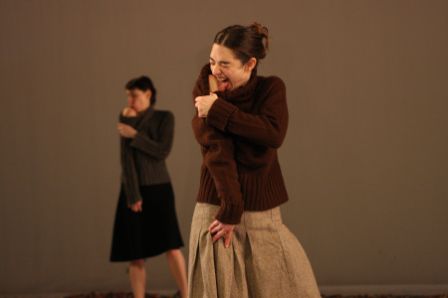 Barnes tries her hand (and tongue) at sexiness in Another Parade.

It's hard not to feel foolish being limited to 400 words–about five modest paragraphs–for a piece of repertory that combines the talents of Handel, Milton, and Morris, but for this August 9 review for the Financial Times I tried:

If it is to be anything at all, Mark Morris's 1988 L'Allegro, il Penseroso ed il Moderato has to be a masterpiece, so vast is the canvas collaborators posthumously handed him.

"Il Penseroso" and "L'Allegro", the paired Milton odes on which Handel based the work, present no less than contrasting philosophies of living: on the one hand, the contemplative and spiritual life and, on the other, the active and sensual. In the process, the poems traverse day and night, ploughing and hunting, stage and court. The lark "startles the dull night" for the sunny man's sake, while the nightingale shuns "the noise of folly" for the melancholic. Handel's librettist Charles Jennens interweaves the two odes so the two birds, among many other things, appear one after the other in heightened contrast.

Likewise, the oratorio begins with duelling solos between lamenting soprano (here, Christine Brandes) and hearty tenor (John McVeigh). Eventually, though, the solo voices unite and the chorus rises to realise the fullness of possibility – "the hidden soul of harmony" – that is the poems' collective point.

Morris both illustrates the libretto's vivid scenes and comments on them. A herd of women whisks Dallas McMurray, curled up on his side, overhead, their hands reaching up to graze his thighs like the "waters [that] entice dewy-feathered sleep". And….

For the whole thing, click here.