Sometimes, in an early draft, you make a claim that you then find you don't have the space to prove. Usually, you throw out the dangling idea; for this review of last Tuesday's La Bayadere for the Financial Times, it seemed worth leaving the sentence in, in case it resonated with some readers. See if you can guess which it is. Here's a chunk of the review:


La Bayadère not only unites campy melodrama and sublime choreography, it also conjures tragedy from this odd coupling. But to pull the feat off, the dancers must commit themselves equally to silly story and relentlessly rigorous steps. On Tuesday, the 30th anniversary of the 19th-century Russian ballet's first full staging in the west, American Ballet Theatre's dancers did, from top to bottom.

Diana Vishneva was the betrayed temple dancer Nikiya; Marcelo Gomes played the haughty, then haunted warrior Solor; Gillian Murphy was Nikiya's murderous rival, the panther princess Gamzatti; and the troupe's corps, whom coach Natalia Makarova – mastermind of that historic ABT production three decades ago – had clearly spent extra hours scolding, were a single luminous body. The dancers deepened the ballet – suddenly the perfect expression of our godless age.

La Bayadère begins with shaggy-haired holy men hopping around a fire and turbaned hunters returning from the jungle with an oversized Tigger. You are asking yourself, "Three hours of this?", when Vishneva emerges from the curtained temple to trace sinuous beseeching arcs with body and limbs.




Vishneva as Nikiya the temple dancer, in one of the few moments when her free leg is in arabesque, not attitude. She directs her gaze upward.
Photo by Gene Schiavone for ABT.


The ballet's steps beautifully delineate character. Nikiya's lines, for example, curve upward, appealing to the heavens, to man – or one man, anyway – and then, when he betrays her, to the heavens again. Gamzatti's steps are coltish and upright: she attends to what lies before her, not above her. When the two women get in a catfight over Solor, Murphy extends her arms wide to say, "This sumptuous palace is all mine – and he will be, too." Vishneva arcs her arms upward: "Godhead is mine, and he with it."

As hope seeps out of these doomed individuals, their steps transmute into signs….

For the whole review, click here.

So did you guess? It was the ballet as "the perfect expression of our godless age." As Gomes, Murphy, and Vishneva shrink their once large gestures of devotion–driven by will but no longer by faith–it occurred to me that what Solor, Gamzatti and Nikiya had done to one another or had happen to themselves would ruin them forever. No amount of heavenly wrath and falling boulders could save them.

Nikiya would never recover from her guilt at having played lightly with God, lying to the high brahmin about why she wouldn't forsake her position as bayadere, and she would never be able to forget that Solor had betrayed her in turn. Solor would have to live (in the afterlife) with having betrayed first one woman and then another; and Gamzatti with plotting the murder of Nikiya and losing the affection of the man she murdered her for. The Elysian fields of translucent calm would always only be a fantasy for them, as for us. Their misery–via guilt and distrust, a self-inflicted psychological condition–is modern.

In his review last week, New York Times chief dance critic Alastair Macaulay describes the new Wayne McGregor ballet Outlier's relation to its score as
general and filmlike….Mr. McGregor's idiom is uninterested in either the radical separation from its music that was the bold adventure of Cunningham-Cage dance theater or the intimate engagement with musical details and structure that was the basic premise of Balanchine dance theater. The music gives it some good atmosphere, and some cues and changes of tempo, but watching doesn't help you hear any better.
I like these distinctions, but I think Outlier, with tremendous score by the British onetime wunderkind (now 39) Thomas Adès, offers a fourth possibility, which is to use the music not only for atmospheric purposes but as a template in time for the shape of movement–that is, in space. It's an act of translation from one dimension to another, which doesn't usually happen with film scores.

Here are the first paragraphs of my Financial Times review, published last week:

Squiggliness and other deviations from classical form are nothing new to ballet, and Wayne McGregor knows it. The Royal Ballet's resident choreographer understands that a decade after William Forsythe's off-kilter works began entering the international repertory, it's no big deal to up-end ballerinas, ripple dancers' spines or set the ensemble in disarray. The mesmerising outlandishness of Outlier – McGregor's first US commission, for the New York City Ballet – lies not in its disequilibrium but in the delicate operations it performs on that awry state.


In keeping with the bare stage favoured by Balanchine, NYCB's founder, McGregor resists his penchant for busy video projections and LED screens and sticks to simple, gorgeous backdrops. The first – concentric circles in red or gray, by Lucy Carter and himself – points both to the Architecture of Dance festival, of which this work forms part, and to an astounding score, Thomas Adès's 2005 violin concerto Concentric Paths.

Tyler Peck in the opening movement. Photo by Paul Kolnik for NYCB.




Outlier translates the restless, weightless wavering of the concerto's opening into a romance between negative space and the body's solidity. It emphasises the diamond of air framed by a dancer's pliéing legs as much as the legs themselves. Partly this is an effect of timing: a step slows just when you expect it to accelerate so your attention jumps to what you would normally ignore.


On a bigger scale, McGregor cuts through the anarchy onstage with a diagonal of men jumping in unison. He contrasts a gluey duet in the foreground with a dancer as still as a column in the background; the space between grows thick with anticipation.

As a spine warps or the ensemble disintegrates into 11 individuals doing their own thing, Outlier shades into melancholy: harmony feels delicate and dear here.

These subtle effects depend, though, on the dancers' delivery, which in turn depends on the score's….
For the whole review, click here.

Joan Acocella in the New Yorker recently wrote of the return of the Judson Dance Theatre choreographers. The article is about a decade late; for the present, it might have been interesting to trace the resurgence of interest (in the last decade) among a much younger generation–in their 20s and 30s–and in France and Germany.

I don't think most of the experiments survived their moment: most art doesn't because its thinking gets incorporated into later work and it comes to seem old hat. That's mainly how I felt about the more recent but equally anticlimactic Necessary Weather. But the audience, and other critics, loved it.

Here is most of my review from last week for the Financial Times:
It is disconcerting to be bored by an official masterpiece, especially when the creators really are masters. The 1994 Necessary Weather – which the National Endowment for the Arts recently added to its American masterpieces list, making it eligible for resuscitation funds – brings together the acclaimed lighting designer Jennifer Tipton, the sublime Sara Rudner, who figured largely in Twyla Tharp's formative decades of dancemaking, and the much-admired minimalist choreographer Dana Reitz, who conceived this hour-long piece along the lines of previous work, where lighting, not music, set the tone.


Typically, Tipton's lighting – for the likes of Paul Taylor, Trisha Brown, Jerome Robbins and Christopher Wheeldon – suffuses a dance without calling attention to itself. It shapes the work while seeming merely to reflect it, like weather might do for a person's mood. But Necessary Weather does not simply use light, it is also about light. It requires something entirely alien of this unobtrusive artist: to convert atmosphere into character.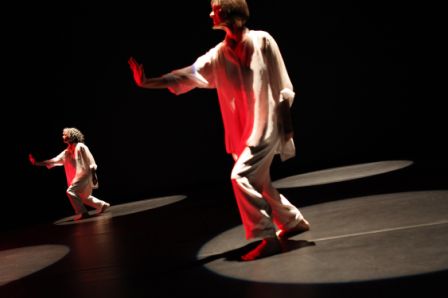 Rudner and Reitz dancing in circles. Photo by Julieta Cervantes.




She still manages beautiful bare-bones effects. The Baryshnikov centre's new Jerome Robbins black box exposes the lights to view, so we watch green filters turn Reitz and Rudner phosphorescent; the blue create splotches on their flowy white outfits, like sun spots on the retina; and the red endow their silhouettes with a hazy outline, as sunset might. There are also Tipton's famously lovely spectrum of yellows – the full range of what "light" brings to mind.

The trouble comes with the shapes – for example, the variously sized circles shined on the floor that serve as dancer obstacle course……

For the whole review, click here.