Writing on the Pacific Northwest Ballet's debut under the widely admired former New York City Ballet principal Peter Boal proved a challenge, in that I know that Boal is a very thoughtful curator of dances–that as artistic director he wants collections of dances, not a haphazard jumble. But coming up with a program for a New York show that doesn't bring coal to Newcastle or wishfully exaggerate the proportions of the modest Joyce stage must have caused him to tear his hair, as I mildly suggest in my review for the Financial Times.

So when you know that the company is in some sense offering itself on the world stage (ah, the vanity of New Yorkers!) and at the same time has its hands tied, how do you review it? Carefully.

The Tharp, at least, is one of the loveliest ballets she's made in a while (even if I wish she'd set it on pointe: imagine that you had danced every day on point for years and then found yourself shortened by six inches.)
Here are the middle paragraphs from my Thursday review. You have until Sunday (Jan. 10) to catch the company at the Joyce.
The alienated-love duet, with stony man manoeuvring piteously searching woman into outlandish positions, and the cutesy solo – to Bach, usually, because Baroque grandeur intensifies the homely, tic-ridden dance's absurdity – have become such recognisable types that the genre overwhelms the material. So it is with Edwaard Liang's Fur Alina (to Arvo Pärt, the favourite of glum choreographers) and Stuttgart resident choreographer Marco Goecke's Mopey, which even James Moore's impressive mastery of the comical rapid-fire gestures couldn't entirely rescue. As for Benjamin Millepied's Three Movements, it is as uneven as many of his New York premieres this year, alternating between inspired imagery – here, a surprising riff on the samba – and leaden-footed group muddle.


Boal's values as a dancer [Ed. note: I am referring here to something I said in the first paragraph] only emerge with the Tharp commission. In Opus 111, his appealing dancers share his rhythmic and visual clarity, immanent pleasure and intelligence. The 30-minute ballet to Brahms' lush, declarative String Quintet in G Major pools and streams without being too slippery. Tharp anchors the patterns migrating across the body – the circling leg becoming hula-hooping hips and then switching to vertical for swinging arms – in rudimentary ballet steps.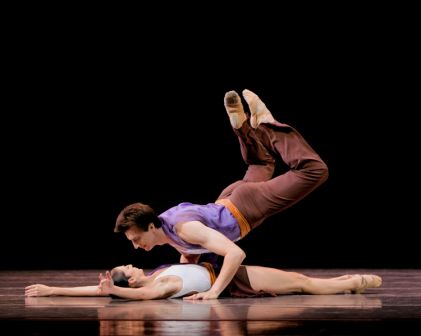 A frisky moment in Opus 111. Photo for Pacific Northwest Ballet by Angela Sterling.
For the whole article, click here.

You know when you catch a performance so magical, you feel grateful for weeks or years? It doesn't happen very often, but Wendy Whelan and Philip Neal's second-act pas de deux in Balanchine's Midsummer Night's Dream this Wednesday was one of those times (as others have attested). Here's the final paragraph in today's Financial Times review of the ballet:
By hour's end, Balanchine has come to the end of Shakespeare's story. He begins it again, this time as pure dance. In Act I, "The course of true love never did run smooth"; in the much shorter Act II, love enters the domain of art, and runs perfectly. (As Balanchine said of another ballet: "In the first act, it's the real people that are dancing; in the second act, it's their souls.") Sublimely attuned to each other, Wendy Whelan and longtime dance partner Philip Neal travel side by side "where the wild thyme blows,/Where oxlips and the nodding violet grows" and form a wedding canopy with their interlacing arms. She circumferences him with a leg; he wreathes an arm around her. He is her world, and she is the centre of that world.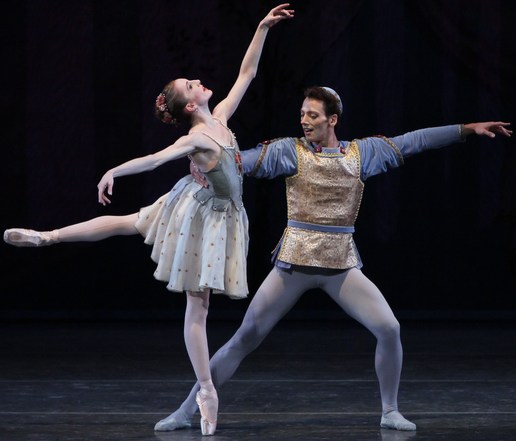 Whelan and Neal. Photo by Paul Kolnik for the New York City Ballet


For the whole review, click here:

I have problems with this review: too much showing, not enough telling. In this last paragraph, for example, I included the famous Oberon directions to Puck about where he could find Titania, "lull'd in flowers" like Eve in Paradise Lost, not because Balanchine conjures a natural paradise but because he's doing in dancing what Shakespeare does in poetry: create grace that seems utterly natural and inevitable while in fact it adheres to artificial constraints such as meter and rhyme. But I couldn't figure out how to say that in the space I had (I wonder whether lay people realize that most journalists are assigned exact word counts–not "around 400," say, but "maximum of 400." The editors don't have the space for you to err). So I just quoted a couple of lines as if to say– Here, I give you this because I can't give you the dance.

But you can still catch the ballet: you have a couple of days. Tuesday's cast–with Jenifer Ringer and Jared Angle in the second act duet and some of my favorite cloddish lovers (Andrew Veyette and Arch Higgins) plus Sara Mearns as a likely delicious Titania–is particularly promising.
To whet your appetite for idyllic dancing, here is a video I found–via the Facebook page of Will Amato, designer of gorgeous and uncanny Web pages for authors et. al.–in which Pavlova's butterfly beauty (I've never seen such dappled lassitude) is set to a raga-esque soundtrack. The effect is to bring out the completeness of her melting collapses: