Here is my Alvin Ailey roundup of the season–after watching the three premieres and the 13 "best-of" tidbits and evening in honor of soon-to-retire Ailey artistic-director queen Judith Jamison.

I have the usual praise (for the dancers) and complaints (about the repertory) and then a plea all my own, which you will have to click for the whole article to glean. (Please click! I think my plan for the company is a good one!)

Here's the first part of the piece, published in the Financial Times this Saturday:

Judith Jamison's 20th anniversary as artistic director of Alvin Ailey is upon us, and no one will let us forget it. The company has reprised several of her works, offered a compilation of "best of" tidbits from pieces she has commissioned or revived during her tenure, and is visiting one city for every year of her reign on its upcoming US tour.


There's good reason now to pause exuberantly over Jamison's transformation of the troupe from popular yet shaky to world-renowned and rock-solid, with its budget quadrupled, its new Manhattan home eight storeys high and made of glass, stints before a television audience of millions, and sufficient funding for the national and worldwide tours that spread the Alvin gospel: Jamison is stepping down next year.

But at a point when "the name Alvin Ailey might as well be Coca-Cola", as the choreographer's schoolmate Carmen de Lavallade has ruefully put it, it's also worth asking what exactly this gospel consists of.

No one said at the subdued celebration for Jamison last Sunday night, which included short laudatory speeches and a slideshow in which she said "cheese" with President Obama, then Oprah Winfrey (the TV host got the louder applause). So I'll say it: the dancers. They embody – even improve upon – whatever they are handed. They combine astounding musical and muscular precision with a liquid softness down their spines and into their hips that keeps their virtuosity from becoming a shield to fend us off (though their mouths could use some relaxing). This season, the men – so elegantly long-limbed and sensually loose-hipped – have especially impressed. In fact, the company could end up like American Ballet Theatre if it's not careful, with choreographers rushing past the women to make ever more elaborate steps for the men.

A tilting diagonal of dancers, bedecked in costumiere Omotayo Wunmi Olaiya's variations on blue and white, in Ronald K. Brown's stupendous Dancing Spirit, by far the best of the Ailey premieres this year. (For those of you not in New York, I think it will be part of the upcoming U.S. tour.) Photo by Andrea Mohin via the New York Times.





Revelations is the other perennial good, though I wonder whether it has become like the Grand Canyon – such a national treasure that viewers see right past its craggy form. Ailey has heard in the spirituals that make up the score not only the joy of salvation but also the terror of sin. The speed with which the Sinner Men articulate their huge staccato steps and the statuesque solidity of the "Fix Me, Jesus" supplicant's final dovelike pose, for example, embody a welter of conflicting feelings: fear, aspiration, resolve. But audiences seem to read the dance's daylight conclusion in the bright Sunday sun after church into its midnight beginning. They make the dance easier to take.

The company needs to cultivate other great dances if only so Revelations, which has closed almost every show since its 1960 premiere, can be fully absorbed. Repertory is where the company's good news, and Jamison's miracle, ends. Ailey wanted dance to be "a popular form, wrenched from the hands of the elite", he explained in his autobiography, but by "popular" he meant Ellington, Mingus, Masekela, the blues and traditional gospel – not tiresome stereotypes, clichéd sentiments, threadbare steps and weak form. Even if he sometimes produced it himself, the man didn't want dreck.

This season's three premieres are typically uneven….
And for the whole thing, click here.

The company has a formula that works: great dancers, predictably "uplifting" dances, and then Revelations to keep its artistic cred intact. But why settle for being merely popular and sporadically great when you've got the goodwill of the world and could stand to stretch your audience–and be great through and through? I'm sure Mr. Ailey would have wanted that. Any self-respecting artist would.

Also, I don't mention Rennie Harris in the piece, but he's another choreographer, along with the mystery choreographer you will have to read the rest of the article to get the name of, whom Jamison hasn't done enough with. If you saw the ballet Harris made for Philadanco, Philadelphia Experiment, at the Joyce this spring you know what I mean. I'm salivating at the prospect of him doing something similar for Ailey.

Also, while I'm at it, I know the company has "American" in its name, but if they can do a European choreographer such as Bejart–the company performed his Firebird a couple of years ago–why not African choreographers? About six years ago, an outpouring of contemporary dance from southern and western Africa reached us, and I'm sure the artists are still working even if we're not getting to see them anymore. Maybe Ailey could commission a work from the Burkina Faso team of Salia and Seydou, if the choreographers are interested.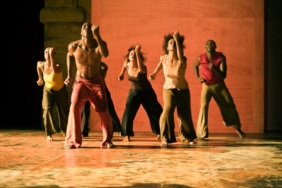 Salia ni Seydou, now based in France