Treat yourself, if you're so lucky: you only have till Saturday, and Wednesday, the house was packed.
Some critics have been ambivalent–Gia Kourlas in the NY Times and Kathleen O'Connor at Danceviewtimes. I was enthralled, and set free for flashes of insight, from blast off to lights out.
O'Connor is a brilliant choreographer, but his Mommy and Baby dances (2006 and 2004, respectively) bothered me for all sorts of reasons, including their dourness and archness, their telling me things that made me think wearily, as if I were having the same old argument with the same tortured loved one, "I know, I know. But can we please, please talk about something else?" And I didn't catch last year's Rammed Earth, which perhaps belongs in spirit and method more to Wrought Iron Fog than to the previous work.
It hasn't been since 2002's Winter Belly (scroll about half way down) that I've felt this enlivened, excited, blessed etc. etc. etc. by an O'Connor dance.
Presenters: Jump on this dance. Your audiences will thank you.
Anyway, here's a bit of my Financial Times review: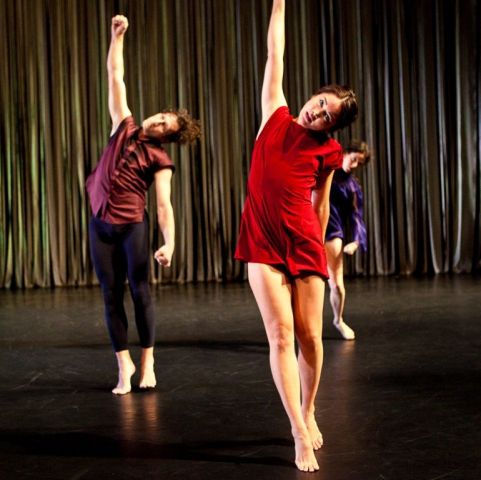 From left, Daniel Clifton, Erin Gerken, and Heather Olson. Photo: Yi-Chun Wu for DTW.



A spirit of experimentation regularly drives Tere O'Connor's dances, but the abundance of invention in Wrought Iron Fog (running until Saturday) beggars the imagination – and feeds it.

The New York choreographer's dancers occupy a private sphere of play animated by mechanical compulsion and voluptuous whimsy. Matthew Rogers makes a steeple of his hands, throws back his head and twirls on his toes like a playground swing's unwinding chain. He does it again – for fun. Erin Gerken shapes her arms into a half-square, as if measuring a plot of air.

Soon others join her. In O'Connor's world, whimsy and compulsion are infectious. You catch them like the common cold – by being close by.

The hour-long work proceeds with the same serendipitous flow as a Cunningham dance. But where the late choreographer emulated the easy coincidences of pedestrian traffic and the instinctive herds and migrations of animals, O'Connor takes his cue from human consciousness – and unconsciousness. Watching Cunningham dancers, you don't think about the inner life; with Gerken, Rogers, Hilary Clark, Daniel Clifton and the mesmerisingly innocent Heather Olson, you can't stop thinking about it. These dancers are bursting at the seams with hapless interiority. Their worldly movement excites perplexity, remoteness, lust and glee in them; they are what you call characters.

For several years before Wrought Iron Fog, the characters were more neurotic than playful. The dances seemed bitter about…..
For the whole thing, click.

Next week: A few thoughts to accompany my review of Bill T. Jones's Lincoln project.