Frederick Wiseman's La Danse: The Paris Opera Ballet–soon it will be all up and down the West Coast and in select cities in other parts of the country. Its stay at the Film Forum here in New York has been extended for at least another two weeks.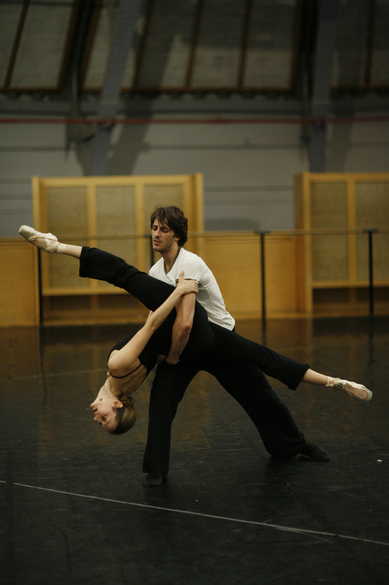 Agnès Letestu and Mathieu Ganio rehearse Genus, choreographed by Wayne McGregor. Photo courtesy of Zipporah Films and Film Forum.
Here is a chunk of my tiny Financial Times review, in which I fail to mention that the movie is long–not as long as some of Wiseman's flics but longer than most documentaries–about 2.5 hours–and it has a lapidary, reverential rhythm. Lots of shots of the building, which made me wonder whether the Paris Opera kept a relatively tight rein on what rehearsals Wiseman was allowed to watch or whether the participants were too aware of being filmed to meet his naturalistic needs. Anyway…here's what I did say:

Throughout High School, Domestic Violence and dozens of other patient, plainspoken portraits of institutions and the people who constitute them, American documentarian Frederick Wiseman adheres to cinéma vérité's strictest principles, eliminating the captions, voiceovers and quick cuts that function like a "proscenium arch in the theatre", he has pointed out.

But what about when his subject is theatre? In La Danse: The Paris Opera Ballet (which, as well as its run at Film Forum, will also be shown in selected theatres across the US, Australia and the UK), Wiseman trains his lens on inveterate performers–dancers turned rehearsal coaches and administrators–who erect proscenium arches wherever possible, to absurd, dizzying and poignant effect.

Rehearsing a dancer in Angelin Preljocaj's Medea's Dream in one of the studios under the Palais Garnier's gilded roof – its round windows admitting Paris's white, abstract light – the exaggeratedly polite former étoile Laurent Hilaire translates a tiny gesture as "tragedy, destiny, life". Then he quotes Cocteau. How grand! How French! And his remark "Your arms are in place, but only your feet are at work" possesses such prosodic equipoise that it takes a moment to realise it's an insult. "Sometimes, you don't know where you are," another rehearsal coach tells a hardworking dancer. Sometimes neither do we.

Most masked and disorienting is Brigitte Lefevre, the company's artistic director for the past 14 years – eons in byzantinely political Paris Opera time. You can measure this smooth operator's power by how much she talks. She meets her ballet masters to discuss young dancers' recalcitrance towards contemporary technique – a fiasco if the works here, by European dance-theatre mavens Mats Ek, Sasha Waltz, Pina Bausch and Preljocaj as well as the futuristic Brit Wayne McGregor, are any measure. She checks in with a hopeful novice. She introduces a choreographer to a maze of protocol. And always she talks for and over everyone else. When she's done, you have no idea who's left standing.

Meanwhile, the dancers, like ballet dancers everywhere, mainly keep silent…..
For the whole shabang, here.