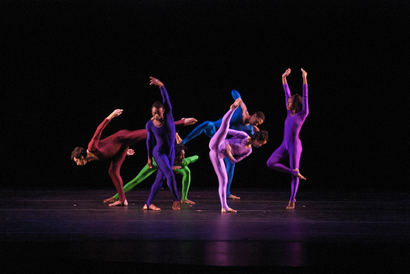 Mudan 175/39 by Garth Fagan. Photo by Paula Summit.

I don't think this year's Joyce season is the best showing of Fagan's work. There's only one premiere–the lovely Mudan–but even that wouldn't be a problem if the rep didn't also fall on the minimalist end of the Fagan scale.

Still, I admire the Rochester choreographer's aim and method enough to not much mind if one year is less revelatory than another. I want to avoid being one of those critics who uses an artist's previous seasons against him (that is, via invidious comparison). It should matter that this is Fagan's 39th year at his post.
Here's the start of my Friday review for the Financial Times:

Since founding his company four decades ago, Garth Fagan has lived and worked upstate, impervious to the fret and ferment surrounding novelty that absorbs our local choreographers. The resulting palette of often refreshingly démodé moods and methods is prominently on display this year at the Joyce (until Sunday), perhaps because of the subdued character of the season's premiere and featured repertory.


Shades of calculatedly guileless cheer or gloomy anomie dominate contemporary dance; Fagan – who mounted annual seasons downstate for years before achieving broad acclaim with a 1998 Tony for his Lion King choreography – prefers an easy, friendly cool.

The Jamaican émigré treats his wide array of music – jazz, ska, fusions of western and eastern classicism – as neither mood thermostat nor metronome but like a lover or brother whose drift he knows so well that he can dip in and out in unhurried conversation. Many dances today stop only long enough to implode; Fagan's can be brazenly slow, with the dancers become a garden of stone before they calmly carry on. He does not forgo steps for vectors of energy; he likes his shapes. A "Y" tilted off its axis, a body hinged forward or back at the hips, split leaps: he angles limb to torso in clean geometries. Most of the time, the shapes don't speak except to say "shape". Fagan is a proud formalist.

This year, I found myself wishing he were less proud….
For the whole review, click here.