So, in writing about this month's ridiculous, my big dilemma was whether to allot it one star or two in the Financial Times galaxy. The dancing might have warranted two, but the story the dancing was telling was so benighted…. I finally went with one. Here's the first few paragraphs of the FT review, which came out today:


Another worldwide tango show has arrived in New York, in the sixth year of its never-ending tour. Tanguera – a Movin' Out-style musical, at City Center until October 18 – is too dumb and unambitious to hate, though one can certainly resent it.
You know where the threadbare story is headed as soon as our greenhorn heroine, Giselle of Paris, struts down the gangplank in bare legs and raincoat. The hulky dockworker she bumps into – bing, they're in love! – will rescue her from the stylish Buenos Aires pimps stealing her away to their bordello, but only after she's had to service the stoop-shouldered, myopic and middle-aged. (The other girls get the young, muscled and bronzed.)

Better Banguera, in which Giselle leaves her loyal dockworker for the boas, bustiers and paid sex. It would oppress less. Tanguera depends on a simple opposition: the bad guys, with whom the whores don't want to dance but must, versus the good guys, with whom they want to dance but aren't allowed. In other words, half the numbers represent unwilling intimacy (to put it squeamishly). The performers couldn't actually be doing these perfectly calibrated leg waggles without consent, though, so why not a story that doesn't require so much pretence on their part and suspension of disbelief on ours?

Still, Tanguera would have been less awful if choreographer Mora Godoy had treated the soft-porn plot as a dancemaker's challenge….
For the whole thing, click here.
And now for the sublime, which was doubly pleasurable because I wasn't expecting it. You have only through Friday to see the young Italian choreographer Matteo Levaggi's Primo Toccare at the Joyce. Given the size of the opening night audience (woefully small–about half full), I'll bet you could get $10 tickets.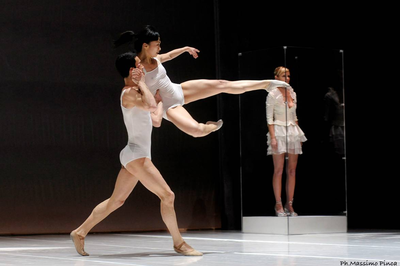 Vito Pansini (man) and Yi Chun Liu (woman) with anonymous model in the White section of Matteo Levaggi's Primo Toccare. Photo by Massimo Pinca.

The dance, with its eight elegant, soft-spoken dancers, belongs to Balletto Teatro di Torino (Turin Ballet to you and me). The weekend program consists of older and perhaps less delectable works. Don't let the washing-machine sound effects or the chilly, portentous set or the live dead models set your mind against this dance. It has a mind and voice of its own.
Here's the start; Financial Times review out tomorrow. (Did you know that it's not just the Clash that says spe-ci-al-ity?)

It is a rare choreographer who makes you feel you are not waiting for anything to happen, because it already is happening – every moment "a visible action of life", as Merce Cunningham once put it. In Balletto Teatro di Torino's New York debut on Tuesday night before a small but enthusiastic audience, 31-year-old Matteo Levaggi proved to possess that elusive talent.


For Primo Toccare (First Touch) – the first of two programmes of his work at the Joyce this week – he hedges his bets, allowing himself and his collaborators to stuff the dance with accessory meanings. Art-fashion team Corpicrudi lays the vanitas on thick with a coffin-shaped vitrine that displays first a skull and lilies, then two motionless models standing while staring blankly out at us. The sound score denatures the heavy breathing of lovemaking so it turns into white noise; on the other hand, it blasts churchy organ at such high decibels, you pray for earplugs.

Yet Levaggi – a pure product of Turin Ballet whom long-time director Loredana Furno designated resident choreographer at the tender age of 23 – is so engaged in the essential choreographic questions of timing and juxtaposition that the Euro-angst pretensions do not stick. Primo Toccare's confidence in dance as an end in itself carries us through on a serene pulse of attention.

Step for step, the movement is nothing special. Batsheva's Ohad Naharin achieves more dramatic effects with a torso's squiggly undulations. Other choreographers have used splay-fingered, wrist-cocked monster hands just as endearingly. The flying karate legs with cantilevered torso are a Forsythe speciality. And Levaggi's fondness for squatting fourth positions reminds me of Cunningham.

But the tone of sublime gentleness…..