Emio Greco | PC's [purgatorio] POPOPERA is kind of a mess, but if you love movement –watching it created with the breath, thought about unusually–you should head over to the Joyce this week (through Sunday). And you could probably get in for $10. (The Joyce has "updated their pricing structure"–i.e. succumbed to recession specials. On Tuesday, there were a lot of empty seats and gleeful 20somethings, who must have just wandered in.)
It's so rare that European "contemporary dance" choreographers–you know, blessed with those well-funded regional centers–actually do anything interesting with the movement. It's almost always the same liquid thrashing.

Anyway, this is what I said in the Financial Times today: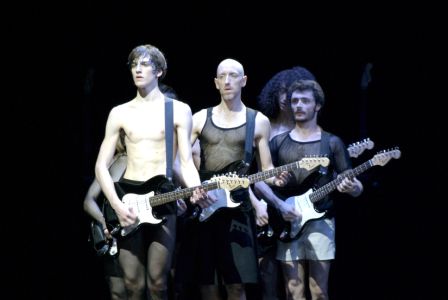 Photo by Igor Mendizibal
No, [purgatorio] POPOPERA, despite its title, is not one of those impudent European stagings of a canonical work, high on concept and low on everything else. You know, Nijinsky's lethal Rite of Spring played out in undies on Astroturf, or the Faun in The Afternoon of a Faun pleasuring himself atop an enormous tissue box. Neither idea nor setting defines the purgatory fomented by Amsterdam's Emio Greco and Pieter C. Scholten, collaborators since 1995. Dance does, and eventually five dancers wielding electric guitars. This work – at the Joyce until Sunday after touring Italy and France last year – unfolds organically from the inside out.


The movement is eloquent. The arms and hands, especially, tend to complete a flung phrase as if catching fireflies in a jar: energy made visible. The dancers cup their hands like lotus flowers to crown arms thrust overhead. They swing their arms wide to say, "Here I am, for what it's worth". They narrow those arms to dive into space as if it were water.

Purgatorio's tremendous dancers seem to be capturing and releasing air – an apt metaphor for the effort and slipperiness of liberating oneself from tiny sinful thoughts. And by delineating negative space – the space between them – they become a tribe. Every jangly chord crashing down on them from some guitar god in the sky (the erratic score is by Michael Gordon of Bang on a Can) propels these hapless habitués of limboland, by turns goofy, innocent, and mysterious, into another fit of steps.

About two-thirds through the hour-long work, the dancers each gain a limb – a shiny black electric guitar – and….
For the whole review, click here.

Upcoming (next week): Foot contributor Paul Parish on an impending threat to our online dance library, aka YouTube.