That would be Fall for Dance, which just finished its five-program, two-week run at City Center. Here's my Financial Times review of all but the final program, and here's a teaser for those not so sure they want to click:

The all-ages audiences for City Center's Fall for Dance festival are a democracy's dream. People are so buzzed from having snagged the $10 tickets that sell out in a day that they're rapturous about everything they see – and keenly attentive. For master puppeteer Basil Twist's glorious take on Fokine's 1911 Petrushka, they burst out laughing whenever the balsawood Ballerina made a finicky adjustment to her refined pose, weightlessness and her vanity perfectly matched. ("Wrong!" shouted a rabid balletomane – proof of Twist's parodic precision.) Everyone understands that this two-week, five-programme dance smorgasbord is a present to us.

But it's also supposed to be a gift to dance – encouraging people to try another show some time (at City Center, with luck). That's the rationale for the buffet approach: with a slice of modern and a side of tap, everyone's going to like something.

In my experience, no one likes anything as much as when the menu coheres. So it's an improvement that Fall for Dance comes with a timely theme this year: Diaghilev's Ballets Russes, riffed on and reconstructed, on the centennial of the company's birth.

The reverberations from the fantastical and propulsively dramatic works that Diaghilev commissioned (from 1909 until his death in 1929) from Fokine, Nijinsky, Nijinska, Massine and Balanchine have stretched far into ballet and modern dance. To take one example, dance has long exploited the tension between the mechanical and the natural: a dancer spins like a top, then bows like a prince. The Ballets Russes opened up where the emphasis might fall, so the mechanistic was no longer confined to technique. It might shape style, too – the angle of the arms, a gesture's rhythm. Track just this one effect, and you could fill all 20 spots on the Fall for Dance roster without breaking a sweat….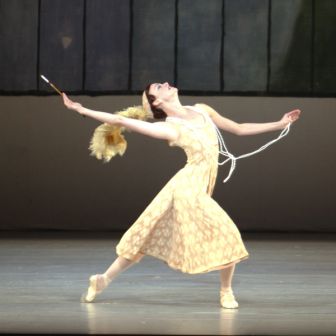 Kate Crews of Ballet West as the Hostess in Nijinska's revelatory 1924 Les Biches.
(Photo by Ryan Galbraith.)