I think it's really exciting that American Ballet Theatre chose to do three premieres for their fall season: Bravo! And they even picked choreographers with solid–or better–track records: besides their new and cherished resident choreographer, Alexei Ratmansky, prolific 30something choreographers Benjamin Millepied and Aszure Barton.
I've admired works by Barton and Millepied before, but these premieres featured the choreographers' worst tendencies: teenaged ticishness in Barton, and in Millepied, workmanship so poor (imagine unvarnished wood that splinters at the touch–and the fault was not with ABT's committed dancers) that it's impossible to locate his intent, to find something in the piece to follow out.
I'm very hard on him in the review for the Financial Times below (and here, in full)–maybe because he starts the piece by weaving geometric patterns with the 26-person ensemble–large for the Avery Fisher Hall stage–in which he doesn't seem to hear the very nifty rhythms in David Lang's Reichian, shapeshifting score. Lang's rhythms keep surprising, the new measure starting on the last beat of the previous one, as if the wings of time were being clipped. To ignore it–to square the beat–dizzies any viewer not rhythm-immune.
In any case, Millepied is trying to create a sense of stark linear patterning, then swirly amorphous forms, but the effect in both cases is too much of a muddle.
In its second movement, the ballet moves into a cold, faceless pas de deux between Isabella Boylston and Marcelo Gomes (Gomes reduced to porteur) that probably is supposed to have some relation to the opening section.
I could go on…..
My favorite moment was trickster Daniil Simkin leaping into the arms of a huddle of men. It's usually the women who get carried aloft by a horde, so it was neat seeing an impish intruder do it. I liked Millepied's idea of having a jester among the somber crowds, but as it wasn't clear what had been there before the jest, it didn't really rearrange the dance's chemistry.
Simkin and the boys, in Millepied's Everything Doesn't Happen at Once, (where it pretty much does). All photos by Gene Schiavone for ABT.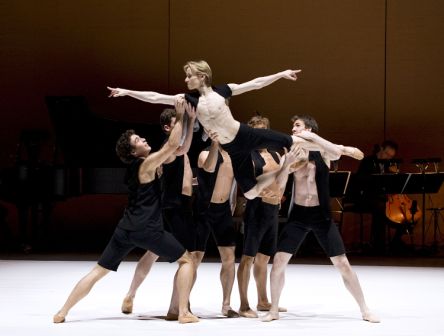 The weak showings by Barton and Millepied made me wonder about ABT's rehearsal allotment for new works. Maybe not given enough time? It might be worth the ABT people asking Millepied about how it worked at NYCB for this spring's Quasi Una Fantasia, to Gorecki, which gives much of the same attention to crowd and form and atmosphere but to much better effect.

Anyway, here's a chunk of my Financial Times review:
Three exceptional things about American Ballet Theatre's autumn season this year: it is short, over by Sunday; it takes place at the Avery Fisher concert hall, where the acoustics are great and the sightlines terrible; and – to compensate – it consists almost entirely of premieres.

In his second work as ABT's resident choreographer, Alexei Ratmansky knew what to do with the shallow stage: create an intimate piano ballet. That was the speciality of Jerome Robbins, whom the former Bolshoi director resembles in treating the stage as a real place, and people with all their idiosyncrasies as the drama. Robbins used Chopin for his character gems; Ratmansky makes the inspired choice of Scarlatti – less moody than Chopin, more mercurial (and pearly) than the composer's contemporary, Bach.

Seven Sonatas begins by acknowledging the music's Baroque purity. The six dancers, in Holly Hynes's all-white riffs on courtliness, behave. The three men kneel before the three women; the women do not tease, disappear or collapse in despair. Not for now.

But once each couple is alone, with a sonata to itself, it becomes irrepressibly itself. Stella Abrera wreathes Gennadi Saveliev in a fog of terror that will only lift, she fears, if she reaches beyond the circumference of their love. Herman Cornejo and Xiomara Reyes happily subsist on flutter and flirt, buoyancy and braggadocio. David Hallberg – in whom the choreographer has cultivated a nuanced and demonic fervour – is in love with love; Julie Kent feeds his fire by making herself scarce.
Stella Abrera and Gennadi Saveliev, aching and resisting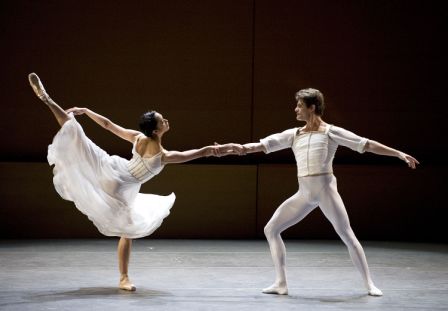 To create these complex characters, Ratmansky tweaks the classical vocabulary. Faced with his lover's imminent dissolution, a kneeling Saveliev grimly lifts an imaginary sun from one side of his body to the other, from sunrise to sunset. His situation has come to feel as impossible as carrying the sun – but also honourable, since this sun takes after fifth position, a planet in the ballet universe.

As a necklace of miniatures, Seven Sonatas can treat us only briefly to the simultaneous long and short view that Ratmansky, alone among choreographers, offers. He has this trick of depicting characters both lost in their own world and partaking witlessly in others'. For the last sonata, the six dancers move – all at once and every which way, in a goofy ecstasy – as their characters have dictated, until a looming threat overwhelms them. The women lie down and the men kneel behind them, bowing their heads as if over a grave.

After Ratmansky, the evening barrels downhill. Choreographer Aszure Barton, whom Baryshnikov has long championed, adores eccentricity but can only imagine it in libidinal terms. Unavoidable urges spout from the dancers' bellies and shoulders, and erupt from their toes. The theme favours men (for some reason) and so, in One of Three, we get them. In suits, to reinforce the idea that they didn't mean to let it all hang out. For double reinforcement, Gillian Murphy plays a mystery lady, with a finger to her lips. But the secret has already been blown.
Eric Tamm and Cory Stearns, with Murphy.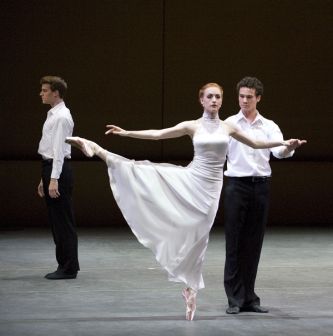 Today's ballet choreographers don't always know what to do with women, but that is the least of Benjamin Millepied's problems…..

On Monday, Paul Parish reports from the free speech and video front.