While my colleagues have admitted that something marvelous and strange is going on in Mark Morris's latest works, they've also been diffident. As Alastair Macaulay summed up in the New York Times upon the company's performances at the Mostly Mozart Festival last week,


Both [premieres] are peculiar, imaginative, sincere… But [they] are almost impossible to love.
I recognize that feeling, coming out of a Morris show–principally, a first viewing. But I did love them–if not in a heart-pounding way, then with immediate attention and absorption. Those of you in Berkeley and London still have a chance to catch these two, Empire Garden and Visitation, this fall.

Here, the first few paragraphs of my review, which appeared in the Financial Times' Saturday print edition:


When the Mark Morris troupe was at the Mostly Mozart Festival a few years ago I overheard a small, serious man in a comically oversized suit exult: "The dancing is so… so primitive!" And then, "It's so… so civilised!" Back and forth.

Both of him was right. The much-acclaimed Morris can be as blunt in his means as he is meta in his meaning. Take V, reprised this year. The 2001 work to Schumann's Quintet for Piano and Strings, op. 44, not only channels the music's push and pull of plangent joy and stuttery foreboding, it summarises Romanticism itself, in wry, baroquely rational terms.

The effect for the viewer is double vision, as if you were standing both too close, caught inside the dance's gears, and so far away that the dancers are reduced to two dimensions. Only after multiple viewings do these two perspectives merge.

The premieres this year, however, offer a single gratifying experience from the start. Visitation and Empire Garden – touring Berkeley and London in the autumn – return to a more cohesive Morris while elaborating on his increasing richness of expression.





John Heginbotham in

Visitation

. (Photo, Hilary Scott.)




To Beethoven's Cello Sonata No 4 – played with gorgeous feeling by superstars Emanuel Ax and Yo-Yo Ma, in the pit – the intimate Visitation encloses a wafting ghostliness in foursquare forthrightness, like a high window one leans too far out of, caught up in a vertiginous thrill. Sharply angling their arms as their bodies softly collapse, the dancers pile up contradictions that make immediate sense.




For the whole review, click here.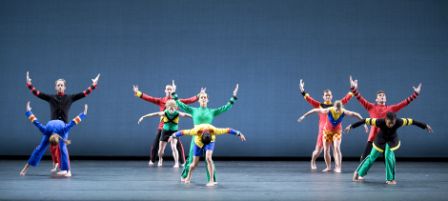 Empire Garden. (Photo, Gene Schiavone.)