For Los Angelenos trying to decide which American Ballet Theatre cast next week: the thing about Macmillan's ballet, like the play, is that it's the pair that counts. Half a pair of lovers amounts to none at all–and these two are fantastic together.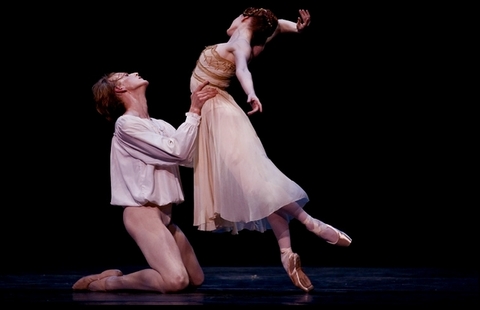 David Hallberg and Gillian Murphy in Kenneth Macmillan's Romeo and Juliet.
Photo by Rosalie O'Connor
Hallberg is a swift stream of impulse and warmth; Murphy is one of the only ballerinas today exploring a domain of femininity that I recognize, that feels familiar more than mythic, and all the more beautiful for it. Male dancers have been changing character–not just steps–for the last few decades, but women have incrementally lost character–and then been told (by critics if not coaches) to look to precedent. Murphy's characters and the musicality and silent-star animation by which she conceives them do something new. For example, when she first meets Romeo, she looks at him with so direct a gaze–so unpracticed in the art of coquetry, unburdened by the commonplaces of love–it borders on impudent. And when, not much later, she's overtaken by feeling, it's like a blush rising through her whole torso through the crown of her head. You can feel the heat rising. Often with Romeos and Juliets, one feels that they love better than we ever could. Murphy makes the love exceptional but also recognizable and thus we love her more–and are more wretched at her death.
Her Juliet allows Hallberg to be more interesting too–softer, more exposed at heart, without ever being effete or princely. (My friend Carlene said, "I don't think I've ever seen a romantic male dancer," and I know what she means: men are so often playing the courtier that it's not always clear if you're watching the expression of the character's heart or merely good manners.) These two often dance together, but this is their most symbiotic relationship, as it should be, given the story.
They play the lovers young, which might have been cloying but instead felt as if the romantic gauze that usually wraps the ballet were stripped away so we could peer straight back (if we happen to be beyond youth ourselves–there were a lot of enrapt children in the matinee audience) to when huge things were happening around and inside us and we had to invent out of nothing the resources to respond.
Carlene and I cried at the end, and when the curtain fell, this audience full of mothers and their tween daughters (in gloriously mixed ensembles, such as one girl in owlish glasses, t-shirt, sparkly ballerina skirt, and sneakers. Yay!) rushed to the front to applaud. If I were a parent, this is the pair I'd bring my child to.