The postcard for Vicky Shick's Glimpse–commissioned by the Extremely Hungary Festival and Danspace Project at St. Mark's Church, which presented the dance last weekend–is a photo of a worn Hungarian-English dictionary opened to a page of ps: pelda to pince. Penz follows pentek as money does Friday only to take off on a byway: pep (pulp; the flesh pitted of structure). That's how the soft, sensual Glimpse works, too.
A woman rolls her shoulder, and the motion ripples all the way down her spine through the sexy smile of a hip to a loose foot. She swings her arm before her, where it grazes the earlobe of the dancer facing her and, like an electric current, moves through him. A relationship has formed: between the shoulder, arm, and fingers of one person and the earlobes and spine of another, and thus between two people. The exchanges in Glimpse give off an at once jaunty and ominous air.
The riveting dancers–I was especially glued to Hungarian Hedvig Fekete, the blessedly ubiquitous New Yorker Christine Elmo, and Shick–mix fluid articulation with mildly theatrical insouciance. The movements communicate like a person talking to herself out loud before an imaginary audience. The effect is slyly comic. Shick finds the place where private musing meets public wanting, wondering, and inching forward toward another.

Improbably for someone long associated with the deeply structural and plotless Trisha Brown, for whom she danced and for whom she now teaches, Shick makes dance theater. But in keeping with her inheritance, its origins are strictly physical; it emanates from the body's joints.

Shick thinks associatively; her association for movement traveling through the body is clusters of stories that do not grip one's mind, or the people involved, but instead arouse a suspended state of attention–a readiness for epiphany or communion–as beauty does.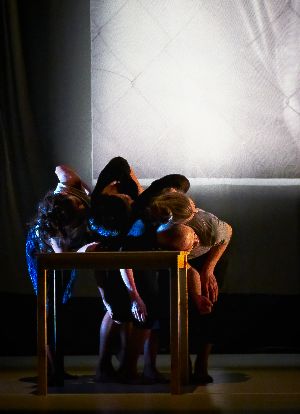 Glimpse's Christine Elmo, Hedvig Fekete, Diane Madden, and Tamás Bakó (Photo by Sandor Naske)

Critics have long praised Shick, who premieres work every couple of years in downtown spaces, for her subtlety and suggestiveness. They talk of her "elegance." They don't mention her good manners, but she has those, too. In Still Lives, at The Kitchen in 2000, with Juliette Mapp and Jodi Melnick arresting and unflinching, Shick sat on the sidelines like a maid waiting for her bell. Occasionally she rose to fuss over the set or the women's stiff, gorgeous costumes. Her subservience–an accessory to her own creation–was excruciating.
In Glimpse, former Trisha Brown dancer Diane Madden performs that role, entering at intervals to offer crystal shot-glasses of brandy to the dancers. But it's no accident that the help brings hard liquor here: Glimpse possesses a frankness, a bawdiness of intent, that I haven't seen from Shick before–and it's as welcome as a stiff drink.

Two years ago, "at the risk of offending the entire modern dance community" (she probably did), the excellent Lisa Rinehart wrote a highly critical review of Shick for the Danceview Times. The softness of meaning in Shick's work was driving Rinehart crazy. The occasion was Plum House (A Cartoon) and Repair at Dance Theater Workshop (DTW), but the review was far-reaching.
And brutal, like shaking someone who is softly crying until her teeth rattle. But (after recoiling) I had to admit there was something unfinished about the dances of Shick's I'd seen. The problem for me wasn't meandery meaning as much as decorousness–just a few steps removed from the delicacy for which Shick is justly beloved. Her gentility can shade into a self-apology that she seems only half-conscious of; it can linger in the shadows like an anxious mother keeping tabs on her voluptuous, heedless daughter.
Glimpse endows that mother-servant with the hard flesh of will; we can see her clearly now–a powerful counterspirit to a dance so ripe, it's just this side of bruised.