This winter, a deadline forced me to miss Janie Taylor in Balanchine's "La Valse" at New York City Ballet. I felt even more gloom than usual at missing her–I try to catch everything she does–because the reviews confirmed, as Alastair Macaulay, chief dance critic at the New York Times, wrote, that
no other recent interpreter… is so right for the heroine as the febrile, driven Janie Taylor. The piece begins to Ravel's "Valses Nobles et Sentimentales." Ms. Taylor enters to the eighth and final waltz, and at once she shows the morbidly curious nervous system that is at the ballet's heart. She stretches out into the dark as though it will answer her needs. [And it does. With Taylor, the darkness always does.]


So I was overjoyed to find I'd have another chance: "La Valse" was returning for City Ballet's spring season.
I rarely get to experience that relief with experimental dance, however. You have three days, and then the dance is gone forever.
I've suggested this before, but I'll try again: Wouldn't it be cool if–along with its first committment, to new work–such palaces of experimentation as Dance Theater Workshop, the Kitchen, Danspace Project, PS 122, and Dixon Place had festivals of second looks?
PS 122 and others do an abbreviated rerun each January when performing arts presenters descend on the city to see what they might want to pick up for their theaters nationwide. But what about for the rest of us? What about a festival in the summer months, when the living is easier and theaters often lie dormant for a few weeks? An August festival, say, that extended across performance spaces and ran a single work for at least four or five days?
I've heard the arguments against it. The esteemed Claudia La Rocco ran through the objections in a nuanced article for the Times last year, when Dance Theater Workshop was restaging Adrienne Truscott's "Genesis No!" a year after its initial run at PS 122.



"It's applying a museum curatorial approach to live art practice, and by 'live' I mean of the moment," said Simon Dove, who left the Springdance festival in Utrecht, the Netherlands, to become chairman of the dance department of the Herberger College of the Arts at Arizona State University last year. "A museum approach is a way of holding on to something that by its very nature cannot be held onto."
[And Tere O'Connor:] "My art is a lens I see the world through: it's not about the product as much as it is about me looking forward."




I'm with Dance Theater Workshop's artistic director, Carla Peterson, though, who

spoke out against "the tyranny of commonly accepted wisdom" that she said fetishizes the ephemeral nature of dance.

By the time a dance appears before an audience, it has been rehearsed and rehearsed and rehearsed; it has already had all sorts of moments. Which one do you have in mind, Mr. Dove? I understand that the stage creates a different aura around the dance than the studio does, but it's not as if people are just getting up there and making stuff up.
In any case, as the art of dance transpires between dancers and audience, wouldn't every moment in performance essentially be new? I mean, isn't that what performance is–to make new again and again? No one accuses Dylan of being a relic for performing the same songs for years running. But then Dove hasn't chosen a rock analogy: not tony enough. (So what if he wants gallery in place of museum.)
As for Tere O'Connor's claim that dance isn't about the final product so much as the process, I understand why he's making the distinction: if an artist is making a product, then it can be consumed, and who wants an audience of consumers? But in declaring his independence from creating something–it's not about what we see, he says, but about him "looking forward"–O'Connor stumbles upon a common ambivalence among contemporary experimental choreographers towards having an audience at all.
For example, when choreographers lately work to break through the fourth wall, it's ostensibly to bring us into "the moment." But their actions often have the opposite effect: to push us out by doing our work for us, muffling our own anarchic intrusions. These transactional experiments are offered as a form of liberation–letting the dance and the audience loose from their cages. Too often, though, they smack of condescension and self-pity. Just because I'm sitting here doesn't mean I'm encaged, and just because you're performing doesn't mean you are. Plus, big concepts about Audience and Performer tend to obscure anything else in the performance but that relationship. The moment-by-moment experience of the dance itself–the thing that audience and performer have come together around–gets lost. Maybe, in fact, that's the aim: a disappearing act in which art experienced as art becomes impossible. No more concentrated attention and wafts of thought and feeling. No freedom of mind. Just a game with precise ground rules. The fourth wall hasn't been knocked down; rather, it encircles everyone now–performers and audience alike.
As for Dove's worries about the museum paradigm, I think the real worry is about curation. Theaters that bring a work back seem to be sanctioning it even more than when they commissioned it. They are saying not just that they stand by the artist but that they stand by this particular work. And that's scary–especially as they're choosing to return to certain pieces and not others.
I appreciate the problem. For example, the piece that occasioned La Rocco's Times article, Adrienne Truscott's "Genesis No!," would never have been my choice for a revisit. I very much wanted to like it, because I've always enjoyed Truscott as a performer, but I found it unbearable. You know that kind of humor that doesn't want to be too obvious, so instead isn't funny at all? Imagine an hour of it. The work was really into its non-sequiturs, just the way everyone is, just the way everyone is into their own dreams. But you probably won't be (unless the dreamer is your best friend).
Nevertheless, I think artistic directors should be brave and make even more choices than they already do. They should do this deja-vu thing more often.
As for me, the downtown show I was most disappointed to have missed these last couple of months was Jody Melnick's at the Kitchen.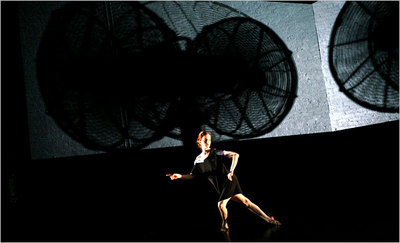 Jodi Melnick in her "Fanfare." (Photo by Julieta Cervantes for the New York Times)