I just didn't believe it could happen–this,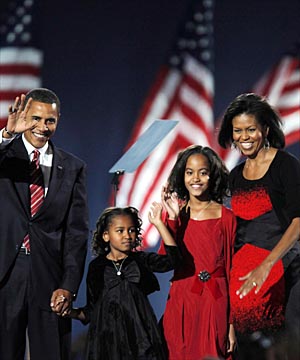 our new First Family.
I'd been calculating and recalculating the electoral votes since the beginning of October–you know, switching a NH for a CO, a Michigan for a Pennsylvania, etc., etc.,–and maybe by Monday, I'd arrived at a glimmer of hope: perhaps he could pull off 280 electoral votes. (Please, please.) But after the election of Bush for a second term–after it had turned out the President had lied about WMDs (not that even the lie was reason to invade) and Abu Ghraib had been exposed–I lost all faith.
And I thought the country was too racist to elect a black man.
God, what a joy to be found out wrong.
And did you notice, in Obama's victory speech, how he invoked Martin Luther King Jr.'s Moses on the Mountain speech, his last speech, as if Obama understood he was going to carry on from where King left off?
Here's King:
We've got some difficult days
ahead. But it doesn't matter with me now. Because I've been to the
mountaintop. And I don't mind. Like anybody, I would like to live a
long life. Longevity has its place. But I'm not concerned about that
now. I just want to do God's will. And He's allowed me to go up to the
mountain. And I've looked over. And I've seen the promised land. I may
not get there with you. But I want you to know tonight, that we, as a
people, will get to the promised land. And I'm happy, tonight. I'm not
worried about anything. I'm not fearing any man. Mine eyes have seen
the glory of the coming of the Lord.

And here's Obama:
 

The road ahead will be long. Our climb will be steep. We may not get
there in one year or even one term, but America–I have never been
more hopeful than I am tonight that we will get there. I promise you–we as a people will get there.

Choked me up.
Finally.
[Here's a video recording of the last minute of King's prophetic speech. And here's Obama's echo and tribute, in the first 30 seconds, here.]