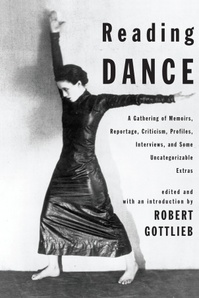 It was a labor of love: there would be no other reason to spend a decade sifting through thousands of pages of previously published work for this massive "gathering of memoirs, reportage, criticism, profiles, interviews, and some uncategorizable extras," as the subtitle puts it, in charming 18th century fashion. I was excited to discover the 1360-page tome in the slush pile at the women's magazine where I copyedit, and drag it back to my lair for a good look. But it only took the table of contents to change happy anticipation into despondency.
Gottlieb is one of the few people associated with dance who have the credentials to get such a primer into print–not because of his dance writing (dance never carries that much weight), though he did write a lovely biography of Balanchine, but because he has been the editor of Knopf and The New Yorker, so people in the publishing industry trust him.
Maybe they shouldn't have.
You can offer an anthology mainly looking to the past, but the whole project becomes an exercise in nostalgia, a mausoleum, if you don't create some bridge to the future. "Reading Dance" doesn't. There is Astaire but no Savion Glover–and nothing about the Astaire to get you to Glover. There's Tudor but no Forsythe, not to mention Wheeldon (though there is Boris Eifman–why? Just because it's fun to hate?). The ballet dancers basically stop with the generation of Gelsey Kirkland and Baryshnikov–there's no one with the contemporary sensibility of Wendy Whelan, Diana Vishneva, or Gillian Murphy. The modern dance is focused on Graham, Taylor, Cunningham, with a smattering of Judson-era noodlers, and ends with Morris. It's as if the last few decades never happened.
Gottlieb may feel that indeed nothing noteworthy has happened since Reagan, but then he should have taken the advice of unlike-minded friends (if he has any: from the looks of the acknowledgements and contributors, perhaps not). He should have been leery of a generation's narcissism.
And he should have been braver: there's not one risky subject in the book.
I
wouldn't have been so disappointed had the title prepared me–if instead of "Reading Dance," the book had been called something more modest and more accurate, like, "Reading Dances I Have Loved and Looked to," with the subtitle modified to "A gathering of memoirs, reportage, criticism, profiles, interviews, and some uncategorizable extras by the Boomers, the dead, and a few in between."
But see for yourself–"Reading Dance" is now in bookstores.
And let me know what you think.
UPDATE: If you disregard the title and the ambition of the book, and reorganize the contents, you will find a valuable history inside. I explain here.