…a different house than anticipated this winter, when the Bolshoi director-choreographer seemed poised to take over Christopher Wheeldon's position as resident choreographer at the New York City Ballet, but who cares? As The New York Times reported yesterday, Alexei Ratmansky is going to become a resident choreographer, but of NYCB's rival across the plaza, American Ballet Theatre. The future of ballet has migrated a few feet northwest, which means we on this side of the Atlantic will get to see regular work by the man who wowed us with "Bright Stream," "Middle Duet," "Russian Seasons" and "Concerto DSCH"!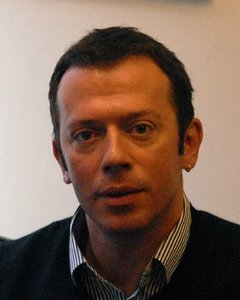 Ratmansky: perfect mix of conservative and hip (note tiny gold hoop in left ear)
What to make of City Ballet's reason for not granting Ratmansky the position back in February–that he had too many other commitments?
The Times, at least, makes nothing of it. Whether the subject is the arts or, say, the election campaigns, the paper of record rarely presses for answers. [UPDATE Saturday: here they do, in an excellent front page investigative report on the mafioso activities of Sarah Palin, mayor and governor.] It's a newspaper with little instinct for the news–in this case, for the key to the sort of institutional practices that would cause City Ballet to make such a blunder. For an excellent take on the folly of the Times, here's its very own Paul Krugman (I give them credit for him, at least):


Why do the McCain people think they can get away with this stuff [i.e., lies]? Well,
they're probably counting on the common practice in the news media of
being "balanced" at all costs. You know how it goes: If a politician
says that black is white, the news report doesn't say that he's wrong,
it reports that "some Democrats say" that he's wrong. Or a grotesque
lie from one side is paired with a trivial misstatement from the other,
conveying the impression that both sides are equally dirty.

Today's example: the Times headline on Sarah Palin's long-awaited (and -deferred) interview with a member of the press, ABC's Charlie Gibson: "Palin says 'I'm ready.' " Yeah, but is she? Last night, Gibson appeared stern but still managed to ask her almost nothing that would distinguish her from the other candidates, for either Prez or VP. Did she think she was experienced? he asks. What is she going to say, "Not really"? We want to hear experience demonstrated or debunked–and a good interviewer would know how to do that. Asking what she would do with Georgia, when no American politician would say, "Let Russia grind them into the dust," doesn't cut it. Her point that the U.S. should do what it can to protect itself from "imminent" attacks (this in response to the one question that could possibly expose her, when Gibson asked whether she agreed with the Bush Doctrine and it was clear she didn't know what that was) isn't any different from what Obama would say. But if Gibson had pressed her on "imminent"–Was an Iraq attack "imminent" when Bush II invaded? Are we in "imminent" danger from Iran?–he might have brought her politics, if not her ignorance, front and center. Ugh.
Where was I? Oh, yeah, the world stage of… ballet: Presumably Ratmansky has just as many commitments now as he did when NYCB thought he had too many. Perhaps ABT, which has offered him a five-year contract and the position of artistic associate (sort of mini artistic director), was simply quicker to realize what a boon he would be.
And, oh, would he. Ratmansky's last New York premiere, "Concerto DSCH" for the New York City Ballet this June, won almost universal raves. Here's my short take on the ballet and also on his underappreciated "Bizet Variations" for the Georgia State Ballet (yeah, that Georgia) at BAM this past winter.
American Ballet Theatre certainly needs him more than NYCB does, with its store of Balanchine wonders, and the fit might actually be better. (Why didn't any of us think of this before? Maybe because it's been a long time since ABT has had choreographer associates, as they did with Twyla Tharp, Kenneth MacMillan, and Antony Tudor up to the Baryshnikov era.) Ratmansky is adept at dance poetry–where there's an occassion and a mood, and the dancers have a backstory that's felt without being fully fleshed out–as well as the short and long story ballets on which ABT has made (and foundered) its reputation. At the Bolshoi these last few years, he's remade hilarious Soviet-ballet spoofs, based on lost originals from the '30s, and reworked several classics. While he's worked wonderfully with City Ballet dancers, ABT's emphasis on dance theater might allow him greater breadth than New York City Ballet would have.
His first piece for ABT will premiere this spring at the Met. As long as World War III hasn't begun, I can hardly wait.
UPDATE: On further investigation, it turns out some people, even some friends!, think Ratmansky is a hack. Even when I squint, I can't see it. I love the way he puts together steps–the dancing, the musicality–and, more important, I love his emotional depth, which is to say, his wisdom. The man is more consistently wise than any other contemporary balletmaker, including the admirable Christopher Wheeldon.