Foot in Mouth invited
dancer, dance teacher, and writer Theresa Ruth Howard to reflect on Alvin Ailey
American Dance Theater's fiftieth anniversary, which the company is currently
in the middle of, from the inside out. Here she is:
In history books, memoirs,
and biographies, the subjects of the photographs–peering out from so very long
ago–appear to readers as we have come to know them: at home in their own skin,
fully formed–not as they were in that moment, in that state of becoming.
We like to
imagine that we can see a glint of knowing in their eyes. Can one feel history
being made? I once met Muhammad Ali in an airport and had the opportunity to
sit and talk with him for about twenty minutes. Oddly undisturbed, I asked him,
"Did you know then? Did you have any idea what was to come?"
As a dancer I was
always fascinated with the Alvin Ailey American Dance Theater, its founder and,
of course, its dancers. I marveled at grainy photographs of Mr. Ailey in the studio
with his dancers working on what might in the future be deemed a masterpiece.
One has to wonder if they had any idea that they were churning the mortar for a
foundation that would support fifty years of work–that with their bodies,
sweat, and passion they were writing the first chapter of a legacy.
As a member of
the New York dance community, I have taken class in the old, 61st Street
building, wandered through the halls looking into classes, and befriended
dancers, faculty members, and students. Though I was never a student or company
member, the Ailey studios always felt like home–perhaps not my home, but at least that of a loving
godparent. It was always okay to stop by unannounced, rest awhile, socialize,
gossip a bit, or just hang. There was nothing like the end of the summer
intensive performance, appropriately named the Summer Sizzler because the
studio was so hot, you could sweat off a third of your body weight. It was
always a hell (pun intended) of a show, and it always sold out!
I began teaching
at the school about four years ago. It never quite dawned on me what exactly I
had become a part of; I was just happy to have a gig. It was not until we moved
into our new home, the glass palace on 55th Street and 9th Avenue, that it hit
me: I was a part of history. The newness and the grandeur of our modern
facility took many of us aback, and for a while we were lost in the space. We
had to create new ways of interacting, new systems of finding and connecting
with people who used to be just feet away and were now on a separate floor.
Slowly and each in our own way, we grew acclimated to our new home and the
palace became just our place.
Within the
organization, we fringe people had been hearing rumblings about the impending
fiftieth anniversary and to be prepared for a higher level of visibility. You
can only imagine what that would mean in a glass building. The March 27th, 2008, launch
of the anniversary brought the grandeur back full blast. The plans revealed
that New York audiences would not have to wait until Christmas to see the
company but that a season at BAM, in Brooklyn, was planned, as well as numerous
Summerstage performances in several boroughs. The Alvin Ailey American Dance
Theater is marking its fiftieth the only way a dance organization could–with
dance, dance, and more dance.
The first of
numerous New York appearances was Ailey II at the Joyce this April. It is
always a treat to see this part of the organization from the inside out, as the
dancers are the harvest of the school, the physical representation of a through
line. Associate director of Ailey II, Troy Powell, for example, has marked all
the steps, beginning with his training at the school at age nine. He also danced
in both first and second companies, and has now created for Ailey II "External
Knot," which is indicative of the powerhouse work that Ailey has become known
for.
Another bit of
history on the Joyce stage was "When Dawn Comes…" by Christopher Huggins, who
danced under Mr. Ailey. The piece brought the physically dynamic movement
vocabulary and musically-infused virtuosity of Mr. Ailey's legacy to mind. The
freedom and abandon with which the young dancers presented the work was
refreshing, and Mr. Huggins should be applauded for creating such meaty
material for them to work with and grow through. As a footnote, two of the
Ailey II dancers, Yannik Lebrun and Rachael McLaren, have just been taken into
the main company.
In the first
week of June, the Joyce Theater joined with the Brooklyn Academy of Music to
present a best-of program at BAM that featured the athletically playful "Golden
Section" from Twyla Tharp's full-length "Catherine Wheel"; Robert Battle's "Unfold,"
a beautifully simplified and visually entrancing duet that marks a stylistic
departure from the Ailey aesthetic; and, in subtle contrast, Camille A. Brown's
"Groove to Nobody's Business," a lighthearted character piece that any New York
City straphanger can relate to.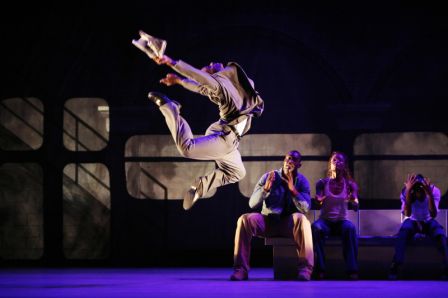 "The Groove to Nobody's Business" was another homage to Mr. Ailey in his penchant
for creating character-driven works that not only highlighted his dancers'
technical ability but their personalities and dramatic flair as well. Marilyn
Banks with her lashes, Elizabeth Roxas with her swirling mane of hair, April
Berry's aquiline nose, Gary Deloche with his charismatic sex appeal, the
womanly earth goddess amazons of Judith Jamison and Donna Wood–these were the
characters, the personalities, that kept us on seat's edge. With a battement, lateral T, or dart of the eyes, they
thrilled and inspired us.
There is
electricity in the air as these next few months unfold, but the announcement
that sent shockwaves through the glass house that Judith build was that she has
decided to step down (albeit in three years).
Gobsmacked would be the appropriate term for the
way most of us responded to the news. Immediately there were suppositions as to
who her successor would be. I was concerned about another point of history within the organization.
One of the amazing things that is little discussed is that the Alvin Ailey
American Dance Theater is run by women. It is a house of powerful, intelligent,
beautiful, nurturing, lionesses: Jamison (artistic director), Sharon Luckman (executive
director), Sylvia Waters (artistic director, Ailey II) and Denise Jefferson (director
of the school). Likewise, the heads of both the modern and ballet chairs are
also women (Ana Marie Forsythe, Jacqulyn Bulgisi, and Melanie Person, respectively).
You can almost feel the rounded curves of the organization's hips in the
understated way in which authority is demonstrated. These women are assertive
and not to be taken lightly while managing also to be highly approachable.

As a
woman I find it empowering and fortifying to work in that anomalous environment,
which in and of itself is historic. When I heard the news I felt a surge of trepidation,
for there is a part of me that doesn't want that to change, and with the
impending retirement of Ms. Jamison it's possible that it might.
One of the
things that impressed me greatly when I first entered the organization was the
intense commitment to Mr. Ailey's vision and philosophy and to the people who
have been loyal to it: it is truly
a family. I hope that whoever takes the helm upholds and continues this principle
and spirit.
For five decades
the Ailey company has made us fall in love with it over and over again, and
from the looks of it we have years more to look forward to that feeling.
Happy
Birthday!
Theresa Ruth
Howard, a former
dancer with Dance Theatre of Harlem and Armitage Gone! Dance, teaches at the
Ailey School and internationally. She's a regular contributor to Dance Magazine
and other publications.

Photo of Camille Brown's "The Groove to Nobody's Business" by Paul Kolnik for the Alvin Ailey American Dance Theatre.