We like her, we really, really like her
I try not to resort too often to the common blog tactic of letting other writers do the work, but I won't be able to get anything up until next week and my colleague Joel Lobenthal, of the New York Sun, has written a wonderful tribute to the exceptional Wendy Whelan, of New York City Ballet.
So I can't resist. Enjoy!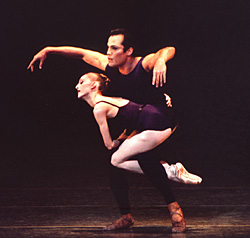 Whelan and retired principal dancer Jock Soto in Christopher Wheeldon's "Polyphonia." Photo by Paul Kolnik for New York City Ballet.