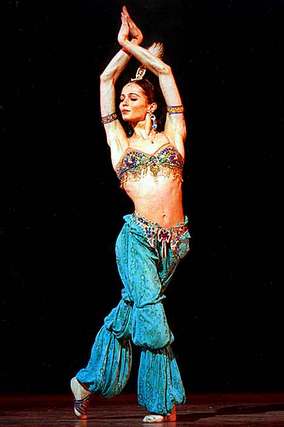 I'm under the gun, so won't be able to report on the Kirov's fantastic Fokine program. But my friend Andy Podell, a playwright who loves the ballet, went this afternoon, and sent me this wonderful response when I asked via email how it was. I've put my interjections in brackets and italics. I saw a somewhat different cast earlier in the week. Here's Andy:
It was great. Very strange audience reaction. No applause for Gergiev. Tepid applause until Lopatkina's Dying Swan and then lots of adoration for Igor Kolb. [I think it was actually Igor Zelensky–according to my updated press release.]
I liked both Nadezhda Gonchar and her partner Yevgeny Ivanchenko in the Chopiniana pas de deux. I liked Gonchar's long expressive face and the effortless and gravity-defying way Ivanchenko lifted her.
They really worked well together–zero sexual chemistry, but that's not exactly what you need for Chopiniana. They were the highlight of the evening for me.Yulia Bolshakova was also fun to watch, but had kind of a clunky descent from her leaps. The corps was great but there were a couple of boo-boos, with one really big one towards the end.
One of the corps tripped and fell during one of the long stage crossings, and other members kind of scooped her up and carried her back into the movement. Then the curtain fell and rose, and for the second curtain call half the cast was revealed exiting from the stage and the drop curtain for the ballet had already been pulled up revealing scenery from Scheherazade shoved up against the wall.
Spectre of the Rose was a disappointment. No connection between Leonid Sarafanov and Gonchar. Sarafanov was beautiful to watch, but I can't believe that the ballet was that ugly to look at. Really stupid choice of day-glo rose for Sarafanov's outfit. The whole thing looked tacky and embalmed. Yuck.
Lopatkina's Dying Swan was over too quickly for me. It's an odd piece and would probably do better wedged in between a number of short pieces. It was given too much weight as the closer for a short second act. The program bill informed us that Lopatkina was the finest contemporary interpreter of the role, so we all had to applaud loudly.
But I did feel that there were some really shocking and radical things in the piece and Lopatkina's interpretation was excellent. I loved how it begins as a kind of romantic riff on Swan Lake, but then suddenly there's these really jagged and unsettling movements. The sharpness of the swan's death throes are a nice contrast to the music and the Petipa-influenced template. It's kind of a great piece–modernism emerging out of classical ballet. [wow, you're right!] Lopatkina used her bony bony body to great effect. The whole thing was too dimly lit for me to see what she was doing with her face. Too bad. I would have liked to have seen Vishneva perform it. Did you see her? [Not yet: Saturday matinee. I agree about Lopatkina: able to convey the dying very affectingly in a few, modernist strokes.]
Scheherazade was also a surprise for me. I'd never seen it and at first I thought it should be shut up with Spectre of the Rose in an archive. But then it started to really dazzle me. It's worth seeing just for Fokine's ensemble choreography. And the ensemble builds and builds. It's orgasmic. Speaking of orgasmic, Vishneva and Zelensky sizzled. They were both spectacular. He is big and hulking and studly, or at least he seems that way from the audience. But Vishneva created the sexual tension. She's remarkable. After seeing her in (was it Giselle?) I can't believe it's the same dancer. The entire center of her performance was her sinuous waist. She was bold and unapologetically erotic. The best moment of the ballet was when Zobeide bribes the Eunuch and opens the final door that will let out the Golden Slave. Zelensky's leaping entrance got the requisite applause, but Vishneva's dramatic pose while she waits for him was what made the entrance. I kept thinking the same thing throughout: she's partnering him, not the other way round.
Also thought about the two entrances of what were Nijinsky ballets. Both leaping entrances… both ejaculatory. But Spectre of the Rose failed to come to life at least in this production, while Scheherazade came through loud and clear and is still breathtakingly erotic.
A lot of fun!
Andy
Apollinaire responds: I saw Vishneva with Kolb, and she held the show together then too, even when
she was reclining over near the wings, her lips parted like Marilyn
Monroe. My favorite moment was when Zobeide kills herself. The
turbaned master hands her the knife, not as a dare but to assure her he
won't kill her, as he's just done to her lover, the Golden Slave. And
she's sort of dazed by this opportunity–constant erotic heat will do
that to you even if you don't have to decide whether to live or die.
But then she points the knife at herself, pauses because it has made
the decision for her and she's still catching up with it, then plunges
it in. A much different suicide than for Juliet.
The Fokine program repeats Friday through Sunday but with Harald Lander's Etudes replacing Scheherazade. At City Center.
Photo of Diana Vishneva in Scheherazade (somewhat different costume, I think).