…Specifically, Basil Twist's extraordinary "Petrushka" at Lincoln Center next week through April 13 and the Hudson Vagabond Puppets' very sweet Beatrix Potter ballets at Tilles Center in Long Island this Sunday.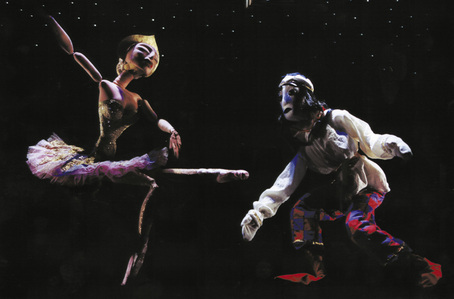 Here's my Newsday preview:
"It's amazing that people relate to a bunch of wood and cloth," marvels puppeteer extraordinaire Basil Twist. "I think as we become more computerized, we appreciate that puppetry is real–something coming to life in front of you." This week brings two not-to-be-missed specimens of that primitive magic.
Returning to Lincoln Center after seven years, Twist's award-winning "Petrushka" retains Stravinsky's shimmery, foreboding score from the legendary Ballets Russes production, as well as the ballet's lethal love triangle. But now puppets, not dancers, play the part of the puppets: the abject Petrushka, the coquettish ballerina and the muscle-bound Moor. The story's pathos lies in Petrushka discovering not his human soul but his puppet soul. "It's a very old idea," Twist explains, "that every rock, every tree, has a spirit."
Identical twins (really!) sit behind two grand pianos below a small gilt-framed stage while the 4-foot-high puppets move against a velvety blackness in corridors of light. The coy ballerina sails over her suitors' heads in split leaps, the Moor woos her with an athlete's blunt ease, and hapless Petrushka tumbles through tantrums of impotent rage as weightlessly as a spaceman on the moon.
Twist has been careful to cast the show's nine puppeteers to type so their hands work each puppet's several parts harmoniously and invisibly. But hands do emerge from the darkness–a whole disembodied and ominous chorus of them, in fact. Onion domes and a band of Russian instruments minus the musicians also rise out of the void.
"Puppetry is a very primal thing," explains Twist. "It's about what's alive and what's not, and what it means for something to have a soul, consciousness, feelings. It sort of gets dismissed as a children's art form, and maybe children are more alive to it, but it is heavy."
The Hudson Vagabond Puppets' Beatrix Potter ballets at Tilles Center on Sunday aren't, though. And children as young as 3 are likely to respond to them. The performers are ensconced in carved foam head-and-body casts painted in Potter's signature watercolor style. Poking out of the casts, their legs dance jigs and tangos to William Walton's bright, clear tunes.
With a narrator on tape reciting Potter's witty, wise words, the simple tales translate beautifully into movement. In one story, the endearingly foolish Jemima Puddle-Duck enlists "a gentleman with black prick ears" and a long bushy tail to help her find a bed in which to hatch her eggs. The sly fellow settles her in his shed full of feathers.
In another tiny morality tale, a "fierce bad Rabbit" snatches "a nice gentle Rabbit's" carrot– and is punished for it. A triumph for nice gentle rabbits everywhere!

WHEN&WHERE "Petrushka" appears at the Clark Studio, 165 W. 65th St., Lincoln Center, Wednesday through April 13. Tickets $40. Call 212-721-6500 or visit lincolncenter.org. The Beatrix Potter puppet ballets run Sunday at 11 a.m. and 1p.m. at Tilles Center on the C.W. Post Campus of Long Island University, Route 25A, Brookville. Tickets $20. Call 516-299-3100 or visit tillescenter.org.
Copyright © 2008, Newsday Inc.
Photo by Steve Sherman of the Ballerina and Petrushka from Basil Twist's "Petrushka"