Well, actually, you can't.
It's one of the duties of the Ballet Master in Chief of big companies to create pieces d'occasion for the galas. (The French here is de rigueur, bien sur). Martins does his duty, but it seems to make him miserable.
His classical "trifles" have often looked straitjacketed, the contemporary work dogged, and the popular pieces a sop to the narcissism of the wealthy audience. (In his 2002 gala offering, "Thou Swell," which for some reason they're reviving this winter, a stage-wide overhead mirror was tilted toward us as if to say, "These elegant creatures onstage are you." So of course the dancers couldn't do much–they strutted around in their sumptuous coats, then took them off– because that would have put the fantasy too far out of reach.)
"Grazioso," though, is glorious. Dedicated to the memory of New York City Ballet's beloved (and kinda crazy) cofounder Lincoln Kirstein, who would have been 100 this year, the piece is charming, breezy, engrossing.
The instrumental passages from Glinka's operas "Ruslan and Ludmilla" and "A Life for the Tsar" are more rhythmically nuanced than most music Martins chooses, and he responds to their plucky intricacy in full.
"Grazioso" abounds in the fluttery footwork one usually associates with women, or with fairy kings and their attendant sprites. It works beautifully on these men playing no one but themselves: Gonzalo Garcia (pictured), Andrew Veyette, and Daniel Ulbricht. (Photo credit: Paul Kolnik for the New York City Ballet.)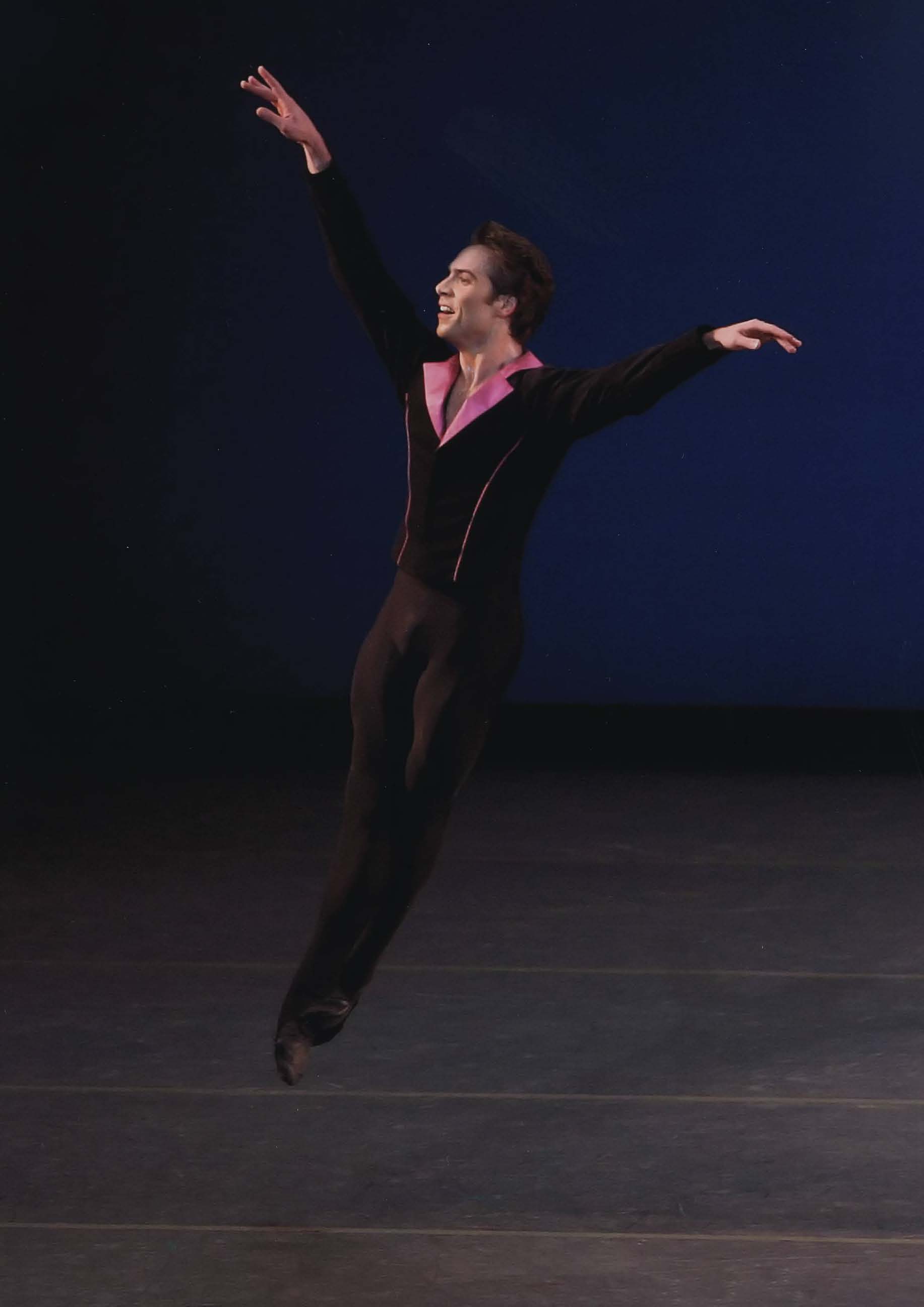 Martins also devises wonderful passages of partnering for Ashley Bouder. The always delightful ballerina may have three partners, but the effect is not cloying: the choreographer resists the contemporary habit of overpartnering this time. And though "Grazioso" looks back to the Rose Adagio from "The Sleeping Beauty," in which the debutante Aurora travels from suitor to suitor, there is little romantic subtext here. A good thing, as the association of ballet and romance is so rutted with cliché, it's become treacherous terrain.
Wending her way from one man to the next across the vast stage–how much space Martins gives her to luxuriate in!–Bouder promenades in different directions with each of them, with distinct interlacing of limbs for each pair. What lovely surprises, again and again.
"Grazioso" is not on New York City Ballet's winter schedule, so if it can't be substituted for "Thou Swell," maybe it will return in the spring? It would make a perfect spring dance.
NOTE: There are two other new posts today, here and here. Coming up, I hope (I really should learn not to make promises on a blog so dependent on reader response, and written in between things, because I'm always breaking them): a post on the Pennsylvania Ballet's Romantic with a capital R "Serenade" and on how great it is that they have Matthew Neenan as resident choreographer. Also, on the occasion of Performa 07, the second outing of the performance art biennial, a post on conceptual dance–how it works, or does it?
Happy Thanksgiving, even if that means spending the day watching bad movies and feeling pleased that you didn't have to leave the house. Don't let the family-industrial complex persuade you otherwise!