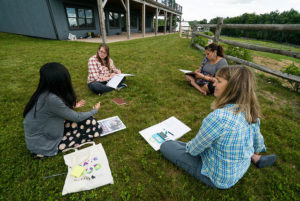 We are all a part of communities of many different shapes and sizes. Large or small, local to our region or universal, communities offer connection, purpose and a sense of belonging to a group larger than our individual selves.
Creative Community Fellows is a nine-month fellowship for cultural entrepreneurs working uniquely at the intersection of culture and community. When Fellows apply to the program, we don't define what community means. Rather, we ask that they tell us what community means in their context – whether it is geographic, virtual, identity based or otherwise.
This week, participants in the Creative Community Fellows program will be sharing their reflections on a time they felt a part of a community. We've asked Fellows to reflect on these moments by taking a page from a past Creative Community Fellows collaborator, Carlton Turner. Carlton is the Executive Director of Alternate ROOTS which supports the creation and presentation of original art that is rooted in community, place, tradition or spirit. Carlton joined Creative Community Fellows as faculty for the program several years ago. During this time, he led Fellows in a story circle exercise to get at the context surrounding the oft-heard hollow word, community. Through telling our stories, we are able to define community ourselves and locate our creative practice within those self-defined communities.
We hope that this act of sharing our communities and stories with each other becomes part of the journey itself, as we begin to build a community together. Follow along each day this week, hearing these stories and read more about the work of the Fellows here.