While the idiocracy in Washington makes its non-plans to keep us teetering on the edge of the fiscal cliff, do not forget, art-lings, that today is the last day of the year to make your non-tax deductible contributions to support CultureGrrl.
That said, tomorrow is the first day of next year to make your non-deductible contribution to supportthis blog'scontinued existence. The timing isn't crucial; the support truly is.
So far, six of you have responded generously to my Participatory Financing Appeal. Two others "participated" earlier this month. Most gratifyingly, some contributors responded to my thank-you e-mails with gratitude of their own. A museum director/contributor, for example, confided that she reads me every day.
The note that I most cherish is this:
My small contribution is not nearly enough to reflect how much I enjoy your blog (even less so the value of your time), but I want to at least give what I can to let you know your research and reflections are deeply appreciated. To whatever extent you feel able and called to do so, please continue; and if life draws you elsewhere, feel the gratitude of those who have been deeply enriched by your unique gift so generously shared.
As CultureGrrl readers know, I am constantly pulled two ways by my sense of mission and my common sense that tells me to devote more time to remunerative pursuits. Your support can help me decide which way to go. As an incentive to those who contribute $50 or more by Jan. 15, I'll send an autographed copy of my "Complete Guide to Collecting Art" (Knopf), while my dwindling supply lasts.
To remind you of why you keep tickling the Grrl's URL, below are CultureGrrl's Top 20 Stories for 2011, in chronological order, with an emphasis on the controversies that we've been following.
But first let me leave you with a lovely, timely image from the inaugural year of the last Great Depression by Oscar Bluemner, who (from the buzz I heard last week among fellow visitors) is a popular and deserving star at the Whitney Museum's recently opened American Legends: Calder to O'Keeffe: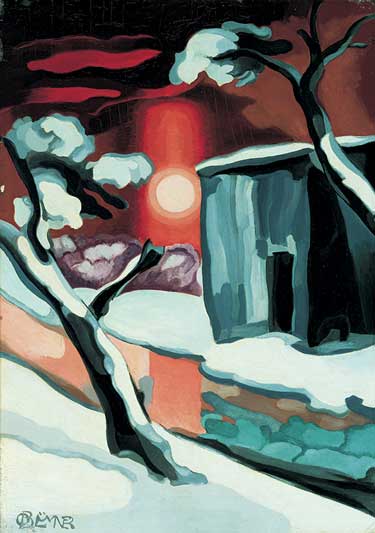 "Last Evening of the Year," c. 1929, Whitney Museum, 1931 gift of Juliana Force
And now, with best wishes for your own "Last Evening of the Year" and for an art-full 2013, here's the CultureGrrl Top 20 for 2012:
CultureGrrl Q&A with Incoming Getty Museum Director Timothy Potts—Part I
Turkey's Repatriation Claims: Met's Schimmel Benefactions Targeted (plus AAMD database)
Munch's "The Scream": Who Will Buy It? For How Much? (plus video)
Goshen's Rudolph Building Gets Reprieve (plus my video from the legislative debate)
MeTube: Scenes (and thoughts) from the Barnes Foundation's Preview
Critical Reverence for the New Barnes Foundation, Plus My Irreverent Photo Essay (and video)
Corcoran Uproar: Desperate Gambit to Rescue a Foundering D.C. Museum
News Flash: 1,004 Ex-Hispanic Society Coins to Be Re-Auctioned in Spain; American Numismatic Society Retrieves 10,000 Pieces
Monetizing the Money: Why Did No One Stop the Hispanic Society's Coin Disposal?
MOCA Mess: Deitch/Schimmel Rupture Exposes Pitfalls of Dealer-to-Director
Fiscal Fizzle: Jeffrey Deitch's MOCA Fundraising
Endangered Art Museums: An Alarming Trend–PART I
Endangered Art Museums: An Alarming Trend—PART II
Mona Lisa and Other Extreme Claims: When Do Cultural-Property Demands Go Too Far?
Wroth About the Tate's Rothko: Where Are the Guards?
Museum Funding Conundrums: Tom Campbell of Metropolitan Museum Leads All-Star Cast (with video)
Dallas Fallacy: Should Museums' Admission Be Free? (Should Nasher Sculpture Center be glare-free?)
Whitney Curator: Benton Mural, Donated to Metropolitan Museum, Had Been "Shopped Around" (plus: Met's loss of Rauschenberg's "Canyon")
Gagosian Commotion: Cracks in the ÜberDealer's Fortress?
Eyeballing "The Scream" at MoMA: Is It Worth $120 Million?