The crass term for it is begging, but the French prefer a loftier description: "participatory financing."
So begins the front-page article by Doreen Carvajal in today's NY Times about how French cultural institutions, notably the Louvre, are passing the chapeau for contributions towards acquisitions and refurbishment.
As my art-lings may have noticed, I've grown weary of "begging" for contributions to support CultureGrrl. So let's call it "participatory financing." A grant that I applied for this year didn't come through. With a few much appreciated exceptions, you've refrained from dropping change into my "Donate" cup, now that I've refrained from asking. I'm at that end-of-year moment when I ruefully assess how much time I devoted to this project for scant financial reward.
So if you have some spare change after shopping for splendid presents and tipping your doorman and manicurist, any expressions of appreciation for my cultural coverage, in the spirit of the pre-fiscal cliff season, will be greatly appreciated. Your "participatory financing" via Blogads is also strongly encouraged.
While you're thinking of me, you might want to follow me on Twitter, where (at this writing) I'm just three away from my 6,000th follower. You could follow in the footsteps of Jim Ganz, who was my 5000th follower!
Stick with me in the New Year, when ArtsJournal will be rolling out a new format for CultureGrrl, with my Twitter feed embedded, so you can easily keep up with my 140-character commentary on issues and events that I don't have time (or staff) to blog about expansively.
As an alternative, you may gift me with this must-have for every art museum's closet: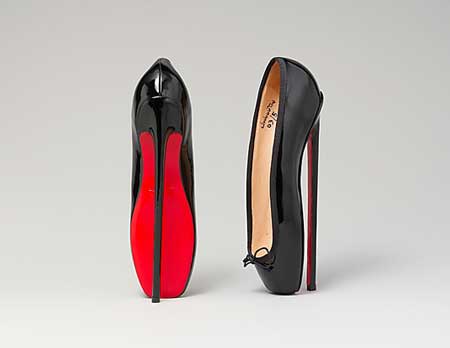 Christian Louboutin, "Pumps," 2007, a 2012 acquisition of the Metropolitan Museum (not on display)

Here's an excerpt from the Met's description in its Fall Bulletin of this flummoxing footwear:
This en pointe silhouette appears in fetish wear as boots with the foot positioned so that mobility is virtually precluded….The black patent leather and incapaciting stiletto heel invite the inevitable[?] louche sexual associations, but Louboutin also evokes the refined and codified aesthetics of the ballet with his accurate replcation of a dancer's pointe shoe.
Just the look that I'm going for this New Year's Eve (when I may be "incapacitated" by other means anyway)!