Upon hearing yesterday that Thomas Hart Benton's jaw-dropping magnum opus, America Today, was being donated to the Metropolitan Museum, I enthusiastically tweeted:
Kudos to AXA Equitable for donating TH Benton's magnum opus to @metmuseum. But Met should display it sooner than 2015!
Upon my further investigation, it seems that those "kudos" need to be qualified.
Responding by phone to my query today, veteran Whitney curator Barbara Haskell revealed that her institution was one of several museums to which the mural's owner, AXA Equitable Life Insurance Company (formerly just "Equitable"), "had shopped it [the Benton mural] around" for an eight-figure asking price. (She couldn't remember the exact amount.) But while the Whitney "would have loved to have had it," the museum couldn't afford to spend that kind of money while focused on raising funds for its major new downtown facility (now in construction), according to Haskell.
Making the donation to another institution a somewhat bitter pill to swallow was the fact that the Whitney "had been instrumental in getting the mural to Equitable" in 1984, Haskell said. The Whitney's then curator, Richard Armstong (now director of the Guggenheim Museum), had "advised them [Equitable] on what to buy." Carol Vogel of the NY Times reported that the insurance company bought the Benton "for what was said to be $3.1 million."
When I learned about the donation to the Met, I immediately wondered whether the
Whitney had been in the running, given that museum's strong history with the insurance company. Equitable had housed one of the Whitney's three (now defunct) corporate-funded branch museums (also including an outpost at Champion International, Stamford, and a second New York branch at Altria (formerly Philip Morris). What's more, the first Whitney gig of its current director, Adam Weinberg, was the directorship of the Equitable branch, starting in 1989.
At the beginning of her article, Vogel quoted praise for Benton's "America Today" by Lloyd Goodrich, "a prominent art historian, [who] pronounced it a breakthrough that heralded a new approach to mural painting, 'of actually taking reality and making mural art directly out of it.'" Unmentioned was the fact that the late Goodrich is perhaps best known for having served as
the Whitney's director from 1958 to 1968.
Still, as Haskell observed, we're fortunate that this masterpiece has been preserved in New York for the public's benefit.
Benton's vibrantly muscular account of both America's industry and its Jazz Age debauchery blew me away on several detours that I made from my midtown rounds to ogle it in the lobby of AXA Equitable's New York headquarters. Below the radar for most art lovers, this showstopper disappeared into storage early this year, when (as Mark Pearson, AXA Equitable's chairman and CEO explains in this video) it was removed at the request of the building's owner "to make way for a…renovation."
Unfortunately, despite its new museum status, "America Today" will remain under wraps for some time: Vogel reported that it will be off view until at least 2015, when the Met hopes to occupy (possibly only temporarily) the Whitney's current Breuer-designed flagship. (The Whitney hopes to decamp by then to its new Renzo Piano-designed downtown facility.) If the Met can't display it now, it should try to lend it to some institution that can. This is an American icon that demands to be seen.
In the Met's press release, Sheena Wagstaff, the museum's chairman of modern and contemporary art, describes the Benton as exemplifying "a uniquely American brand of modernism." But the realist Regionalist's greatest contribution to "modernity" is arguably his role as the teacher against whom Jackson Pollock rebelled.
As I learned when I reviewed Dartmouth College's "Men of Fire" show for the Wall Street Journal, Pollock was studying with Benton in New York while his teacher was painting "America Today" at the New School for Social Research (which was that mural's original New York site). Pollock saw the New School mural before traveling to Dartmouth to see its library's famed, monumental "The Epic of American Civilization" by José Clemente Orozco—a much stronger influence on Pollock (as I discussed here).
This panoramic computer model "approximates the installation of 'America Today' as it originally appeared at the New School for Social Research," according to Axa Equitable's own announcement (click "Panorama") of the donation:
When I asked if AXA Equitable had ever contacted the Whitney about a possible donation of the mural, the company's director of external affairs, the aptly named Discretion Winter, e-mailed this:
We naturally gravitated to the Met because it has the greatest number of visitors of any U.S. museum and houses an encyclopedic collection. The Met was our first choice and they were immediately responsive. The Met is the country's foremost cultural institution and has space in which to display a mural on the scale of the Benton masterwork. Keeping the 10-panel mural intact and on public display in New York has always been a priority for AXA Equitable.
The Met's coup in acquiring this coveted (and high-priced) work for free could help console it for losing out to the Museum of Modern Art on the recent donation of Robert Rauschenberg's "Canyon," whose eagle soared head and shoulders above the many sparrows in the Met's uneven contemporary art galleries, during the years when it was on loan there.
Here's "Canyon's" previous perch at the Met, in a photo I took there as I exited the "Regarding Warhol" press preview, not long before it was pried off the wall to be shipped to MoMA. It had also been the signature work in the Met's 2005 exhibition of Rauschenberg's celebrated "combines":
Rauschenberg, "Canyon," 1959, as seen in September at the Metropolitan Museum, on loan there from the Sonnabend Collection
Photo by Lee Rosenbaum

"Canyon" was installed at the Met near these…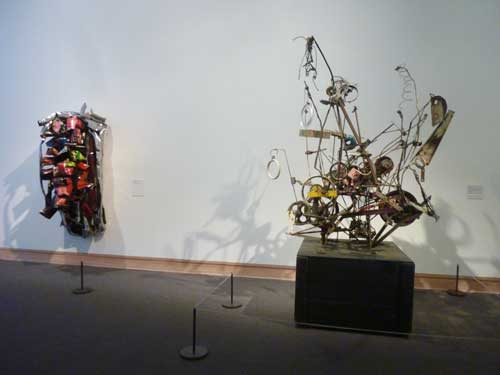 Left: Chamberlain, "Dorkdorf," 1988, lent by Elliot Wolk, courtesy of Armand Bartos Fine Art
Right: Tinguely, "Narva," 1961, Museum of Modern Art
Photo by Lee Rosenbaum
…and also near this: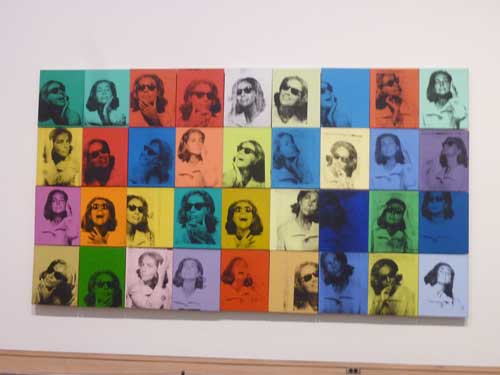 Warhol, "Ethel Scull 36 Times," 1963, jointly owned by the Met and the Whitney Museum
Photo by Lee Rosenbaum
Here's "Canyon" as now installed on a large wall of its own in a fourth-floor gallery at MoMA. It's flanked by two major 1955 Rauschenberg combines—"Rebus" (left) and "Bed":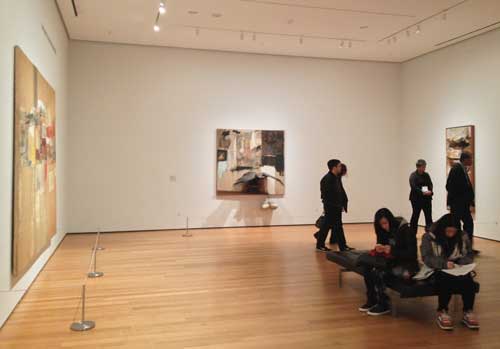 A guiding principle of museum acquisitions seems to be: Win Some, Lose Some.