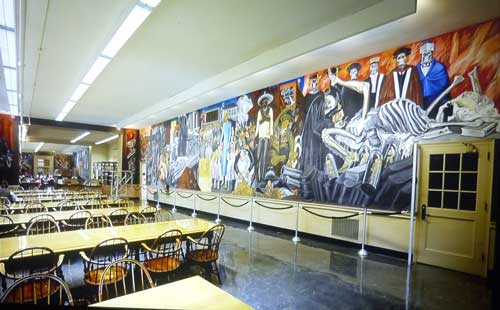 Part of the newly re-lit Orozco mural, "The Epic of American Civilization," at Dartmouth's Baker Library
Very belatedly (and in haste, because I'm preparing for my imminent trip to see the new Philly Barnes), I wanted to fulfill my promise (scroll down) to elaborate on my Wall Street Journal piece of earlier this month—Becoming Jackson Pollock—by providing some related images, additional commentary, and a CultureGrrl Video, below.
"Men of Fire," the show I reviewed at the Hood Museum, Dartmouth, provides an needed counterweight to the persistent myth of Pollock's sudden breakthrough to his mature "drip" style—a legend furthered by the pivotal poured-paint scene in the 2000 movie, "Pollock," where Hollywood's Lee Krasner exclaims to her mad-genius husband: "You've done it, Pollock! You've cracked it wide open!" A more nuanced view of Pollock's development is afforded in Hanover.
As I mentioned in my WSJ piece, there's no major show in the U.S. this year to commemorate the centenary of this celebrated artist's birth. There was, however, a Pollock retrospective earlier this year in Japan: Although hampered by the reluctance of American museums to lend, Jackson Pollock: A Centennial Retrospective organized by the Aichi Prefectural Museum of Art, Nagoya, and subsequently appearing at the National Museum of Modern Art, Tokyo (closed May 6), did have one trump card—the rarely (if ever) loaned "Mural on Indian Red Ground," 1950, from the Tehran Museum of Contemporary Art. Two Pollocks included in the Japan-organized show, including an early self-portrait, now join the Hood's exhibition.
While my article stated that the Hood's show was curated by Sarah Powers, space did not permit me to mention that she is married to the museum's new director, Michael Taylor. (That relationship blossomed while both worked at the Philadelphia Museum of Art.)
Here's the happy couple, joining me for lunch during my campus visit. (Michael never misses an opportunity to promote his catalogues!)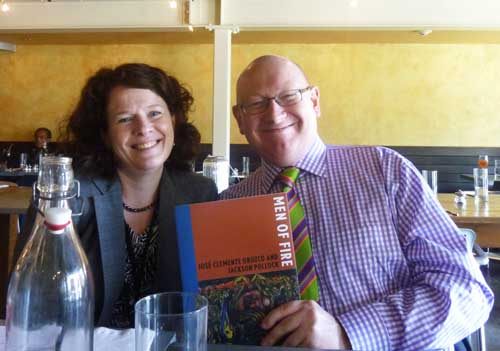 The show deepened my understanding of what was, for me, the most eye-opening takeaway from the Museum of Modern Art's unforgettable 1998 retrospective—that many of Jackson Pollock's purportedly abstract paintings contain concealed figures. In his catalogue essay for MoMA's exhibition, Pepe Karmel, who helped organized that show under MoMA's late chief curator, Kirk Varnedoe, noted that the "process of creating figures, obscuring them, and then overpainting them with new figures is evident not just in Pollock's drip paintings but throughout his oeuvre." You can already see him doing this, more clumsily and laboriously, in these paintings from the late 1930s and early 1940s.
The Hood's show and Dartmouth's mural made me see in a new light Pollock's pivotal 1943 "Mural" (not at the Hood), which I had seen at MoMA and, more recently, in Iowa: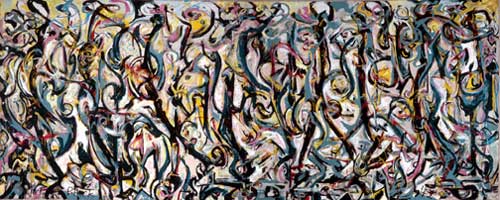 Pollock, "Mural," 1943, University of Iowa Museum of Art
When I had had previously viewed it, I saw this early masterpiece as an astonishingly powerful precursor to the monumental allover abstractions that shook the artworld several years later. Looking at it again (in reproduction), after visiting Dartmouth, I now see "Mural" as a cross-canvas parade of vertical figures, strongly resonating in pattern and rhythm with the black-delineated curves of the muscled flesh of marching Aztecs in the first panel, "Migration," of Orozco's monumental Dartmouth mural, "The Epic of American Civilization," 1932-34, at the college's Baker Library: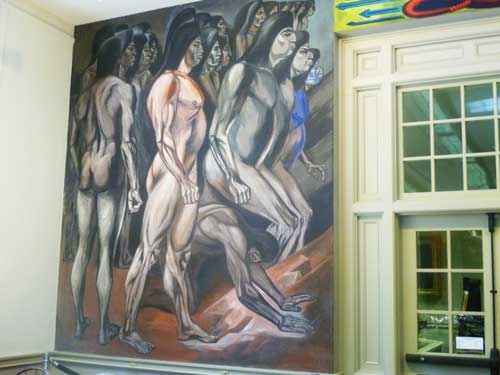 José Clemente Orozco, "Migration," Dartmouth College
As in his Orozco-era pictures, Pollock's sketchy figuration in Iowa's "Mural" is veiled and energized by dynamic whorls, swipes and splotches of abstraction.
I mentioned in my WSJ piece that Pollock's "Naked Man with Knife," c. 1938-1940 (loaned by the Tate Gallery, London), is also strongly reminiscent of Orozco's "Migration":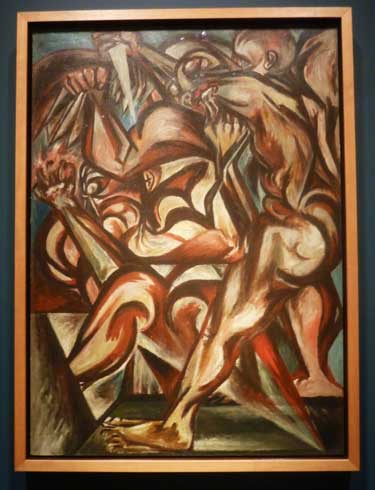 The Dartmouth show's title derives from a painting that, of necessity, is not at the Hood, and which Pollock had seen only in reproduction—"Man of Fire," a circular mural Orozco painted around 1937-39 for the dome at the Hospicio Cabañas in Guadalajara. Its central figure is engulfed in flames: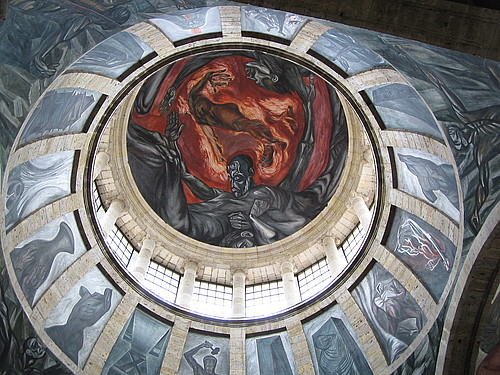 One of the gems in the Hood's show is Pollock's miniature riff on that large concave mural—the Boston Museum of Fine Arts' vibrant, flame-hued "Flight of Man," c. 1939, which transforms the interior of a Limoges porcelain bowl into a densely populated cauldron, with elongated bodies swirling around a rising central figure with arms raised. It was from Pollock's teacher, Thomas Hart Benton, also a muralist, that he learned how to embellish ceramics: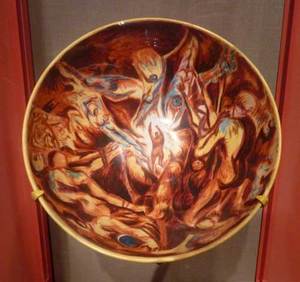 In the video below, you will hear Helen Harrison, director of the Pollock-Krasner House and Study Center, East Hampton, NY (who initiated and helped to organize "Men of Fire"), discuss the inspiration for the exhibition—the Hood's own "Bald Woman with Skeleton, c. 1938-41, purchased by previous director Brian Kennedy (now director of the Toledo Museum) from the Washburn Gallery, New York (which sells work from Pollock's estate on behalf of the Pollock-Krasner Foundation). As you'll see, if you look at my above-linked newspaper article, the WSJ repeated the common error of cropping the bottom of the Hood's painting—a white strip by which (as explained in the video) Pollock probably references the Dartmouth mural's installation above a white baseboard (which you can see in this post's top photo).
Here's Helen's elucidation of the strong influence on Pollock of Dartmouth's haunting Orozco masterpiece (which I have previously toured with you, in a video posted here).
Speaking of the new Philly Barnes (as I was at the top of this post), my blogging may be light during this week's work-ation. There's still time, art-lings, to click my "Donate" button to subsidize m
y Jersey Turnpike journey (which, regrettably, is not underwritten by a mainstream-media publication). My fund-drive still has $340 left to raise.
While I'm away, I'll probably do some tweeting. So if you're not following @CultureGrrl on Twitter, you might want to consider doing so. I am increasingly tweeting about bits of interesting news that I lack sufficient time to post on the blog.
After my return, in addition to writing on the Barnes, I'll be posting a video about a future museum-related project by the same architects who designed the Philly Barnes—Tod Williams and Billie Tsien.