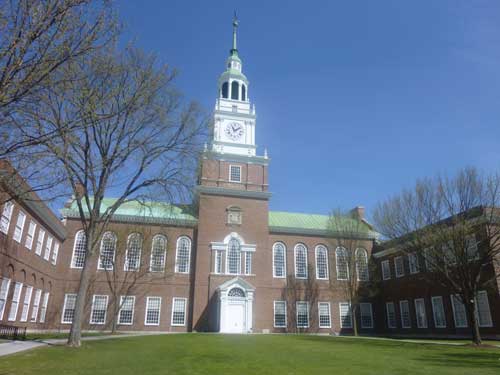 Dartmouth College's Baker Library, home of José Clemente Orozco's monumental mural, "The Epic of American Civilization," 1932-34
Photo by Lee Rosenbaum
In my Wall Street Journal piece, Becoming Jackson Pollock, to appear on the "Leisure & Arts" page of tomorrow's Wall Street Journal (but online now), I state that before you can fully appreciate the Hood Museum of Art's Men of Fire: José Clemente Orozco and Jackson Pollock (to June 17), "you need to start not in Dartmouth's art museum but in its Baker Library. That's where the 24-year-old Pollock made pilgrimage in 1936 to see Orozco's 24-panel mural 'The Epic of American Civilization' (1932-34), a sweeping history of the Mexican people."
I'll have more to say later on Dartmouth, the Hood and its supercharged new director, Michael Taylor (formerly curator of modern art at the Philadelphia Museum of Art).
But for now, let me take you, via CultureGrrl Video, to see the elephant not in the Hood galleries—the ambitious, monumental work that attracted Pollock (who traveled to Hanover, NH, with his friend Philip Guston) and that also inspired the Hood to mount this engrossing show, enhanced by key loans from major institutions.
The show demonstrates how strongly Pollock was influenced, in his work from 1938-41, by the Mexican muralist whom he so greatly admired. I argue in my WSJ piece that this influence persisted in the signature "drip" Pollocks from the late 1940s and early 1950s. Don't miss the slideshow that accompanies the piece. I'll give you more images in a future post, to illustrate works that I discuss.
But first, join me in Baker Library:
For more information about the Orozco panels at Dartmouth, go here and here.