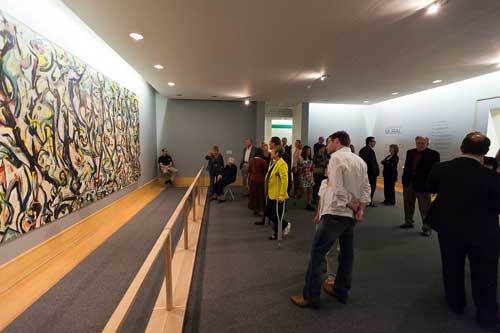 Jackson Pollock, "Mural, " 1943, at the Des Moines Art Center, on loan (to July 15) from the University of Iowa Museum of Art

Sean O'Harrow, director of University of Iowa Museum of Art, which has held onto its great masterpiece, Jackson Pollock's 1943 "Mural," despite several legislative attempts to convert it to cash, suspected that some mischief was afoot after the university received a May 14 information request from Michael Gartner.
As CultureGrrl readers may remember, in 2008, when Gartner was a member of the State Board of Regents, he called for an appraisal of the Pollock's value, suggesting that proceeds from its sale could help defray the university's costs for flood recovery or perhaps be used to fund student scholarships.
Here's Gartner's May 14 request: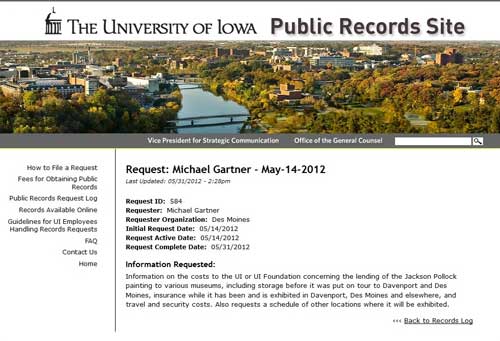 On Thursday, the financial information that the university released to Gartner on May 31, regarding its costs for lending the Pollock to the Figge Art Museum, Davenport, and now to the Des Moines Art Center (where it is currently on view), found its way into an unsigned opinion piece published in Cityview, a central Iowa weekly. Its editor and publisher, Shane Goodman, confirmed to me that the piece was written by Gartner, who is a minority investor in the company, Big Green
Umbrella Media, that publishes Cityview.
Gartner was a winner of the Pulitzer Prize for editorial writing in 1997, when he was editor and co-owner of The Daily Tribune, Ames, IA. (He had previously been Page One editor of the Wall Street Journal and president of NBC News.) Until last year, when his term expired, he had been a member of the
Board of Regents, which oversees the University of Iowa
and other public universities.
In his Cityview opinion piece (sent to me by the concerned O'Harrow), Gartner once again suggested that the Pollock be converted to cash:
A couple of years ago, all hell broke loose
in Iowa City and in the art community when it
was gently suggested the university should explore
selling the painting and using the proceeds
for scholarships. The proceeds could supply
free undergraduate tuition, annually and forever,
to a Regent university for 1,000 needy Iowans.

But university officials—who instead finance
scholarships by skimming 20 percent off everyone's
tuition bills—and art lovers howled. Some
legislators tried to pass a bill to force the
sale, but some influential art lovers, who collect
politicians as well as art [!?!], got that snuffed
out….

As Des Moines Art Center visitors
ponder the Pollock, university officials continue
to tilt against the FEMA windmill [to try to get federal funds for flood recovery], state dollars
continue to be spent to store art that no one
is seeing, and—in truth—nothing is being
done to get a new museum built in Iowa City.

One other thing: University officials now are
estimating it will cost around $75 million to
build a new museum, nearly twice what they were
saying a year or so ago.
The university's art museum has been closed since June 2008, when it was severely damaged by floods. Much of its art is being stored and shown at the Figge, where O'Harrow was director before coming to UIMA in 2010.
Before Gartner published his screed, the Pollock had again been in the news for being "on pace to become the best-attended art exhibition in the museum's [the Des Moines Art Center's] history," according to the Iowa City Press-Citizen. In other words, Iowans are getting their Pollock's worth.
Meanwhile, this just in regarding Dartmouth College's Orozco Reading Room, which (as I argued in my recent Wall Street Journal piece and in this CultureGrrl post) may well have served as inspiration for Iowa's Pollock:
The Orozco Room in Baker-Berry Library…will be closed for renovations from June 18 through early September 2012. Please visit in the fall to see the new lighting of the mural cycle "The Epic of American Civilization" by José Clemente Orozco.
New lighting? I was told on my recent visit that new lighting had already been installed! (I'm seeking clarification and may update here if I learn more.)
UPDATE: Kathy Hart, associated director of Dartmouth's Hood Museum, told me that the new lighting, devised by
Anita Jorgensen Lighting Design of New York,
had been "in the planning stages during the past year" and is now being installed.
The "Men of Fire" exhibition at the Hood, which explored the connections between Pollock's early works and Orozco's monumental mural (which the nascent Abstract Expressionist had traveled to see) ended yesterday, just before today's closing of the reading room.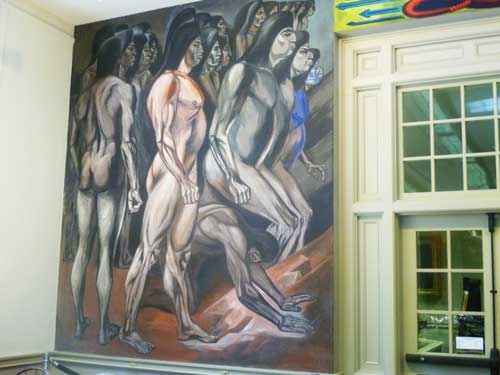 José Clemente Orozco, "Migration" panel from "The Epic of American Civilization," Dartmouth College
Photo by Lee Rosenbaum