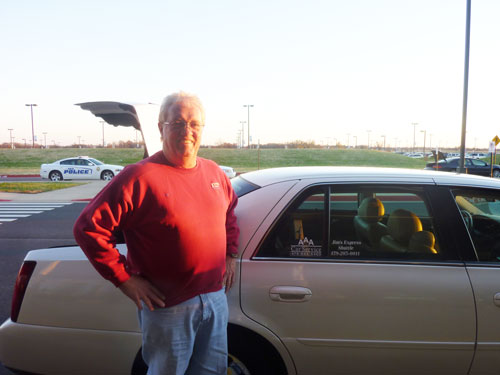 The friendly driver who took me to Northwest Arkansas Regional Airport.
Do major national art and architecture critics know the way to XNA?

In a form of reverse snobbery, some commentators (including the author of the BlogBack below) from the region surrounding the new Crystal Bridges Museum of American Art in Arkansas have periodically charged big-city art critics with condescending to their communities' cultural achievements or, even worse, regarding their locale as unworthy of great art.
I was once directly accused of "talking down" to Arkansans.
But as CultureGrrl readers know, I'm an equal-opportunity debunker: I spare no region of the country, least of all the big cultural centers. My criticisms of (as well as my considerable admiration for) Crystal Bridges have nothing to do with geographical considerations, except for my observation that Alice Walton's museum is a great new resource for an under-served area.
That said, I do believe that big-city parochialism is at play in the relative paucity of in-depth commentary by top critics about the completed museum. Crystal Bridges is this country's most ambitious campus for the visual arts to be established since the Getty Trust opened its Los Angeles complex some 14 years ago. If this project had appeared in New York or another major metropolis, all of the top art and architecture critics would have been swarming all over it.
Particularly surprising to me is the failure of Michael Kimmelman, the NY Times' recently appointed architecture critic (and for many years its chief art critic), to find his way in a timely fashion to the Ozarks. Thus far, he seems much more interested in urbanism than in architecture, spending much of the time reacquainting himself with his native city (after an extended sojourn in Europe), with companionable New York city-planning experts as his guides—first Amanda Burden; and now (in Sunday's "Arts & Leisure" section) Alexander Garvin.
But wait a minute! Has Michael already had enough of New York? He is now off to Paris. (I guess writing not one but two articles about my native borough, the Bronx, finally got to him.)
I applaud Kimmelman for broadening the Times' architectural purview beyond starchitecture. But someone in his position cannot properly ignore major new U.S. projects by big names. The architect of Crystal Bridges, Moshe Safdie, has not been a critics' darling. But he's currently on a roll in this country, and attention needs to be paid.
Why did Safdie's widely admired Kauffman Center for the Performing Arts in Kansas City rate only a music critic's review in the Times? When the Diller Scofidio + Renfro re-do of Lincoln Center's Alice Tully Hall opened in New York in 2009, Kimmelman's predecessor, Nicolai Ouroussoff, wasn't content to cede the field to the music specialists.
I assume that Michael and other major art and architecture critics will find their way to Northwest Arkansas Regional Airport eventually. But I'm surprised at the general lack of alacrity in covering such a major architectural and cultural event. So far there have been many previews; very few thoughtful reviews.
My fellow scribes still have a last chance to scoop me, at least in part: Although I've got my architecture review of Alice's Palace ready to post, I'll content myself today with publishing a BlogBack by a Floridian CultureGrrl reader (who requested anonymity). A retired reporter and government worker, she has "no artworld connection, just a background of art history and
museum-going."
To encourage me to share my architectural musings (perhaps tomorrow), I hope you'll join CultureGrrl Repeat Donor 182 from New York, a retroactive enabler of my Bender in Bentonville. (I now need only $100 in additional donations to defray last month's hotel and car expenses.)
In the meantime, here's that anonymous BlogBack:
I'm enjoying your analysis of the costs [my links, not hers] of the new museum in Arkansas. But I'm wondering also why this museum has been the target of so much
sneering and snide commenting by establishment writers—and your blog
carries a thinly veiled disapproval as well, possibly inspired by your
review of tax returns.

From the announced beginning of this project it's been damned with faint praise (or praised with faint damns) by so many critics, causing me to conclude that what they really mean is that all meaningful art collections should be housed only on either coast, preferably in New York City, or maybe in Chicago.

No one has come out and said this exactly, but if you skim the newspaper and magazine articles and blogs like yours over the last few years, perhaps you
will note this supercilious tone. Stifled sneers. Or am I being thin-skinned?