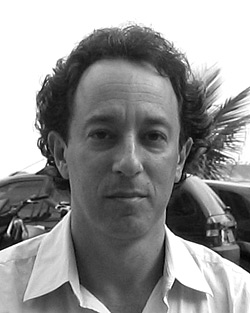 Michael Kimmelman, critic-of-all-trades
I guess we'll have to suspend disbelief.
But NY Times culture editor Jonathan Landman's memo announcing the appointment of the paper's chief art critic, Michael Kimmelman, to the position of the paper's "chief architecture critic" (replacing Nicolai Ouroussoff) brought to mind the Metropolitan Museum's recent announcement of its new hire—Luke Syson, curator of Italian paintings before 1500 and head of research at the National Gallery, London. In January, Syson joins the Met as curator in charge of European sculpture and decorative arts, a position being vacated by Ian Wardropper (who steps up in October to the directorship of the Frick Collection).
In both cases, the announcements strive to make a case for the new appointee's qualifications and track record in a discipline where his expertise is less widely known than in his most recent area of concentration—paintings in Syson's case, art in Kimmelman's.
While noting that Kimmelman has written profiles of architects and that, long ago, he had been architecture critic for the New England Monthly, Landman's memo doesn't suggest that the new archi-critic commands an in-depth knowledge of his new beat. We are gratified to learn, however, that he is "a native New Yorker who notes how growing up in the West Village made
him 'instinctively aware of the tenuous and evolving life of cities, and
of people's stake in how cities change,'" in the words of Landman's memo.
Already there's been some negative buzz (scroll down) about the new architectural arbiter's perceived knowledge gap, in comments appended to the Architectural Record's blog post about the appointment.
The Architect's Newspaper's blog post on Kimmelman's appointment reported on the results of an Architectural Record poll asking readers to opine on who should be the Times' next architecture critic:
The top choice of 12 was Chicago Trib's Blair Kamin with 79 out of 685 votes. A close 2nd Place went to LA Times' Christopher Hawthorne with 76; with third (69) and fourth (66) going to Atlantic Monthly's Witold Rybczynski and AN's [Architect's Newspaper's] Julie Iovine. In Arc Rec's
vote, Kimmelman attracted the fewest votes, 18, in a slightly eerie
confirmation that what architects and what the paper of record think are
very different.
Kimmelman won't merely be the Times' chief (will there be others?) architecture critic. He will also be accorded the catchall title of "senior critic" when he moves back to the U.S. this fall after four years in his amorphous, Berlin-based Abroad gig. He started writing for the Times back in the late '80s as a freelance music critic. And who can ever forget his tennis essays?
There's at least one likely benefit from these Times-ian musical chairs. Kimmelman's shifting attention should free up the paper's "chief art critic" designation, which Michael had unaccountably held on to in absentia.
It's high time to pass that baton to one or both of the veteran New York-based critics, Roberta Smith and Holland Cotter. Both of them write about art with a greater breadth and depth of knowledge than Kimmelman ever did.