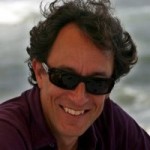 Michael Kimmelman's new Twitter logo photo
From the refined cultural capitals of Europe to the gritty, unkempt South Bronx? Who would've thunk it?
I'm a Bronxite, born and raised—grew up there (in what's now considered part of the South Bronx) and was schooled there (thanks, Bronx Science), until I left our fourth-floor walk-up apartment on the evocatively named Echo Place to head for college in Ithaca, NY. There I discovered that it's possible to wander around at all hours in one's neighborhood (the Cornell campus) without feeling a constant undercurrent of tension and wariness.
So imagine my surprise and delight to discover that Michael Kimmelman's professional U-turn—from the NY Times' chief art critic to its new architecture critic—involved not only redefining himself but also redirecting the paper's architecture coverage, which had focused chiefly on prestigious starchitectural projects during his predecessor Nicolai Ourossoff's tenure.
In the front-page review in which he kicked off his new gig on Monday, Kimmelman wrote:
The [architecture] profession, or in any case much talk about it, has been fixated for too long on brand-name luxury objects and buildings as sculptures instead of attending to the richer, broader, more urgent vein of public policy and community engagement, in which aesthetics play a part.

Via Verde [the Bronx housing project that Michael spotlights] helps shift the conversation.
While I haven't always agreed with Kimmelman, I have always appreciated his capacity for pointed, provocative advocacy—something that's been in relatively short supply (although not entirely missing)
since he decamped for Europe. While he cannot (and should not) neglect
the pomp of the starchitectural parade, it will be good to see a new
emphasis on how projects actually work for the real people who occupy
these spaces on a daily basis.
Unlike politicians who periodically alight for a soundbite in the 'hood and then move on, Kimmelman, a native New Yorker, is following up. On his new Twitter page, he wrote this on Wednesday:
Just shot Times video w city zoning czarina Amanda Burden surveying all
the housing in South Bronx that has transformed the neighborhood.
Near the end of his Via Verde review, Michael indicated that he plans to return for another look at this urban architecture—when it is actually in use by its target audience:
The real test for Via Verde—watch this space [emphasis added]—will be once its residents have settled in, to see how green and healthy and gracious
they actually find it.
Speaking of architecture critics on Twitter, Paul Goldberger of the New Yorker (and former architecture critic at the Times, prior to Muschamp and Ouroussoff) began tweeting up a storm on Sept. 19. He's well worth following (and I am doing so).
In light of his previous savaging of Jean Nouvel's
Musée du Quai Branley in Paris, as well as his stated concern about how
buildings fit into their communities, I'll be interested to see what
Kimmelman has to say about the controversial MoMA Monster, designed by Nouvel. The French architect has consistently been an Ouroussoff favorite.
The Bronx has always been in the process of being "transformed." At least once every decade, the Paper of Record runs a piece about the "rebirth" of my native borough. The streetscape keeps changing, as different waves of aspirational immigrants move in, hoping to move up. But it always retains its rough-around-the-edges, polyglot flavor. (Speaking of which, the headline of this post derives from the infamous couplet by the comic poet, Ogden Nash—"The Bronx/ No thonx.")
I'll be interested to see the real Via Verde, as distinguished from the fragmentary architects' rendering that the Times published with Michael's article. Here, from the project's website, is a better rendering, showing the entire building: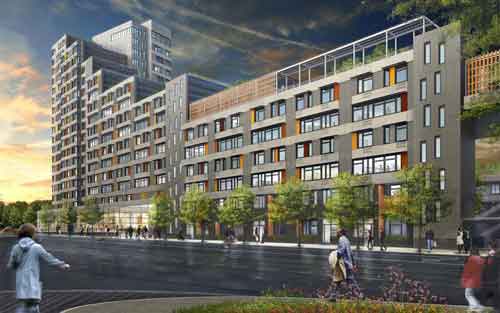 Via Verde, Brook Avenue and E. 156th Street, designed by Dattner Architects, New York, and Grimshaw Architects, London
The best time to evaluate new architecture is when it is fully occupied by its intended users. Otherwise, as Kimmelman suggests, it's just sculpture, not a functioning structure. That's why, in reviewing a new museum building, I feel it's important to see the place when it's actually in use, not just during a viewing reserved exclusively for the press.
Speaking of evaluating buildings when they're in use,
Aaron Gensler
(any
relation
?), a Cornell student who is the target audience for
Rem Koolhaas
' new addition to Cornell University's architecture school, had a
much more critical take
than mine on what Rem has wrought.
Here's
my own previous post (with
CultureGrrl Video
) on the Koolhaas/Cornell project.
And speaking of Cornell's starchitect commissions, below is my video about other such projects—from the recent past (Richard Meier) and the near future (Thom Mayne).