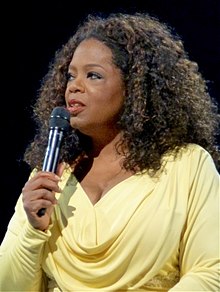 THERE has been, of course, an enormous amount of talk about Oprah Winfrey since her truly impressive speech at the Golden Globes Sunday night, and some have proposed her as the ideal candidate for the Democrats to pit against President Trump in 2020.
Even with her candidacy far from declared, there has been a substantial reaction against this notion, with many (across the political spectrum) arguing that the nation does not need another billionaire, another political neophyte, another person who ignores and undercuts science, another celebrity, and so on. (The Guardian has a piece, which I find credible, arguing that Winfrey is an apologist for capitalism whose "empowering" stories "hide the role of political, economic and social structures in our lives.")
In any case, if the next presidential race is a Winfrey-Trump matchup — that is, a campaign between two television start with severely limited political experience — it will further prove that one of the 20th century's great prophets was media theorist Neil Postman, who predicted this kind of thing more than three d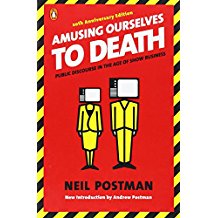 ecades ago. (Postman's most famous book, Amusing Ourselves to Death, came out in 1985, and was in some ways a response to Reaganism, though his historical context goes back to Plato and Socrates.)
My opening paragraph set up the context of the rise of these kinds of people into political life:
These days, even the kind of educated person who might have once disdained TV and scorned electronic gadgets debates plot turns from "Game of Thrones" and carries an app-laden iPhone. The few left concerned about the effects of the Internet are dismissed as Luddites or killjoys who are on the wrong side of history. A new kind of consensus has shaped up as Steve Jobs becomes the new John Lennon, Amanda Palmer the new Liz Phair, and Elon Musk's rebel cool graces magazines covers. Conservatives praise Silicon Valley for its entrepreneurial energy; a Democratic president steers millions of dollars of funding to Amazon.
I wrote about the pertinence of Postman's vision into a 21st century he barely lived to see. (Postman died in 2003.) Here it is — written before the rise of our current president into politics, but, I hope, still relevant to the state that we are in.