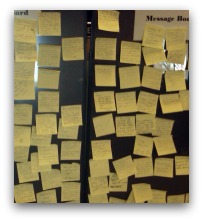 In a Q & A session at the end of a presentation I made to arts leaders not long ago, a question came up about getting feedback from audiences in real time. Many of the participants said that their audience members wouldn't fill out surveys that were inserted in the concert programs. Nor would they go online after the event. #
How was anyone to get timely and accurate feedback? How could you initiate a conversation if no one would talk BACK to you? #
I thought for a moment and came up with an inexpensive, low-tech idea. Later, I found out that ten orchestras in the US and Canada used the suggestion to great success. #
Here it is. You might want to pass this on to someone who wants to answer the "What are they thinking?" question. Tell them they might want to give this a try. #
Put a Post-it® note on your program page.
When each audience member wants to see what's on the program, that Post-it® note will be in the way.
At the beginning of the concert, tell your audience that you want to know what they think and that you want them to write their thoughts on that yellow piece of paper.
They can tell you anything. It's anonymous. They can encourage, inform, complain, or suggest. They can sign it if they want, or even give you their email address to start a longer conversation.
Tell them where they can place the notes during intermission or after the concert is over. Leave pens near the posting place so that, even if the audience members don't have something to write with, they can still offer their thoughts.
Yes, it's informal and unscientific, but it reminds your audience that you WANT to hear from them. It's so easy that you'll be surprised at how many participate.
#
The Adrian Symphony did this in October. We filled two boards with audience comments. When entered into the computer, they filled 9½ pages. #
No one complained about ticket price. Most didn't complain about anything. The overwhelming majority was happy with our programming, performance quality, choice of guest artists, and level of customer service. Some informed us of a few things that we decided to immediately change. The comments taught us, raised our spirits, and reminded us of just how much goodwill there is for the orchestra within the community. All the feedback was shared with the Board of Directors. #
And, in addition we received a wealth of supportive phrases that just might reappear on a future marketing piece, development letter, grant evaluation, or foundation request. #
Long live the Post-it® note survey. #