Argentina is practically as big as India, but with only 39 million inhabitants. About 40% of them live in the area directly in and around Buenos Aires. The rest are spread across the remainder of the country. Along the western side of Argentina lies the most remote region, Patagonia. There is a village there, and to find it, you would have to travel on a very small road until you arrived at the foot of the Andes. There you would find a town made up of people from Argentina and, surprisingly, from all around the world. It is called San Martin de los Andes, and, on a natural amphitheatre on a local golf course's driving range, there is
a miracle of music making
that takes place each summer.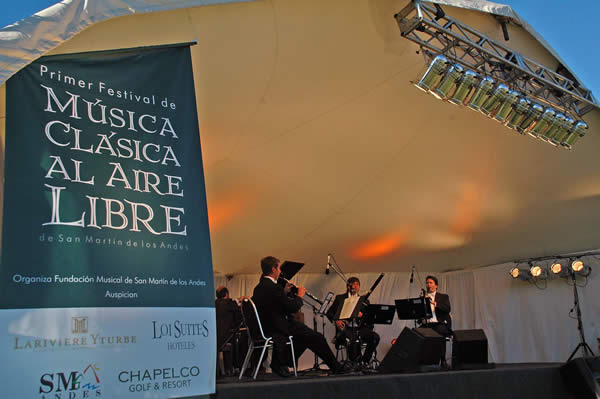 Lucky me. I'm writing from Wainscott in the Hamptons, having spent Fourth of July in the company of Maki Miro-Quessada and Thierry Mutsaars. She is Peruvian and he is Belgian – a delightful couple who seem to balance life perfectly. They know what is important, and they seem to live each day by that knowledge. This week is defined by friends, family good conversation, reading, and Maki's fifth editing of her new novel.
Off and on this week, our conversations have touched on a music festival they founded in an unlikely place. I remember a friend, Rick Biles, once saying a phrase, "Art creates its own need." He meant that once you have lived a life exposed to the arts, there is a hunger created – something that can't be met in any other way.
And so, having lived in the great cities of the world like New York, Geneva, Paris, and London two people now find themselves residing in Patagonia – that magical part of Southern Argentina that combines great distances, wide vistas, incredible skies, and very few people. By all accounts it is an incredible place, unparalleled in the severe beauty that can only be found at the edges of the world.
Having praised Patagonia, it must also be said that it lacks certain niceties.
If art creates its own need, and if you've enjoyed live music by some of the greatest artists of the world, what do you do when you live in Patagonia?
Last night we sat in the living room to discuss that subject. Listen in on the conversation:
John Thomas Dodson: Maki, how did the idea for the festival begin?
Maki Miro-Quessada: Out of a conversation. I told a friend about a concert I had seen featuring Pavarotti in Central Park. Instead of something that could be enjoyed by only a small portion of the city, this event was free, available to anyone. I said to my friend, "This is the way they do things in New York." It felt like a neighborhood concert. It was a community thing. Previously I had always experienced a concert inside a concert hall, but this was for an event for everybody, and that's what I liked about it. Suddenly in the course of the conversation my friend said to me, "We could do it here," and I thought, "Why not?"
JTD: Did people jump on board right away? It's no small thing to say you're going to create a festival of music, presented free of charge, for everyone in town who wants to come. To make this idea come to life, you had to draw upon the talents and resources of all kinds of people. How did you find them, or did they find you?
MMQ: We didn't start off with a great success. After we conceived of the festival we made a presentation in the town hall. We only got three friends out of that meeting. It took a while to get credibility. You have to be consistent in Latin America, year after year. That's when you get respect. Everyone, anyone, can do something once, but what matters is that you come back year after year.
The whole idea of the festival was that we needed to rely on the locals. I didn't choose to be the president. After all, I'm Peruvian, and I had just arrived. It could look like someone coming in from the outside and trying to create their social status through this project. That wasn't at all what I wanted or needed. So, I took four steps back and started talking to friends about the idea. We wanted this to be something that would last, not just a one-time experience. As we talked to friends it became clear that the whole thing had to be run by Argentinians. We wanted to make something that came out of their own pride of ownership, and we made a rule that the Honorary Committee would be made up entirely of Argentinians. We also created an Executive Committee of professionals in their mid-twenties and thirties. They work all year on the festival, and they offer their services and skills to help make it possible. I can't tell you how hard they work to make this happen.
But along the way, we've learned how to involve many more people.
The first year of the festival, we had this enclosed VIP section for the Friends of the Festival. Inside there was wine, hors d'oeuvres for the people who had helped make the first concert possible. A man came up to me and said, "I would like to go in here." I answered, "I'm sorry, but you can't be in here. It is reserved for the donors." He said to me, "I wasn't invited to be a Friend; how did you make your list?"
So, to answer your question, we called the people we knew. Each one of ue tapped on our friends. And, in addition, we made presentations in Buenos Aires during winter to about 60 to 80 people who might support the festival. Obviously, during the winter months, only locals and skiers are in Patagonia, so we used those months to go to Buenos Aires to broaden our support.
Our first support level is $50 a year per family. We wanted to make it possible for many people of all economic spectrums to help support the event. Of course we have other levels as well – four levels of benefactors.
Thierry Mutsaars: Each of these has, in turn, tapped on their friends. It grew by word of mouth, each supporter passing on on the request for support to their friends. It grew exponentially.
MMQ: And we let others present for us. It was important to let others reach out to other sponsors. We each have to stick to our groups. We let everyone go and get support from the people they knew. Each one of us uses the same information, but, naturally, it is tailored to each person and each presentation.
JTD: Tell me about the first concert that first year: The moment when you saw people arriving on the grounds.
MMQ: Honestly, when we began, and the work was so demanding I thought only if we get anything over 250 for the first concert would I do it a second year. Between Thierry, our President and myself we guessed 300, 400, and 250 for the first concert.
JTD: And the day finally came. what happened?
TM: It was a lovely summer evening. No wind. As Maki said, we were hoping for 250 people. maybe 400. People began arriving early, and more people came, and still more. It was an enormous emotional experience because our expectations had been exceeded by so much. The grounds were filling up as the concert was approaching – when our security guards called and said, "There's a traffic hold up; the police didn't come, and there is traffic backed up from three to four kilometers down the road." We realised then that something something larger had happened.
MMQ: The people had really gotten the message. You have to realize that this is Patagonia. Most of these people will never hear a concert in the Teatro Colon in Buenos Aires. Actually most of them had never gone to a concert before that day. They didn't know anything about Tanglewood and the like, but somehow the message got through. Fifteen hundred people came that first year!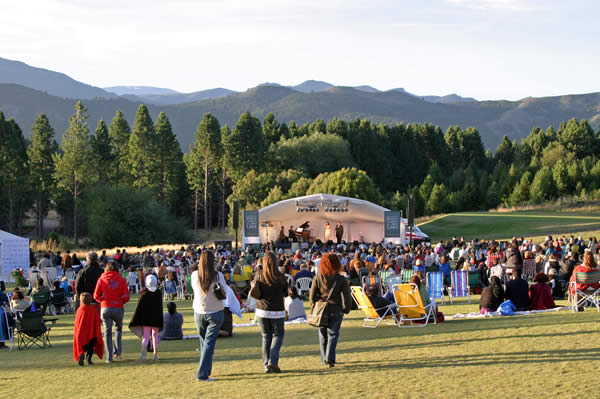 TM: Maki had put up posters with pictures of people enjoying a concert in Central Park with suggestions to bring wine, a lawn chair, a blanket. It helped people to understand how special this would be.
JTD: And Maki, what did you think during the concert?
MMQ: Honestly, we really didn't watch the performance as much as we watched the people in the audience. The new-comers were mesmerized. But I was also moved by faces of the people who attend concerts on their travels around the world, people that visit Salzburg and Ravinia – they were so proud of having created something that was so successful for the village. And I don't just mean artistically successful, but also from the points of view of production, and audience response.
It was like the Rolling Stones. We brought sound and production people from Buenos Aires. They had everything there on the spot; large speakers, but nothing too loud, nothing that sounded electronic and artificial. The sound was perfect. Throughout this project there has been a search for quality. The first president of the Executive Committee was a civil engineer. He likes things to be done well. That set a high bar for everyone.
JTD: And how did you decide on your artists?
MMQ: We wanted to bring something that would make us feel proud – something that personified excellence. We knew we would need to go to the capital for the quality we needed. So we went to the source, the heart of music in our country: the Teatro Colon in Buenos Aires.We contacted their foundation and they suggested a woodwind-quintet made up of principals from the orchestra. Of course, this was during the years of the renovation of the theater, so they were available, and it set the standard for us for every year since the beginning.
JTD: The festival has been running for several years now. How has having this event changed the lives of people near you in Patagonia?
MMQ: It's been incredible. The other night, several members of the core of our committee came to our house to watch La Traviata. They brought their baby. So think of it: The children are baptised in music here now. It's a part of their lives. You must realize that someone who had only vaguely heard of Callas now tells me in a conversation, "I heard the most beautiful aria from Norma the other day." How do you think about such a thing? Music had been thought of something for the elite before. We used to worry whether the people in the village would drop a day of fishing to come to the festival. Now we know, this is a priority. This is something they will come for; they make time for it in their lives.
TM: And the festival continues to evolve. We have moved out to masterclasses, public concerts, and recitals. We still schedule everything within a single weekend. We have to keep it managable, and the overhead to create the festival site is substantial.
JTD: Were there unexpected benefits?
MMQ: The social impact might have exceeded the musical impact. Argentina is still a divided country. For instance a housekeeper might think this kind of music is just for the rich people, just for the elite, just for the ranchers. But when you see the audience, it is made up of everyone. That's terribly important. In certain ways ours is still a raw country; this festival helps polish the edges just a bit.
JTD: And, how has creating this changed YOU?
TM: We are more and more busy.
JTD: Is it a good busy?
TM: You must understand, I still don't know what happened to me. How did I come to live here, and to love it? I was born in Belgium, north of Antwerp. All around me were lakes, canals, and locks. With Maki, my life suddenly has switched to Argentina – all because her sister sent a note that said, "I stopped in a village on a little road in Patagonia, and I found paradise." Now, here I am, with my wife, in a totally unexpected part of the world, and then we decide to create this, and we find that this has impacted the whole community.
JTD: Maki, what did you think when it became a reality?
MMQ: I remember exactly our reaction. We looked at each other and we couldn't speak. I didn't trust myself to find the right words.
TM: It was magic. it was pure magic.
MMQ: Of all the things I've done in my life, this is the one that has given me the most satisfication.
TM: It's the same for me.
MMQ: In my life I have done many things; some of them very fulfilling, but I never had the chance to give so many people something like this. The difference in music is the shared experience. It's all at once. In a book or in viewing a painting, it's a solitary thing. In music, you share the moment as it happens. You experience the beauty together with everyone else.
JTD: Sometimes things go wrong. For instance, you're at the mercy of weather.
TM: Like this past summer: February, it was freezing, an enormous wind, slashing rain. It was disasterous. People sat outside, no umbrellas, because the wind was too strong. The temperature was 12 °C, but with the windchill it was 7. We had a pianist, who was supposed to play outside in a tent, but of course, that was impossible. We set up everything outside, but we had to change. Instead, the soloist had to play inside. We had to improvise because of the wind and the temperature. We moved inside the main golf club building which seated 400 people. That was all we could fit, but the still people came, and they sat outside, looking through the windows while we broadcasted the sound through speakers outside. One of our benefactors, actually, the creator of the club, put on a poncho and sat outside with them. he said, "They are here, and I will sit with them." We brought the elderly inside, but still the audience members stayed, shivering out in the cold, but they stayed.
MMQ: The next day three people came to the offices of the Festival to sign up as new Friends of the Festival -for the 2011 season- because they didn't want us to give it up. They said, "The weather was bad, but this is too important to lose. We're writing these checks to keep it going." That was incredible.
JTD: What does the future look like?
MMQ: My goal for the festival was to grow by adding one event each year. So my vision was to get to five events over a long-weekend in the fifth year – events of different types – masterclasses, recitals, concerts. But after last year, when the weather affected everything, we now begin to contemplate building a concert hall of some sort. There will always be something outside, as but we realized that we have to address the weather issue. We need to find a solution, to look at alternatives that can deal with the sun, the wind, the rain. It seems improbable, but I know it's completely possible. We have people working on solutions to be able to make it better. You begin to realize that you can't run away from such a thing. it has become important to all of us.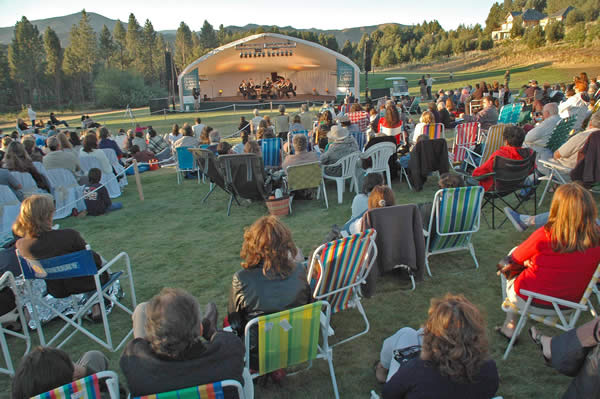 I agree with her. Even at the end of the world, Art creates its own need.