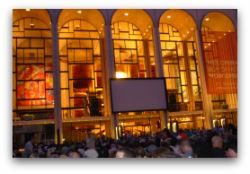 In the Epilogue to Alex Ross's marvelous book, The Rest is Noise, he writes "Extremes become their opposites in time." Although he is making a completely different point than I want to focus on, I agree with him entirely.
Opera began in the privacy of the upper crust of society: Baroque Italy's artistic patrons and political leaders provided the settings for the Florentine Camerata and the Italian madrigal to merge into a new genre. Cavalieri led to Peri and Caccini. Monteverdi and Cavalli followed, and in time opera's high production costs (even in its early days) led to the creation of public theaters at which everyday Italians bought tickets to pay for the endeavor. Along the way, they developed a passion for the genre. When it came to the United States, opera was initially perceived as the realm of the wealthy and influential, but later the Met's Texaco broadcasts made Saturday afternoons a time when generations of Americans across the country listened gratis to the likes of Tebaldi, Callas, Pavarotti and Domingo.
In other words, that which was the domain of a small group became beloved by a large one. Extremes do become their opposites in time.
This marvelous dichotomy between opera as an art-form for the few and those valiant attempts to make it one for the many continues to this day. Witness the Metropolitan Opera's recent experiment in providing free opera for the masses in Lincoln Center Plaza.
Earlier this month I saw Gluck's Orfeo ed Euridice and Puccini's Il Trittico over Labor Day weekend as part of a ten-day outdoor festival of Met productions. Each night video from a recent Met production was projected onto a large movie screen. Clearly there was great interest in spending evenings outside enjoying the free events. There were seats for thousands of people, and on both nights I saw latecomers sitting on the walkways at the edges of the seating area.
Honestly, the very best music I heard was a climactic choral moment by Puccini set to a one- minute video clip showing season highlights. The final note was overwhelming – a crescendo to end all crescendos. The voices were at full blast and then, after they cut off the orchestra continued to build and build to an enormous climax. I thought, "This is opera on steroids." This extraordinarily tactile and sensuous music, already larger than life, was pumped up like a body builder just after lifting weights. With a kind of "whoosh" experience that came from MTV-speed video segments combined with such glorious music, the little commercial felt like an epic movie trailer. I remember thinking that it was so big that to hear that passage LIVE might now actually become a disappointment. I don't think I've EVER thought THAT thought a day in my life! So the Metropolitan Opera certainly started off with a WOW moment.
Normally, the Met's productions begin with the chandeliers ascending out of the sightlines into the ceiling. Here, sitting in the plaza, the lobby itself was gradually dimmed in front of us, and, as the colorful Chagall's lost their vibrancy behind the glass facade, a large screen in front of the entryway's pillars lit up with video of those same chandeliers disappearing. It was a nice touch and a clever way to bring us mentally inside the building, even as we continued to sit outside in the Plaza.
Many times, when I see opera on television, I think, "This is just awful." The small screen, the weak sound, the artificiality of the whole thing just makes me think that opera should be experienced live or not at all. Opera is just too grand to be so small. And yet, here in a public space, with all the distractions of New York City around us, the event was compelling. Particular kudos should go to the sound engineers. I was astonished at the aural presence we could experience outside. The sound was warm enough to have resonance, and it lacked the tinny qualities often associated with electronic sound projection. Musically, in other words, it worked.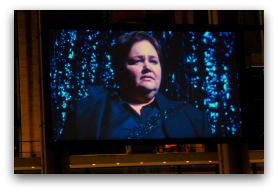 If I were to sit inside the Met and open a plastic candy wrapper I would be admonished all around. Imagine hearing that crackling sound while Anna Netrebko sings La Traviata. I'd be lucky to get out of the room with my life intact! And, as I think about it, there WAS a "shhhh!" moment from a couple in front of me who became annoyed at two friends who suddenly decided this was a good time to hold a private conversation. Having been properly rebuked, the chatty friends went silent immediately. So, to be clear, people were listening attentively. And yet there was a charming passage in the "ballet" section of the Mark Morris production of Gluck's Orfeo ed Euridice when we all seemed to listen past the ambient sounds around us. In the famous Dance of the Furies, the music's role is to mimic a whirlwind of tension representing the states of the myriad number of souls living out their eternity in a constant state of agitation and anger. I noticed that the music took place that kind of quietness which only New York can offer: the sound of anonymous taxis whirring by, the buzz of distant street conversation. And then, during the Dance of the Blessed Spirits, a taxi suddenly honked, an ambulance's siren went off, and I heard voices shouting across the street. The individualized noises cut into the listening experience. You had to NOTICE them. Reading the sub-titles in Stephanie Blythe's Elysium scene, I remember seeing something like "All around me are blissful sounds." As the sirens, car horns and street noises continued, I couldn't help but think that New York's capacity for irony is simply endless. Gluck would have smiled.
Opera, like all good theater, asks us to suspend reality. Instead of talking, people sing. Instead of coughing, sopranos with tuberculosis rise to a high C in a well-controlled pianissimo and then die in front of us, only to re-appear a moment later smiling in triumph while taking a bow. No one laughs at the ridiculousness of the spectacle, often because we are far too busy crying. And THAT is the magic of opera. I'm told that Opening Night at the Met had seats going for well over $1,000. All the better then that earlier in the same month the rest of us could listen for free.
At least for me art is best when experienced in community – even if accompanied by the occasional taxi cab horn or the wail of a distant siren. Bravos to the Met! A great idea, well executed!
Make it a new tradition!