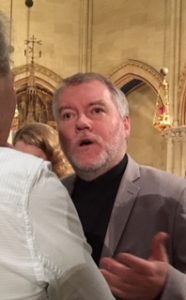 Post-inauguration Saturday wasn't the easiest time to be in New York City. Whatever side you were on politically, the streets in much of mid-town were closed off. Police were everywhere. Cars seemed not to know where to go or what to do. I even saw a cab driving with its passenger door yawning open.
The one way across 42nd Street was the Park Avenue overpass; looking down from it onto the street, I saw an ocean of protesters unlike anything I'd imagined. They were peaceful, but who knew that at the time?
That night, just feet from an unusually crowded, rowdy Times Square, New York Polyphony (the four-member male vocal group) gave a long-planned concert at the Church of St. Mary the Virgin on 46th Street with Palestrina's Pope Marcellus Mass, presented off-site in the Miller Theatre's Early Music series). Legend has it that the music's beauty kept church counter-reformists from banning anything other than plainchant from what were the performing arts centers of the 16th century.
That story has been debunked. But under the circumstances of January 21, 2017, the point was made: Just because art can seem impotent to aid a divided, divisive nation, it is not ineffective – in the long run. Or at least we have to believe that, for lack of anything else to help us get out of bed in the morning and face a world of "alternative facts."
I didn't realize how physically tense I was until the concert began with Palestrina's "Sicut cervus" and I began to feel warmth that was coming from some place other than the heating system.
The Palestrina mass was wonderful: New York Polyphony has gained extra authority in this repertoire in recent seasons. In years past, I've doubted their abilities with late-Renaissance polyphony. Not now. No wonder the church was unusually full.
The surprise of the concert – and it was an immense surprise – was Ivan Moody. The 52-year-old British composer had written a short work for New York Polyphony in seasons past, and then was commissioned to expand it into what became the eight-movement Vespers Sequence, which had its world premiere on Saturday. (Recording plans are already afoot.)
It is a major work. As a convert to the Orthodox church (as well as what's called an "archpriest"), Moody structured the piece according to the "dramatic curve of the vespers service of the Byzantine rite" with settings of psalms and hymns, including the Byzantine version of "Ave Maria." Much of his musical material is taken from the Russian, Serbian and Greek chant traditions.
How to describe the final result? The music is spare in ways that are necessary with anything written for four unaccompanied voices. But the music carries itself with a confidence of purpose that makes it seem highly concentrated, certainly more so than much of Arvo Pärt. The piece was deeply devout but not all that contemplative, if only because Moody is inclined to say a lot in a short space of time. The counterpoint hasn't the cathedral-like expanse of Palestrina but a narrowness of range that gives the music consistent intensity. Often, individual voices break out from the texture in ways that suggest influence from ancient church modes. But modern ears might also call certain moments "blue notes" (in the jazz sense) because they come out of nowhere, make no logical sense but seem perfectly right.
Once might assume that Moody is similar to the late Sir John Tavener (1944-2013), whom I admired only intermittently because his way of finding a common denominator between himself as an Englishman and the Eastern Orthodox tradition that he embraced was to water down both sides. I'd even say, at times, he was like a musical tourist picking up souvenirs from Constantinople.
Moody's music is incredibly integrated: You're getting the individual voice of a modern-day composer, one unlike any other, but built from refractions of traditional music. Often, Byzantine art is formal and strict. It's supposed to be unvarying. But rather than being limited by that sensibility, Moody seems liberated – to be a larger version of himself.
I know this is a bit vague, but I'm still very much digesting the piece, as well as his rather massive output. Most delightful, perhaps, is that he eschews that messianic demeanor of Tavener. At Saturday's concert (pictured above) he looked like a genteel, unpretentious Brit. He doesn't wear his insides on his outsides. He doesn't manage your opinion of him. That kind of dignity-from-within is a model I will keep in my mind's eye for the years to come – hopefully while I have his music in my mind's ear.