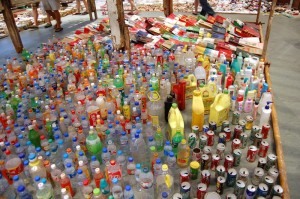 Li Shutong (1880-1942) was a renowned poet, artist, musician, calligrapher, and educator who concluded his life as a Buddhist monk.  The last words he wrote were these: 悲欣 交集, beixin jiaoji.
''That means, 'Worldly joys and sorrows are intertwined'," the artist Song Dong told me as I toured his sprawling studio in the shadow of the Great Wall last year.
Song – whose "Waste Not" is on at the Barbican until June 12 – has taken those words to heart.  Indeed, while he lives an apparently joyous life as a successful, globe-trotting artist, and happy husband – his wife is the artist Yin Xiuzhen- and father, many of his works are dedicated to keeping alive the spirit of his departed parents.
"I want to have an opportunity to say goodbye to them," he explained. "They are in heaven.  They will know their children are still thinking of them, and that we are fine."
"Waste Not" is in effect an unusual paean to his mother, Zhao Xiangyuan, which Song created with her before her death.  It consists of more than 10,000 everyday items that most people would probably call trash: old shoes, empty toothpaste tubes, old medicine bottles, folded plastic bags, bottle caps, tattered magazines, slivers of used soap, string, etc.  The items – arranged by category and displayed in a space that viewers can enter – were all saved by Song's mother with the thought that they could one day be used, for something.  Such extreme saving was normal in an era when everyone in China was poor – and, in truth, you can still go to many a massive new manse in China and find storerooms and bathrooms filled with exactly this sort of detritus that an elderly person (with inordinately rich children) simply cannot throw away.
But after Song's father, Song Shiping, passed away in 2002, his mother became incapable of throwing away anything whatsoever.  She had once been an engineer – now she became a hoarder.
"After my father died, my mother didn't talk – she just cried," explained Song.
Seeking a way to free her from her depression – and the debilitating clutter – Song turned to art.  Together, he and his mother slowly emptied out the old courtyard house and created a massive installation of everything that had filled it. "Waste Not" premiered in Beijing in 2005, won a major prize, and succeeded in its fundamental goal.
"After the exhibition opened, my mother became a person.  She became happy again – she went to the exhibition every day. One Monday I told her the gallery was closed – she said she would talk to the workers."
Zhao traveled with Song to each new show and sat right there in the gallery alongside the installation, so she could talk to those who came to see it.
"She had a story for everything."
But then, in 2009, joy again turned to sorrow when Zhao climbed a step ladder in her yard to rescue an injured bird, fell off, and died.
"Waste Not" has thus become a memorial to Song's mother – and to the revivifying power of art.  It is also a warning, perhaps, against an excessive attachment to material goods – and a reminder that worldly joys and sorrows are indeed intertwined.
"My sorrow is that my parents are gone," Song Dong said. "I want to be with them forever.  My life is so much better now – I wish they could share it.  They went through so many difficulties…"