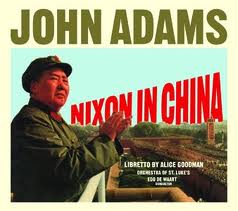 (UPDATE: The Chatelet production of "Nixon in China" can be viewed here: http://liveweb.arte.tv/fr/video/Nixon_In_China__de_John_Adams_au_Theatre_du_Chatelet/)
On a cold, blustery day in February of 1972, Jindong's middle school walked three miles through falling snow and icy streets to reach the Forbidden City.  Though it was a scheduled field trip, when they arrived at the back entrance of the palace, near Jingshan Park, they found the gates barred tight.
"There's an important political personage inside," they were told.  "You can't come in."
Even today this is not an unheard of occurrence – entire museums still close unexpectedly so "political personages" can have private tours.  Back then, in the midst of the Cultural Revolution, the arbitrary nature of power was one of life's few certainties, so no one bothered to question the closure. Instead, the teachers mustered their 300 disappointed students for the walk back to Dongsishitiao through the fast falling snow.
But then, of a sudden, a guard called them back. They were told to line up and a handful of students from each class were asked to step forward, Jindong among them.  Whispers moved up and down the now-jagged line: the "political personage" inside the vermilion gates was none other than Richard Nixon, president of the nation they had all been taught to hate but were now being asked to welcome.  To make the scene look "natural," a few select students would be allowed to tour the palace grounds – Jindong among them.   Although he didn't run into Richard Nixon, Jindong did get to walk through the palace's snow-covered grounds in blissful solitude – an unforgettable "Nixon in China" moment.
That moment – the visit that shook geo-politics like an earthquake and forever altered its landscape – has inspired many books, memoirs and, perhaps most famously, an opera: John Adams' "Nixon in China."
"Nixon in China" premiered in Houston in 1987.  The New York Times critic made fun of it – "Mr. Adams has done for the arpeggio what McDonald's did for the hamburger" – but the opera endured.  New York's Metropolitan Opera mounted it last year, twenty-five years after its premiere, and numerous other opera houses now have it on their schedules: the San Francisco Opera will mount it in June and it is on now in Paris, at Chatelet, until April 18.
The Chatelet production is significant because it marks the first time the opera has been directed by a Chinese director, Chen Shizheng.  (Clips here.)  Chen grew up in China during the Cultural Revolution; he is from Hunan, Mao's home province, where the violence of the Chairman's fading years was considerable – Chen's own mother was shot and killed by an errant bullet during a supposedly festive revolutionary parade.   Chen's take on the opera is certain to be unique – and, unfortunately, just as certain not to be seen in China.  Indeed, despite the hopes of Chatelet – and other opera houses – to come to some sort of co-production or touring arrangement with a Chinese counterpart, "Nixon in China" is unlikely to go to China anytime soon.
There are several reasons for this.  For starters, few contemporary operas from outside China are staged in China – even Tan Dun's "First Emperor" has yet to be mounted and Zhou Long's Pulitzer Prize winning "Madame White Snake" was performed only once, in the 2010 Beijing International Music Festival.  John Adams' music is certainly known in musical circles, but minimalism is not widely appreciated or performed.   Indeed, Adams' music is technically quite difficult for most Chinese orchestras, who are unaccustomed to such unconventional rhythms.
But the most important reason "Nixon in China" has yet to be staged in China is a simple one: plain old politics.  The Communist Party is the official keeper of history and it does not tolerate deviant versions, even those clearly in the realm of fiction or fantasy. Instead, the Party reserves the right to tell its own stories – especially if high-level leaders are involved.  Indeed, any film or stage production that involves a Chinese leader (who will almost certainly be deceased to be the subject of such a story) must be vetted by numerous bureaucracies and concerned powers-that-be.   By the time such vetting is done, all the inter-personal drama will have been scrubbed unless it is needed to support the historic record – you can depict Mao arguing with a political foe, but you'll never see him arguing with his wife.  Indeed, you'll hardly ever see his wife, unless she's at the Communist base camp of Yanan in the pre-1949 years – and you'll certainly never see her singing "I am the wife of Mao Tse-tung…at the breast of history I sucked and pissed…thoughtless and heartless, red and blind" as she does in the opera.  Poetic license is not permitted when it comes to the Communist Party (unless it is taken, unacknowledged, by the Party itself).
This said, the time will come when China will stage "Nixon in China" – and it may be sooner rather than later.  Puccini's "Turandot" is another opera that everyone long wanted to see in China, simply because it is set there – but for decades it, too, was deemed unacceptable.   Puccini was seen to have "stolen" Chinese musical themes and the story was considered absurd and disrespectful to China's culture.  Indeed, when it was finally staged in full for the first time in Beijing in the mid-1990s, the setting was changed to a mythical nation in Central Asia because it was believed that Chinese audiences wouldn't accept an opera about such an "unfilial" Chinese princess, even an imaginary one.  Fast-forward fifteen years and "Turandot" is the go-to premiere opera production for seemingly every new opera house in China.  Not only has the opera been accepted, it has essentially been reclaimed, reinterpreted as Peking and Sichuan opera and even performed in the Olympic "Bird's Nest" stadium as part of the celebrations for the 60th anniversary of the People's Republic.
With opera houses mushrooming across China and foreign opera companies increasingly inquiring about the possibility of staging "Nixon," it is only a matter of time before some daring (or desperate) Chinese opera house takes on this contemporary classic.  Odds are it won't be in Beijing, the center of political power – but it will happen.